Tailor-made Group tour
are arranged in key destinations.
---
Travel style : The element and grade are selected to suit you
・Start and end of the tour is Fukuoka–city, please specify the place where you want
・Tour date : please specify the date
・Minimum number : 2 person 
・Accommodation, from budget hotels to luxury properties
・Experienced Tour leader escorts the tour
・Professional Tour guide is accompanied for sightseeing in key destination
・Charted vehicle such as taxi or bus is used during the tour depending on number of person 
For more information e-mail us :  info@japan-kyushu-tourist.com  or call : +81-93-521-8897
---
The Sample itineraries
Exploring throughout Kyushu where is the fascinating destination of

Japan like no others. Where to explore are Nagasaki, Shimabara,

Unzen, Kumamoto, Ibusuki, Kagoshima, Sakurajima island, Nichinan,

Miyazaki, Hyuga, Takachiho, Aso, Yufuin, Beppu, Kitakyushu and

Fukuoka.  Enjoy unforgettable experiences.
---
8 days Northern & Central Kyushu tour
---
---
---
---
---
---
---
---
Featured destinations map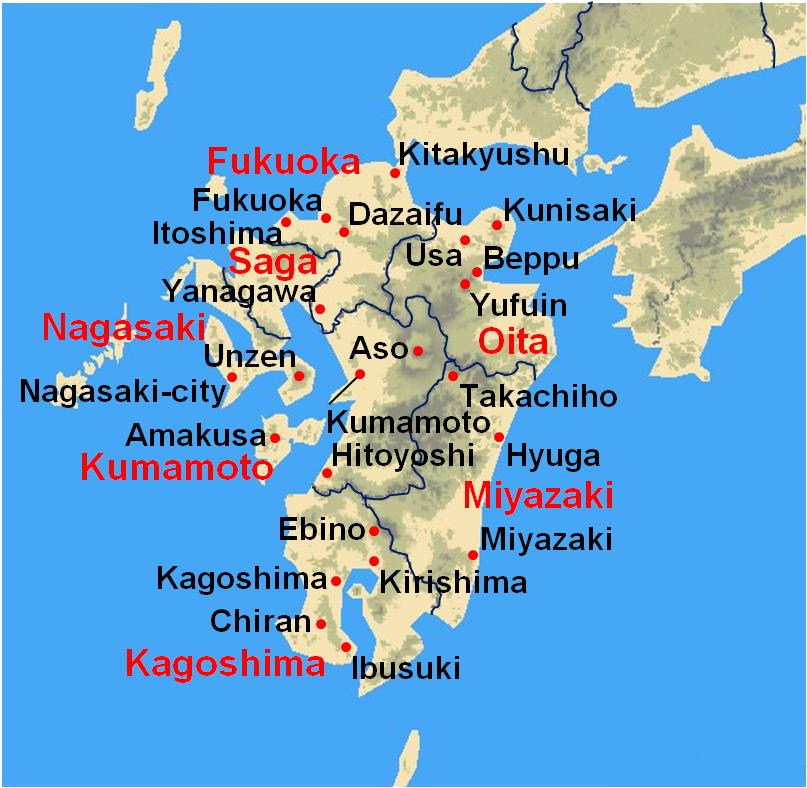 Note
  Red letter indicates prefecture
  Black letter indicates destination
---
 Home   Tailor-made tours Study tours Christian Pilgrimage tours Golf tour Kyushu tour packages
---