Tailor-made tour
Enjoy your vacation while exploring Kyushu
All of our tours are Customized travels exclusively for you, since everyone has different
expectations, desire and travelling style.
We have various Model itineraries of Kyushu tours starting from Fukuoka-city.
Long duration tours (6 to 10 days) covered all areas of Kyushu, Two-days tours
and One-day tours from Fukuoka-city. Please find the most suit your condition
and then contact us by sending an Enquiry.
We will create your Customized tour ( Tailor-made tour )based on the Model
itinerary while discussing in detail about your requirements and preferences
and also in consideration of expense. Further more, if you have specific places
to be visited or you want do any experiences, those items can be combined in
your tour.
---
Model itineraries                                    Make an Enquiry 
Exploring throughout Kyushu where is the fascinating destination of

Japan like no others. Kyushu is one of the Japan's major Island where

offers exciting geographies, various type of Onsen, diverse histories,

delicious cuisines as well as fascinating activities. Kyushu is not one

big region, but gathered region of numerous unique small regions

made by own nature, climate and culture.
---
8 days Northern & Central Kyushu tour
Northern & Central Kyushu offer unparalleled variety of nature in each

region and diversity of culture. You will enjoy plenty of things here ;

harmonized with foreign countries cultures Nagasaki, Gentle resort

town Unzen, Beautiful mountain range scenery Yufuin, dynamic 

volcanic landscape Aso and Beppu, Castle town Kumamoto, 

industrial innovation city Kitakyushu, metropolitan city Fukuoka.
---
The tour explore the southern part of Kyushu, Kagoshima and Miyazaki,

and further more Aso. The variety of geographical features make

unrivaled landscape can be enjoyed during the travel ;  smoke rising

active volcano Sakurashima, calm countryside Satsuma peninsula,

beautiful scenery of Pacific Ocean coast line Nichinan & Hyuga, 

dynamic gorge Takachiho and world's largest caldera Aso.
---
The tour explore the north-west Kyushu, where have accumulated

by far the richest experience of early contacts with sophisticated cultures

from the continent and  beyond.  Porcelain town Arita and Imari, 

diverse foreign counties culture Nagasaki, Chinese religions culture 

Hakata, and industrial modernization city Kitakyushu. Those area also

have beautiful landscape in each area can be enjoyed during travel.
---
The tour explore the central part of Kyushu where spreading around

Aso, Kuju mountain range, and Chikugo plain ; we offer to enjoy

natures. Beautiful island Amakusa, castle town Kumamoto, dynamic

gorge Takachiho, world's largest caldera Aso, beautiful Onsen resort 

Yufuin, dynamic volcanic landscape Beppu, country side

Chikugo region
---
---
---
---
---
Featured destinations in Kyushu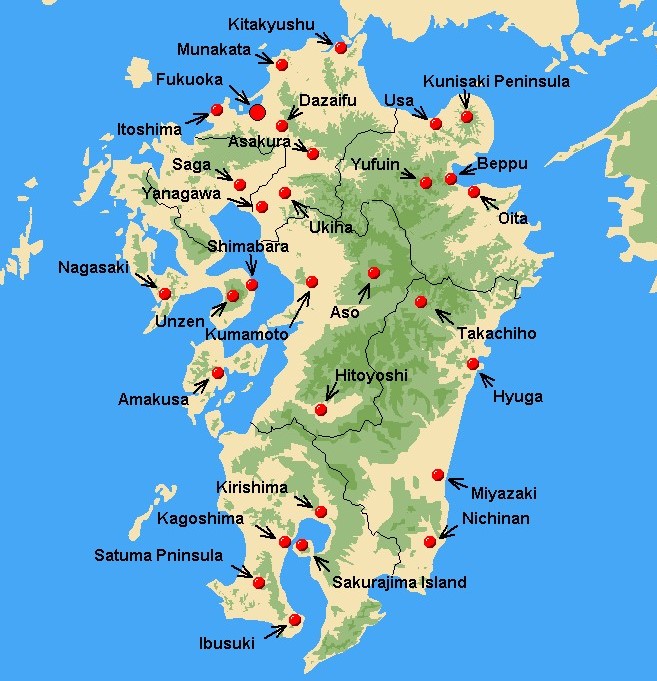 ---
 Home   Our Services   About us   Contact us   Kyushu Travel Guide
---