Munakara & Fukutsu / UNESCO Sacred region one-day tour
Munakata and Fukutsu are located in the west part of Fukuoka-prefecture and facing
to Genkai Sea.
The Sacred Island Okinoshiam and Associated site in the Munakata Region has been
registered on the UNESCO World Heritage in 2016. This tour introduce UNESCO
World Heritage and related places in Munakata and Fukutsu.
---
Location of Munakata & Fukutsu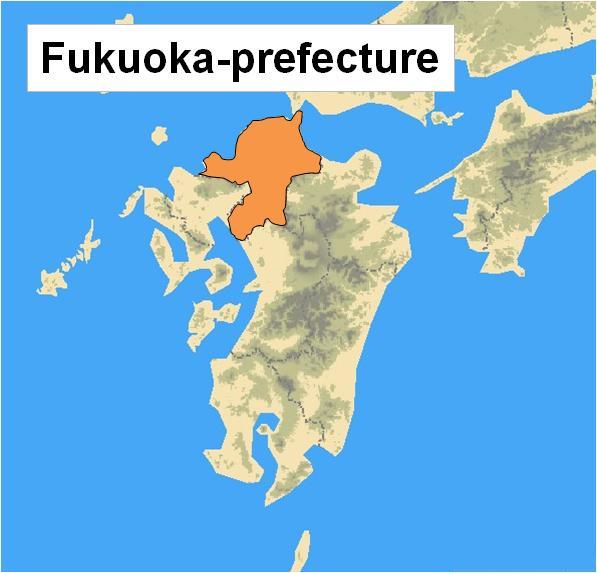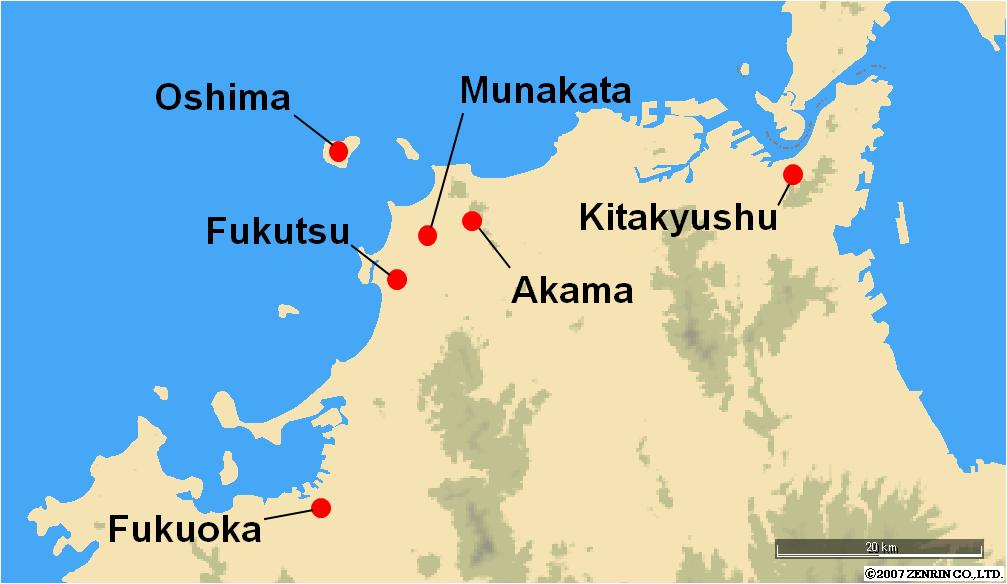 ---
Tour conditions 
The tour is the private tour exclusively for your group.
・Minimum number : 2 person
・Maximum number : 30 person
・Start and end of the tour is 

Fukuoka–city

, please specify the place where you want
・Tour date : please specify the date
・English speaking tour attendant escorts your journey to produce a pleasant trip.
・Chartered vehicle is utilized as per number of person.
---
Itinerary  
9:00 Depart Fukuoka-city
Transfer to Munakata
Exploring Munakata
Lunch at Munakata
Transfer Fukutsu
Exploring Fukutsu
Transfer to Fukuoka-city
17:00 Arrive  Fukuoka-city
---
Where to explore
Munakata Shrine Hetsu-gu  / UNESCO World Heritage
Hetsu-gu is one of the three shrines that comprise Munakata Shrine and enshrines
Ichikishimahime–no-Kami, one of the three female deities of Munakata.  Visitors passing
through the torii gate and proceeding along the path will find the Main Hall, dedicated to
Ichikishimahime-no-Kami, beyond the Shinmon gate. 
---
The steps lead to Takamiya Saijo (Ceremonial Site), where ancient rituals were performed.
Takamiya Saijo is very important since the rituals currently observed at Hetsu-gu originated
there. To the northwest of the ceremonial site, visitors can view the marine route linking
Hetsu-gu with Okinoshima via the Tsurikawa River, Oshima, and finally across the Genkai Sea.
---
Shinbaru-Nuyama Mounted Tombs  / UNESCO World Heritage
The Tomb Group comprises the tombs of the Munakata clan, an ancient powerful family that led
interactions with overseas countries. The Munakata clan also performed rituals on Okinoshima
and nurtured the tradition of faith in in the sacred island.
---
The Shimenawa is the biggest in Japan. Surprisingly, weight is 3ton, with 2.6m diameter and
11m length. Shimenawa is the thick, twisted, straw rope. It was believed in ancient days that 
a Shimenawa had the power to keep off evil sprits, so many objects connected with Shinto
Shrines decorated.
---
Sake Brewery, Katsuya Shuzo
Katsuya Shuzo is a renown local Sake brewery has long history, established in 1790.
The Goshinshu or dedicated Sake to deity for Munakata Shrine is being made this Brewey.
Recommended Sake are Okinoshina, Naranoki and Genkainada.
---
Home  Tailor-made tours Study tours Christian Pilgrimage tours Golf tour
---