Self-guided Nagasaki 2 days tour
One of Must visit destination in Kyushu.  The city have many oversea countries cultures and the
significant Japanese histories like no other areas.  In addition to above features, the geographical
conditions are creating fascinating tourism and now many tourists are visiting here.
---
At a glance
・The journey to explore by yourself independently without a escorted Tour leaderor Tour guide
・Start and end of the tour is Fukuoka–city, please specify the place where you want
・Tour date : please specify the date
・Minimum number : 2 person 
・Accommodation, to be selected from budget hotels to luxury properties
---
Travelling route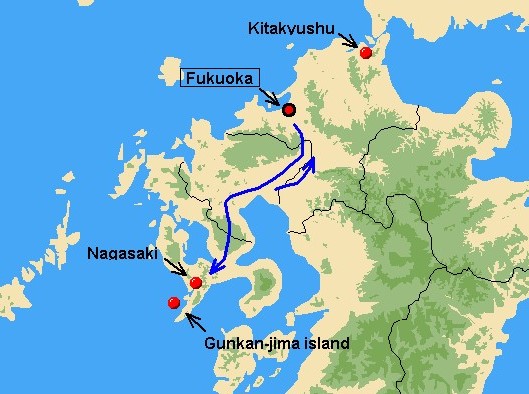 ---
Day by Day
The city in harmony with foreign countries cultures. The cultures of Nagasaki have been
created since Japan began exchanging with foreign countries during the National isolation
period. 
---
Itinerary                                                                                        read more
Welcome to Fukuoka
Our staff meet you at tour starting place such as the airport or Hotel and provides all the information
needed the tour, and then take you to JR Hakata station.
Self-guided tour start from JR Hakata station
8:00 Depart Fukuoka-city
Transfer to Nagasaki by JR Limited express train from Hakata to Nagasaki, 2 hours 
Exploring Nagasaki, Tram is used for the following sites
Visiting  Peace Park , 3 minutes walk from Heiwa-koen-shita Tram station 
Lunch at China town , a short walk from Shinchi-chukagai Tram station
Oura Cathedral , 10 minutes walk from Oura tensyudo-mae Tram station
Glover Garden , 5 minutes walk from Oura Cathedral
Dejima , a short walk from Dejima Tram station
Stay Western style hotel in Nagasaki-city
visit Mount Inasa 
  Inasayama Night View bus tour is available from Hotels in Nagasaki-city
  by Nagasaki Yuran Bus
Hashima coal mining island is an artificial reclaimed island and the site of Japan's first major
undersea coal exploitation pioneered by Mitsubishi. Hashima Island is located 3 km southwest of
Takashima. The site has been registered on UNESCO World Heritages as Sites of Japan's Meiji
Industrial Revolution.  Now Hashima is a ruins called "Gunkanjima", so called after its resemblance
to the silhouette of a battleship.
---
Itinerary                                                                                      

read more
---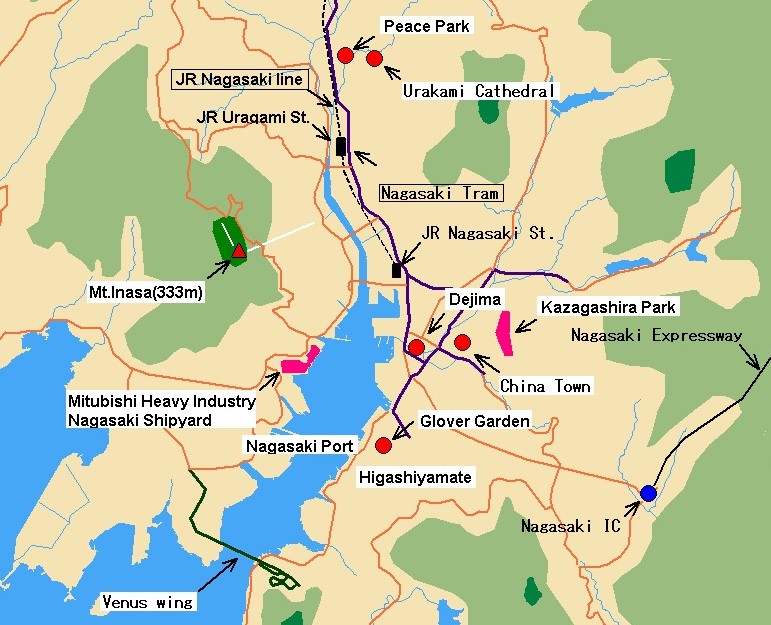 ---
 Home  Tailor-made tours Study tours Christian Pilgrimage tours Golf tour   
---