Nagasaki 2 days tour
The tour is exploring Nagasaki starting from Fukuoka using a private vehicle.
The city has significant Japanese histories which creates unique cultures 
and atmosphere. Only the trading port during National isolation period, 
continue to faith of Christianity during ban period, contribute to Japan's
industrial modernization, and experience of Atomic bomb.
---
Tour condition
・Number of participant : maximum 8 person
・Tour date :  please specify the date
・Tour start and end place : Fukuoka, please specify the place 
    Kitakyushu or any other places in Fukuoka-prefecture can be arranged if requested
Tour Price
To be quoted as per customer's condition such as number of participant
Overall Schedule 
Day 1 : Depart Fukuoka  →  Exploring Nagasaki
             Peace Park, Glover Garden, Dejima, Mount Inasa 
Day 2 : Exploring Nagasaki
             Gunkan-jima island cruise, China Town
             Return to Fukuoka 
---
 Where to explore 
Day 1 
8:00 Depart Fukuoka, start of the tour
Private vehicle driver will meets you at designated place such as 
Airport or Hotel
and then Nagasaki tour is started.
Drive to Nagasaki using Kyushu 
Expressway and Nagasaki Expressway via Tosu and 
Takeo. 
Finally, when you go through a long tunnel of Nagasaki-Dejima Road, the wonderful view
of Nagasaki will be spread out in front of you.
Peace Park

First in Nagasaki, you will visit Ground Zero of Atomic bomb where is the place exploded

on Aug. 9, 1945 and Peace statue that was made to pray World Peace in Peace Park.

Lunch at China town

One of the big three China town in Japan, There are about 50 Chinese restaurants

and many Chinese sundries shops in there. Most recommendable cuisines are 

Chanpon and Sara-udon ;  those were originally created in Nagasaki. 

 

Glover Garden

Walking to Glover Garden through the Glover Street where many souvenir shops are lined

up on the both side of the street. Just before the entrance of Glover Garden, beautiful Oura

Cathedral can be seen which is listed on UNESCO World Heritage and is Japan's oldest

Gothic-style Cathedral. Glover Garden is located on Minami-Yamate hill in Nagasaki-city,

Glover Garden has nine Western style buildings including the Glover's Residence which is

also listed on UNESCO World Heritage; you can enjoy a beautiful scenery of Nagasaki Port.

Dejima

The place was the artificial island used as a Dutch trading port and it was only open gateway

to Europe during Japan's National isolation of Edo period from 1641 until 1857. At that time,

many European technologies and cultures were introduced here through Dutch.

Night view from Mount Inasa

Drive to the Mount Inasa Slope car station and then go to top of Mount Inasa using

Slope car. Enjoy the night view from Mount Inasa which is chosen the three Major Night

View in Japan and the three Major Night View in the World along with Hong Kong and

Monaco. 

Stay in Nagasaki at Western style Hotel.

  Where to stay : around JR Nagasaki Station and around Ohato & Dejima tram Station 

Dinner in Nagasaki

  Where to eat : around JR Nagasaki Station and around Ohato & Dejima tram Station 

  What to eat : various authentic Japanese cuisines, Sea food caught around Nagasaki,

  Chinese food    
---
Day 2 
After breakfast, check out the Hotel and transfer to Nagasaki Port by the chartered vehicle.
Gunkan-jima island cruise  / Hashima Coal Mine

Hashima coal mining island is an artificial reclaimed island and the site of Japan's first major 

undersea coal exploitation pioneered by Mitsubishi,  and is located 3 km southwest of Takashima.

The site has been registered on UNESCO World Heritages. Now Hashima is a ruins called

"Gunkanjima".

Lunch at Dejima Wharf

Elegant international & domestic tourist harbour. Made up of around 20 unique shops and

restaurants lined up at the water front, offering various choices such Japanese, Western,

and Italian cuisine, to beauty salons, outdoor shops and more.

 
Return to Fukuoka using Nagasaki Expressway and Kyushu Expressway.
16:00 Arrive Fukuoka, end of the tour
---
Map of Nagasaki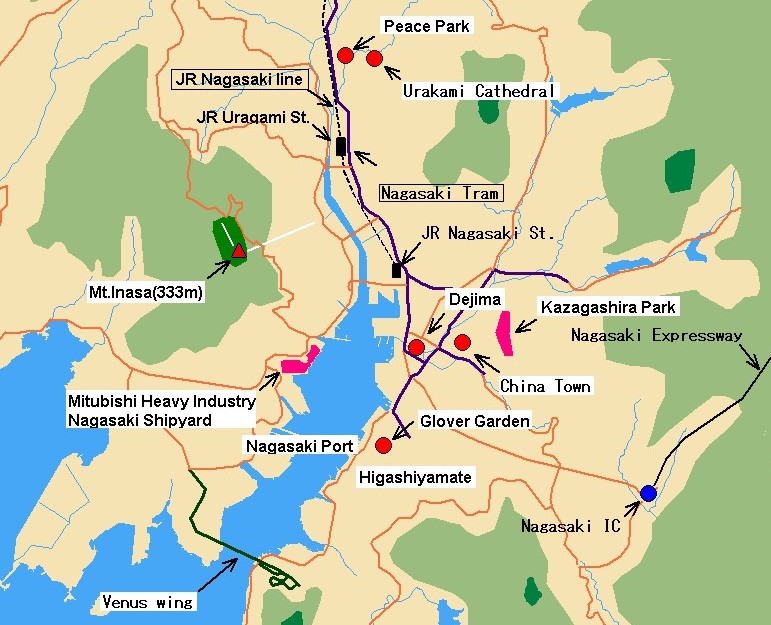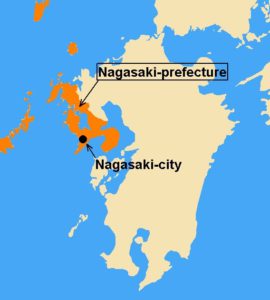 ---
Gunkan-jima island cruise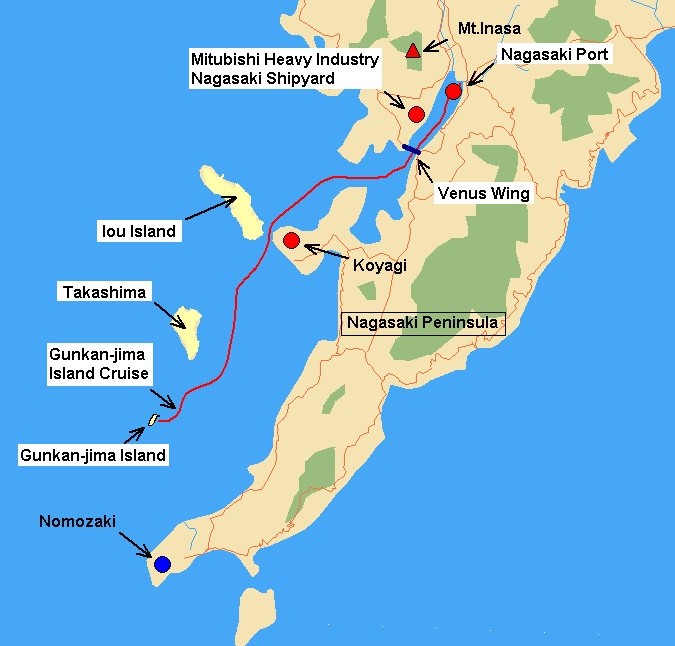 ---
 Home   Our Services   About us   Contact us  Terms and Conditions   Privacy Policy
---