Self-guided 11 days Kyushu tour
Exploring throughout Kyushu where is the fascinating destination of Japan like no others.
Where to explore are Nagasaki, Shimabara, Unzen, Kumamoto, Ibusuki, Kagoshima,
Sakurajima island, Takachiho, Aso, Chikugo region (Asakura, Ukiha ), Yanagawa,
Kitakyushu and Fukuoka.
---
・Minimum number : 2 person 
・Accommodation, to be selected from budget hotels to luxury properties
---
Day 7 : Exploring Aso, stay Kurokawa Onsen
Day 8 : Exploring Chikugo region, Ukiha and Asakura, stay Harazuru Onsen
Day 9 : Exploring Yanagawa, stay Kitakyushu
Day 10 : Exploring  Kitakyushu, stay Fukuoka
Day 11 : Exploring Fukuoka, stay Fukuoka
---
Travelling route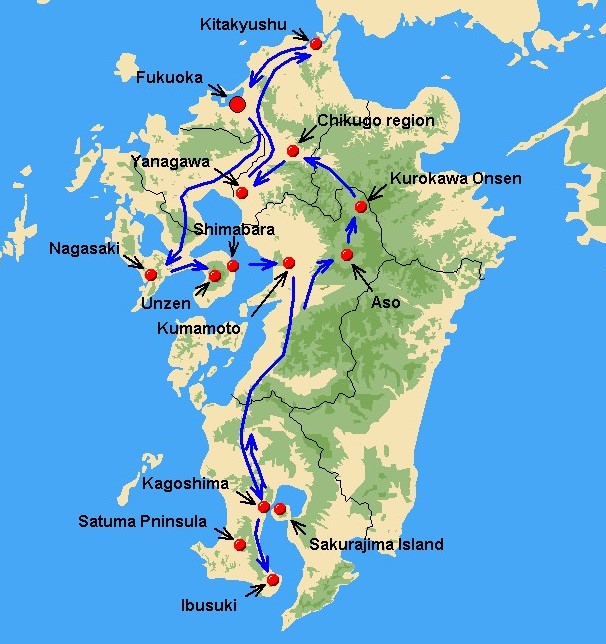 ---
Day by Day
The city in harmony with foreign countries cultures
Nagasaki-city has many oversea countries cultures and the significant Japanese 
histories like no other areas. The fascinating Nagasaki-city has been created since
Japan began exchanging with foreign countries during the National isolation period.
---
Itinerary                                                                                       read more  
Welcome to Fukuoka
Our staff meet you at tour starting place such as the airport or Hotel and provides all the information
needed the tour, and then take you to JR Hakata station.
Self-guided tour start from JR Hakata station
Transfer to Nagasaki by JR Limited express train from Hakata to Nagasaki, 2 hours 
Exploring Nagasaki, Tram is used for the following sites
Visiting  Peace Park  
Lunch at China town
Stay Western style hotel in Nagasaki-city
visit Mount Inasa 
---
Hashima is a ruins now called "Gunkanjima", so called after its resemblance
to the silhouette of a battleship, the cruise ship take you exploring Tachibana bay from
Nagasaki port and landing on Hashima island.
Unzen is a beautiful highland Onsen resort in Shimabara peninsula situated Unzen National
Park. The first area to be designated as a National Park in Japan and then the area has been
developed as Onsen resort for both tourist Japanese and foreigner. Even now, many tourist
from all over the world are visiting here for enjoying Nature.
---
Itinerary                                                                                    read more     
Check out Hotel in Nagasaki
Lunch at Nagasaki Wharf 
Transfer to Isahaya by JR Limited express train from Nagasaki to Isahaya, 14 minutes
Drive to Unzen via Nita Pass by a Private car
Check-in Onsen Ryokan, Japanese style accommodation
Walk around Unzen Onsen town and Unzen Jigoku
Dinner at Onsen Ryokan
---
Kumamoto is the third largest city in Kyushu with a population of 740,000.Must visit place is
Kumamoto Castle listed on the three great castle in Japan.
The city is situated roughly in the center of Kumamoto-prefecture, is the government and
economic center of the prefecture. From the early 17th century to the end of the 19th
century, Kumamoto was prosperous as a castle town. The Shira-kawa River and its branches
run through the downtown area around Kumamoto Castle. Therefore, the city is called "City
of Forest and Fresh Water."
---
Itinerary                                                                                       read more   
Check out Unzen Onsen Resort
Transfer to Shimabara port from Unzen by a Shimatetsu bus, 30 minutes
Travel to Kumamoto from Shimabara port to Kumamoto port by a Kumamoto ferry, 30 minutes
Transfer to Kumamoto Castle from Kumamoto port by Sanko bus
Exploring  Sakurano-baba Josaien and Kumamoto Castle 
Stay at  Kumamoto , Western style Hotel, included breakfast
Dinner at  Shimo-tori Shopping Street , local specialty cuisines
---
 Day 4  Ibusuki & Satsuma Peninsula
Private car is used from JR Ibusuki station for exploring Satsuma Peninsula
  Lunch at Tosenkyo :  Somen Noddle Nagashi
Enjoy the sand bath at Ibusuki
Stay at Ibusuki Onsen Resort, Japanese style Hotel,
 Dinner at Hotel : Japanese style kaiseki dinner including local specialty cuisines
---
Day 5  Kagoshima  &  Sakurajima Island
Kagoshima is the southernmost prefecture in Kyushu which can see Sakura-jima which raises
the smoke across the Kagoshima Bay. Kagoshima prospered in the Edo period as a castle
town, and is a hometown of Takamori Saigo who contributed to the Meiji Restoration
Sakurajima has active volcano with three peaks, Kita-dake, Naka-dake and still active 
Minami-dake.
Check out Hotel in Ibusuki
Transfer to Kagoshima, from Ibusuki to Kagoshima-chuo station by JR Limited express train 
Private car is used from JR Kagoshima-chuo station for exploring
Kagoshima and Sakurajima Island
Exploring  Kagoshima
Transfer to Sakurajima Island by a Ferry
Exploring Sakurajima Island
Stay at Kagoshima-city Tenmonkan, Western style Hotel, included breakfast
Dinner at Kagoshima-city, local specialty cuisines 
---
Takachiho is located in the center of the Kyushu mountain area where about 40km away
from Aso and is steeped in Japanese mythology. It is the supposed site of legend where
Amaterasu, the Shrine Sun Goddess, disturbed by her brother's cruel pranks, hid herself in
a cave, prompting the other gods and goddesses to try and lure her out.
Check out Hotel in Kagoshima
Transfer to Kumamoto by JR Shinkansen from Kagoshima-chuo to Kumamoto station
Transfer and exploring Takachio by the use of a Private car
Lunch at Takachiho, Somen nagashi
Transfer to Aso and stay Aso
---
Aso gives a lot of unforgettable experiences. The active volcano Mount Aso and world's
largest caldera offer a lot of excitements. And numerous unforgettable experiences in
the rural area can be made including Onsen, variety of sports and local cuisines.
| | | |
| --- | --- | --- |
| | | |
Check out Hotel in Aso
Exploring Aso by the use of Private car
Lunch at Minami Aso : Local cuisines
Exploring Aso
Stay at Aso, Kurokawa Onsen  
  Japanese style Hotel, including dinner and breakfast
---
Check out Hotel in Kurokawa Onsen
Exploring Chikigo region by the use of Private car
 Lunch at the featured restaurant Shirakabe
Stay at Harazuru Onsen
  Japanese style Hotel, including dinner and breakfast
---
A beautiful canal town Yanagawa, Canal boat cruise can be enjoyed while experience the
atmospheres of Japanese castle town and rural Japanese  life style. The estuary town facing
the Ariake Sea through the Chikugo River and Yabe River. People started to live here since
ancient times and the agriculture and fishery have been engaged in by making Horiwari literary
means the artificial canal.
Check out Hotel in Harazuru Onsen
Transfer to Kurume by JR Chikugo-yoshii to Kurume station by a local train, 40 minutes
Transfer to Nishitetsu Kurume station from JR Kurume station by a local bus, 10 minutes
Transfer to Yanagawa by Shishitetsu train from Nishitesu Kurume to Nishitesu Yanagawa
Walk to Canal boat cruise landing place, 10 miutes
Canal boat cruise, 60 minutes
lunch at Yanagawa  Eel (unagi) cuisine
Exploring Yanagawa included Ohana Shotoen Garden
Transfer to Kurume by Nishitetsu train from Yanagawa 
Transfer to Kitakyushu by a Shinkansen from Kurume to Kokura
stay Kitakyushu
---
Itinerary                                                                                      read more    
---
A long history as commercial town and castle town, and prospered as important district to Asian
Continent for many years.   Now, Fukuoka-city is the International bub of Kyushu, the nation's
fourth largest economic zone. You can enjoy various things in Fukuoka-city.
---
Itinerary                                                                                       read more         
---
 Home  Tailor-made tours Study tours Christian Pilgrimage tours Golf tour   Kyushu tour packages 
---