Self-guided 8 days Northern & Central Kyushu tour
Many fascinating tourist destinations are concentrated in this area and a lot of
Photo spots on the way to main tourist destinations. Where to explore are
Nagasaki, Shimabara, Unzen, Kumamoto, Kurokawa Onsen, Aso, Yufuin, Beppu,
Kitakyushu and Fukuoka.
---
At a glance
・The journey to explore by yourself independently without a escorted Tour leader or Tour guide
・Start and end of the tour is Fukuoka–city, please specify the place where you want
・Tour date : please specify the date
・Minimum number : 2 person 
・Accommodation, to be selected from budget hotels to luxury properties
・Local transportations, Tram, buses and ferry
・Private car in the areas where Local transportation are not convenient
---
Where to explore
Day 1 : Depart Fukuoka → Explore Nagasaki, stay Nagasaki
Day 2 : Explore Nagasaki, → Explore Unzen, stay Unzen
Day 3 : Unzen  → Explore Kumamoto, stay Kumamoto
Day 4 : Explore Aso, stay Kurokawa Onsen 
Day 5 : Aso → Explore Yufuin 
Day 6 : Explore Beppu, stay Beppu
Day 7 : Kitakyushu, stay Kitakyushu
Day 8 : Fukuoka, stay Fukuoka
---
Travelling Route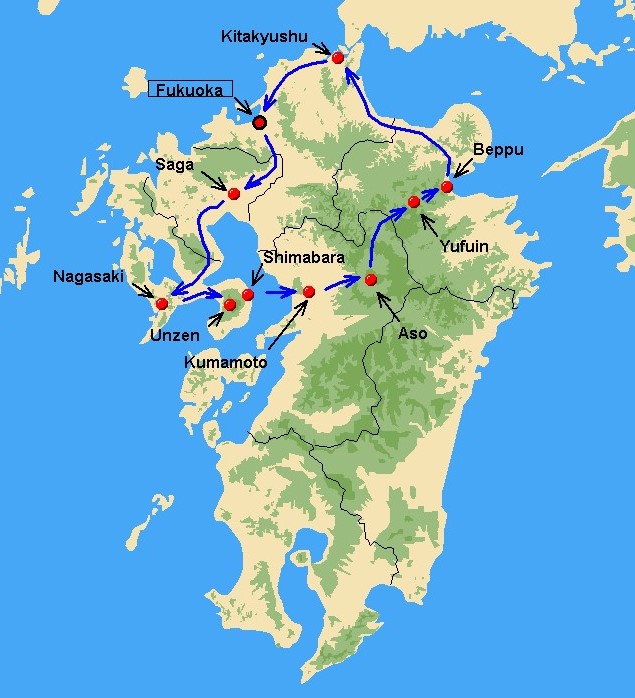 ---
Day by Day
Nagasaki-city has many oversea countries cultures and the significant Japanese histories
like no other areas. The fascinating Nagasaki-city has been created since Japan began exchanging
with foreign countries during the National isolation period. In addition to above features, the
geographical conditions are creating fascinating tourism.
---
Itinerary                                                                               read more
Welcome to Fukuoka
Our staff meet you at tour starting place such as the airport or Hotel and provides all the information
needed the tour, and then take you to JR Hakata station.
Self-guided tour start from JR Hakata station
Transfer to Nagasaki by JR Limited express train from Hakata to Nagasaki, 2 hours 
Exploring Nagasaki, Tram is used for the following sites
Visiting  Peace Park  
Lunch at China town
Stay Western style hotel in Nagasaki-city
visit Mount Inasa 
Hashima is a ruins now called "Gunkanjima", so called after its resemblance
to the silhouette of a battleship, the cruise ship take you exploring Tachibana bay from
Nagasaki port and landing on Hashima island.
Unzen is a beautiful highland Onsen resort in Shimabara peninsula situated Unzen National
Park. The first area to be designated as a National Park in Japan and then the area has been
developed as Onsen resort for both tourist Japanese and foreigner. Even now, many tourist
from all over the world are visiting here for enjoying Nature.
---
Itinerary                                                                                        read more 
Check out Hotel 
Lunch at Nagasaki Wharf 
Transfer to Isahaya by JR Limited express train from Nagasaki to Isahaya, 14 minutes
Drive to Unzen via Nita pass by Private car
Check-in Onsen Ryokan, Japanese style accommodation
Walk around Unzen Onsen town and Unzen Jigoku
Dinner at Onsen Ryokan
---
Kumamoto is the third largest city in Kyushu with a population of 740,000.Must visit place is
Kumamoto Castle listed on the three great castle in Japan.
The city is situated roughly in the center of Kumamoto-prefecture, is the government and
economic center of the prefecture. From the early 17th century to the end of the 19th
century, Kumamoto was prosperous as a castle town. The Shira-kawa River and its branches
run through the downtown area around Kumamoto Castle. Therefore, the city is called "City
of Forest and Fresh Water."
---
Itinerary                                                                                       read more  
Check out Onsen Ryokan
Transfer to Shimabara port from Unzen by a Shimatetsu bus, 30 minutes
Travel to Kumamoto from Shimabara port to Kumamoto port by a Kumamoto ferry, 30 minutes
Transfer to Kumamoto Castle from Kumamoto port by Sanko bus
Exploring  Sakurano-baba Josaien and Kumamoto Castle 
Stay at  Kumamoto , Western style Hotel, included breakfast
Dinner at  Shimo-tori Shopping Street , local specialty cuisines
---
Aso gives a lot of unforgettable experiences. The active volcano Mount Aso and world's
largest caldera offer a lot of excitements. And numerous unforgettable experiences in
the rural area can be made including Onsen, variety of sports and local cuisines.
| | | |
| --- | --- | --- |
| | | |
---
Itinerary                                                                                        read more   
Check out Hotel
Travel to Aso from JR Kumamoto station to Higo-ozu station by a Limited express train, 30 minutes  
Private car is utilized from JR Higo-ozu for exploring Aso rejion
Lunch at Takamori  Dengaku–no sato 
Daikanbo
Stay at Kurokawa Onsen 
---
A beautiful and tranquil Onsen resort representing Kyushu. Yufuin is located about 15 km
west of Beppu and is spreading in the Yufu basin at the mountain foot of Yufu. Onsen resort
life can be enjoyed at the beautiful and tranquil place harmonized with nature in the basin of
mountain hill area.
---
Itinerary                                                                                      read more        
Check out Hotel 
Private car is utilized from Kurokawa Onsen to Yufuin, through Yamanami high-way
Visit Kokonoe Yume Otsurihashi
Lunch at Yufuin Kagura
Exloring Yufuin
Stay Yufuin
---
Beppu is one of the most famous Onsen resort in Japan. The popular hot spring town nestle
at the foot of volcanos, Mount Yufu and Mount Tsurumi. Boasting more than 2,800 hot spring
sources and flowing rate of nearly 137,000 kiloliters per day, Beppu is considered a paradise
of hot springs famous for high therapeutic effects.
---
Itinerary                                                                                                 read more
Leave Hotel in Yufuin
Transfer to Beppu by JR train 
Exploring Beppu by the use of local bus
  lunch Jigoku Mushi kobo
Stay at Beppu  
---
Kitakyushu is the second largest city in Kyushu and World leading Environmental Future city, 
and blessed with spectacular & stunning nature. The city is the Industrial Innovation city greatly
contributed to Japan's Industrial modernization. Now Kitakyushu offers a lot of sightseeing spots
such as scenic beauty places, UNESCO World Heritage of Sites of Japan's Meiji Industrial
Revolution , Industrial heritages, placed introduce cultures of people living there, and various
historic sites. 
---
Itinerary                                                                                             read more
Leave Hotel in Beppu
Transfer to Kitakyushu  by JR Limited express train from Beppu to Kokura
JR local train used for exploring in Kitakyushu
Visit Kukura Castle
Lunch Local cuisines
Exploring Moji
Higashida district   UNESCO World Heritage
Stay at  Kitakyushu, Western style Hotel, including breakfast
Dinner at Kokura
---
Fukuoka-city is the biggest city in Kyushu and the energetic city bustling as the center of Kyushu's
politics, economy, culture, fashion as well as tourism. Fukuoka-city has many kind of fascinating
tourist attractions and abundant tourism materials which are different from the other destinations
in Kyushu. 
---
Itinerary                                                                                         

 

read more

       
Leave Hotel in Kitakyushu
Transfer to Fukuoka by JR Bullet train from Kokura to Hakata station
Exploring  Fukuoka-city  by Fukuoka subway and local bus
Stay in   Fukuoka-city, Western style Hotel, included breakfast
Dinner at Fukuoka-city, local specialty cuisines
---
 Home  Tailor-made tours Study tours Christian Pilgrimage tours Golf tour 
---