Self-guided Northern & Central Kyushu 8 days tour
Many fascinating tourist destinations are concentrated in this area and a lot of
Photo spots on the way to main tourist destinations. Where to explore are
Nagasaki, Shimabara, Unzen, Kumamoto, Kurokawa Onsen, Aso, Yufuin, Beppu,
Kitakyushu and Fukuoka.
---
At a glance
・The journey to explore by yourself independently without a escorted Tour leader or Tour guide
・Start and end of the tour is Fukuoka–city, please specify the place where you want
・Tour date : please specify the date
・Minimum number : 2 person 
・Accommodation, to be selected from budget hotels to luxury properties
・Local transportations, Tram, buses and ferry
・Chartered taxi in the areas where Local transportation are not convenient
---
Where to explore
Day 1 : depart Fukuoka → explore Nagasaki, stay Nagasaki
Day 2 : explore Nagasaki, → explore Unzen, stay Unzen
Day 3 : Unzen  → explore Kumamoto, stay Kumamoto
Day 4 : explore Aso, stay Kurokawa Onsen 
Day 5 : Aso → explore Yufuin 
Day 6 : explore Beppu, stay Beppu
Day 7 : Kitakyushu, stay Kitakyushu
Day 8 : Fukuoka, stay Fukuoka
---
Travelling Route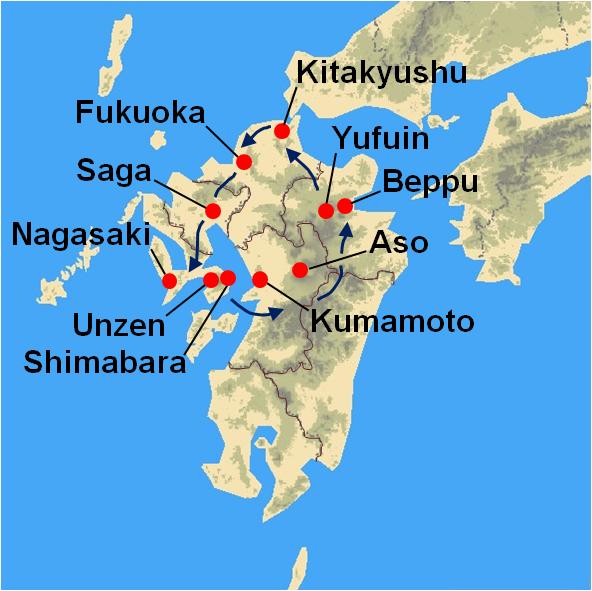 ---
Day by Day
Day 1  
Itinerary
Depart Fukuoka-city
Transfer to Nagasaki by JR Limited express train from Hakata to Nagasaki, 2 hours 
Exploring Nagasaki, Tram is used for the following sites
Visiting  Peace Park  
Lunch at China town
Stay Western style hotel in Nagasaki-city
visit Mount Inasa 
Where to explore
Established in 1955 near the Ground Zero where the Atomic bomb was dropped at 11:02 am
on Aug. 09, 1945. Peace Memorial Ceremony is held in front of the statue on August 9 every
year and the Mayor of Nagasaki makes the "Nagasaki peace declaration" for the whole world.
The museum exhibits a number of photograph that depict the devastation caused by atomic
bomb showing the lead-up to this tragic day, the history of the development of nuclear arms
and our desire for peace.
---
The plutonium Atomic bomb exploded about 500m over the central monument at 11:02 a.m. on
August 9, 1945.  The most part of Nagasaki was destroyed, and a tremendous number of lives
were lost. And about 70,000 of Nagasaki's 240,000 residents died instantly, and up to 60,000
were injured. 
---
Completed in 1955, ten years after the Atomic bomb. The 9.7 meter high statue sitting on
a 4 meter tall pedestal, made by renown sculptor Kitamura Seibo. The raised arm points to
the threat of nuclear weapons and the out-stretched arm symbolizes peace.
---
Nagasaki China town at shinchi is one of the big three china town in Japan.  There are about 50
Chinese restaurants and many Chinese sundries shops in there.
| | | |
| --- | --- | --- |
| | | |
---
Oura Cathedral / UNESCO World Heritage Hidden Christian sites
The Cathedral is one of the significant Christian Pilgrimage site in Japan.  Established 1865, this
church is officially known as "Oura Cathedral, the Church of 26 Martyrs."  It was built by the French
priest Bernard Petitjean of Fier who had been dispatched by the Foreign Missionary Church of
Paris to dedicate prayers to the 26 saints martyred on Nishizaka hill.
---
Glover Garden  / UNESCO World Heritage Japan's Meiji Industrial Revolution
Located on Minami-Yamate hill in Nagasaki-city, Glover Garden has nine Western style buildings.
The Glover's Residence built in 1863 and is Japan's oldest wooden Western–style building
has been registered on UNESCO World Heritages as Sites of Japan's Meiji Industrial Revolution.
The elegant scenery of Nagasaki harbor view from Glover Garden can be enjoyed. 
---
Dejima was the fan-shaped artificial island in the bay of Nagasaki where was used as a Dutch
trading port and it was only open gateway to Europe during Japan's National isolation of Edo
period from 1641 until 1853. At that time, many European technologies and cultures were
introduced here through Dutch.
---
It is a 333 meter high mountain in close distance to JR Nagasaki Station. The summit can be
reached by ropeway or car and offers great views over the city. And also, the magnificent night
views from Mount Inasa are ranked among Japan's three best night views.
---
Day 2
Itinerary
Check out Hotel 
Lunch at Nagasaki Wharf 
Transfer to Isahaya by JR Limited express train from Nagasaki to Isahaya, 14 minutes
Drive to Unzen via Nita pass by a chartered taxi
Check-in Onsen Ryokan, Japanese style accommodation
Walk around Unzen Onsen town and Unzen Jigoku
Dinner at Onsen Ryokan
Where to explore
Gunkan-jima island cruise  / Hashima Coal Mine
Hashima coal mining island is an artificial reclaimed island and the site of Japan's first major
undersea coal exploitation pioneered by Mitsubishi. Hashima Island is located 3 km southwest of
Takashima. The site has been registered on UNESCO World Heritages as Sites of Japan's Meiji
Industrial Revolution.  Now Hashima is a ruins called "Gunkanjima", so called after its resemblance
to the silhouette of a battleship.
---
Elegant international & domestic tourist harbour. Made up of around 20 unique shops and
restaurants lined up at the water front, offering various choices such Japanese, Western,
and Italian cuisine, to beauty salons, outdoor shops and more.
---
One of the best scenic spot in Unzen. At any time of the year the natural scenery of Nita Pass 
in Unzen is magnificent. Azaleas, green leaves, brilliant autumnal tints of maples and silver frost
represent each season of the year.
---
Jigoku, means Hell, is the number one attraction of Unzen with a peculiar smell of sulfur emitted
from the springs, and with white smoke rising from the ground over a wide area. This is a striking
reminder that Unzen Volcano is still very much alive.
---
Stay 
There are 17 Hotels and Ryokan (Japanese style accommodation)  around Unzen Jigoku.
rom every hotel, beautiful scenery which changes by season can be enjoyed.
---
Day 3
Itinerary
Check out Onsen Ryokan
Transfer to Shimabara port from Unzen by a Shimatetsu bus, 30 minutes
Travel to Kumamoto from Shimabara port to Kumamoto port by a Kumamoto ferry, 30 minutes
Transfer to Kumamoto Castle from Kumamoto port by Sanko bus
Exploring  Sakurano-baba Josaien and Kumamoto Castle 
Stay at  Kumamoto , Western style Hotel, included breakfast
Dinner at  Shimo-tori Shopping Street , local specialty cuisines
Where to explore
Transfer to Kumamoto from Shimabara by a ferry
Two ferries are operated form Shimabara to Kumamoto–city
  Kyusho Ferry : operated by Kyusho Ferry, 60 minutes ride
  Ocean Arrow : operated by Kumamoto Ferry, 30 minutes ride.
---
Josaien is located in Sakurano-baba, at the foot of Kumamoto Castle, one of Japan's three major
castles. It is a popular tourist attraction designed to enhance the appeal of the old castle town and
convey to visitors the food, history and cultural traditions of the region from Kumamoto Castle, a
symbol of the Kumamoto-city.
---
The Castle is one of the three great castles and one of the 100 best places in Japan to view cherry
blossoms. Due to the Earthquakes in 2016, the Castle have heavy damages and many of Castle
buildings were destroyed. After that the restoration activities are being performed as fast as possible
and now Kumamoto Castle can be seen from the outside of the moats surrounding the castle.
---
Stay
Kumamoto near  Shimo-tori Shopping Street       
The largest shopping arcade in Kumamoto–prefecture, the center of fashion and amusement
where department stores and boutiques line up and also there are gourmet area where cafes
and restaurants including local cousin restaurants opened daytime and night time.
---
Day 4
Itinerary
Check out Hotel
Travel to Aso from JR Kumamoto station to Higo-ozu station by a Limited express train, 30 minutes  
A chartered taxi is utilized from JR Higo-ozu for exploring Aso rejion
Lunch at Takamori  Dengaku–no sato 
Daikanbo
Stay at Kurokawa Onsen 
Where to explore
Tourist Tram   Minami Aso Rail Way
Enjoy the magnificent scenery of Aso. The Minami Aso railway is a private railroad offering
a very scenic ride from Takamori to Nakamatsu in the south east of the caldera. Lovely and
magnificent scenery can be enjoyed.
---
Lunch
Enjoy Aso beef and local cuisines. The restaurant uses the old private house with thatched roof
built more than 200 years ago. Bake the meat and local ingredients with charcoal at a Japanese
traditional style fire place.
---
The beautiful prairie of 785,000 square meter in the crater spreads in northern part of Mt. Eboshi
that is one of the Aso Five Mountains. A big pond at its center and grazing horses round about
make an idyllic scene.
---
The largest active volcano in Japan, and is among the largest in the world. Its peak is 1592 m
above sea level. Its caldera is 25 km across north to south and 18 km across east to west.
---
The perfect spot view the five peak of Mount Aso. Daikanbo literally means a big observatory peak.
The circumference of the Aso caldera is about 130 kilometers. From the observation site, you can
clearly see its conical shape.
| | | |
| --- | --- | --- |
| | | |
---
Stay
The most popular Onsen resort in Aso region, located on the northern side of Mount Aso.  Widely
known for its open-air baths, it is one of the best places to enjoy the atmosphere of old town in Japan, 
more than 20 Japanese style accommodations and gift shops standing in a row along the river.
---
Day 5
Itinerary
Check out Hotel 
A chartered taxi is utilized from Kurokawa Onsen to Yufuin, through Yamanami high-way
Visit Kokonoe Yume Otsurihashi
Lunch at Yufuin Kagura
Exloring Yufuin
Stay Yufuin
Where to explore
The longest pedestrian suspension bridge in Japan and the 2nd longest in the World Splendid
and beautiful view from the thrilling suspension bridge over the Naruko river valley.
---
Lunch
Seiro-mushi is prepared with large bamboo baskets in front of diners.
Featured by the enriched flavor with warmth and fragrance of the cypress basket (seiro).
Live the lively, hot spring steam-like, "Jigoku steams" (literally hell's steams) dishes right in
front of you with the traditional local taste of Beppu, Oita-prefecture.
---
Main street in Yufuin located at the foot of mount Yufu. The avenue is started near JR Yufuin
Station and connected to Kinrinko lake. Through Yunotsubo Avenue, it takes about 30 minutes
on foot from JR Yufuin Station to Kinrinko lake. There are 70 shops, gift shop, galleries, curiosity
item shops as well as cafes.
---
Floral Village is the amusement facility that recreated the street of the Cotswolds region in
England, which was also used as the location for Harry Potter. Cute owls welcome you in
OWL's FORESR. You can enjoy strolling, gourmet and shopping with beautiful flowers in
the Village, and there is Alice in Wonderland shop here.
---
One of landmark in Yufuin. Hot water gushes from the bottom of the lake, and hot steam rises from
its surface on a cold day.  The lake is located at the end of the town's main walking route, about a
kilometer and a half from the Yufuin station.
---
Stay 
Yufuin
A beautiful and tranquil Onsen resort representing Kyushu. Yufuin is located about 15 km
west of Beppu and is spreading in the Yufu basin at the mountain foot of Yufu. Onsen resort
life can be enjoyed at the beautiful and tranquil place harmonized with nature in the basin of
mountain hill area.
---
How to book
If you would like to book this Tailor-made tour, all you need to do is make an enquiry 
using our Enquiry Form or e-mail at info@japan-kyushu-tourist.com
You can also give us a call at +81-93-521-8897
All of our Tailor-made tours are completely flexible, so if you like what you see here but would
like to make a few changes – where it's to add in destinations, request special experiences,
upgrade accommodation or plan extra nights – please don't hesitate to get in touch and our
expert consultants will help you tailor a trip to suit you.
---
 Home  Tailor-made tours Study tours Christian Pilgrimage tours Golf tour Japan tour packages
---