Shimabara & Unzen Onsen 2 days tour
The tour introduces Shimabara peninsula in Nagasaki-prefecture.
Shimabara peninsula is located about 30 km east of Nagasaki-city and facing Ariake Sea.
The other side of Ariake Sea is Kumamoto-city and Amakusa which are connected by
three ferries.
At the center of peninsula is Mount Unzen, and there are Onsen Resorts around the
mountain such as Unzen , Obama and Shimabara.
---
Travelling route  
Day 1 : Fukuoka-city  →  Shimabara sightseeing → Unzen   
Day 2 :  Unzen  sightseeing → Obama → Fukuoka-city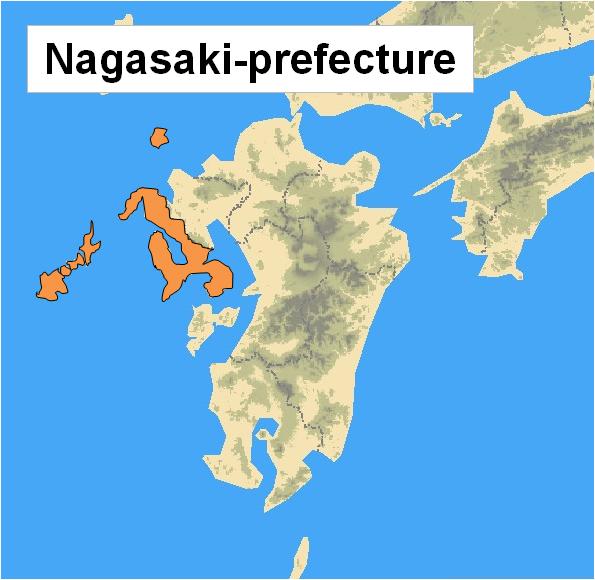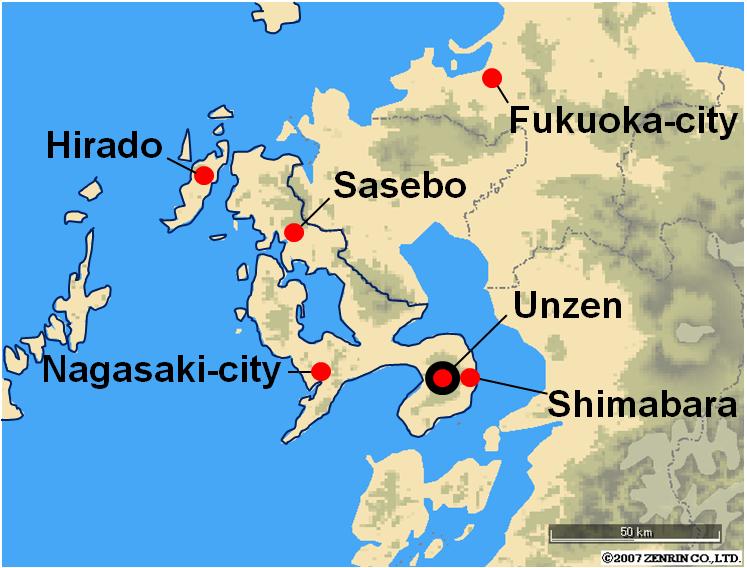 ---
Tour conditions 
The tour is the private tour exclusively for your group.
・Minimum number : 2 person
・Maxum number : 30 person
・Start and end of the tour is 

Fukuoka-city

  , please specify the place where you want
・Tour date : please specify the date
・Chartered vehicle is utilized as per number of person.
   (1) less than 8 person
     a chartered taxi is used with English speaking driver
     English speaking driver assist the tour as tour guide and tour attendant
   (2) more than 9 person
  a chartered bus is used with Japanese speaking driver
  English speaking guide who also works as a tour attendant is accompanied
    for assist the tour in the case of using a chartered bus
・Accommodations is selected as per your required grade, room conditions and budget
    and the location is considered sightseeing, dinner and nightlife as well.
---
Day 1  
Itinerary
Depart Fukuoka-city  →  transfer to Shimabara   
Shimabara sightseeing
transfer to Unzen 
Stay at Unzen Onsen
Options : the following site can be arranged as a option.
---
Where to explore
Located in the Shimabara peninsula, the region spread in the foot of gentle mountain and
facing to calm sea. Shimabara is consist of two cities, Shimabara-city and Minami-Shmabara-city.
Offers various enjoyable things such as Nature, Onsen, Castle town of Shimabara-city,
Hidden Christian history as well as Local Gourmets. 
Located in Shimabara-city and was built in 1625 by the feudal load Matsukura Shigemasa, 
who was regarded as a master of castle building.
Samurai was a term for the military nobility in pre-industrial Japan.
The Samurai Houses in Shimabara along the old Samurai street nearby Shimabara Castle
were built in 18th century.
---
Unzen is a beautiful highland Onsen Resort in Shimabara peninsula situated Unzen National Park 
The first area to be designated as a National Park in Japan and then the area has been developed
as Onsen Resort for both tourist Japanese and foreigner.
Even now, many tourist from all over the world are visiting here for enjoying Nature.
One of the best scenic spot in Unzen
At any time of the year the natural scenery of Nita Pass in Unzen is magnificent.
Azaleas, green leaves, brilliant autumnal tints of maples and silver frost represent 
each season of the year.
There are 17 Hotels and Japanese style inns around Unzen Jigoku.
From every hotel,  beautiful scenery which changes by season can be enjoyed.
---
Option
The Battle field of Shimabara Rebellion which was a peasant uprising agaist bakufu's persecution of
Christians under the leadership of Amakusa Shiro in 1637.  Christian farmers rose in a riot due to their
grievance about the oppression by Matsukura Shigemasa. The Shogunate regarded this riot as Christian
rebellion and sent its punitive force, therefore locked themselves in the castle and with their leader
Entrance to Harajo Castle

Ruins

Battle field of Shimabara

Rebellion

The Statue of Amakusa Shiro
---
Day 2 
Itinerary
Leave Hotel in Unzen  
Sightseeing  Unzen
Sightseeing Obama
transfer to Fukuoka-city 
Options : the following sites can be arranged as a option.
The Japan's longest foot bath in Obama
---
Where to explore
Jigoku, means Hell, is the number one attraction of Unzen with a peculiar smell of sulfur emitted
from the springs, and with white smoke rising from the ground over a wide area.
This is a striking reminder that Unzen Volcano is still very much alive.
Option
Various trekking routes are prepared with the Onsen Onsen Resort town as the starting area,
through the Unzen Jigoku.  Everyone including mountain climber can enjoy by choosing
preference route, Nita pass and summit of mount Myuken and Fugen can be reached.
The Japan's longest foot bath in Obama
Called "Hot foot 105"  The length of foot bath is 105m which is same number of the hot spring
source temperature of 105 degree Celsius.
---
Should you need further information please feel free to contact us.
Your equiry can be sent by selecting the Enquiry Form link below.
You can also contact us by e-mail at info@japan-kyushu–tourist.com
Tel :  +81-93-521-8897,  Fax :  +81-93-521-8898
Address :  AIM buiding 6th floor, 3-8-1 Asano, Kokura-kitaku, Kitakyushu-city, Fukuoka-prefecture 
---
Tour results
We are offering various types of tours, and the tour results up to now are shown links below.
---