Kyushu tour for Singapore customer
Country of customer :  Singapore
Number of participant : 14 person
Schedule :May 18 to 25, 2023
Transportation : Chartered bus with 25 seats
Tour guide : English speaking guide
Where to visit
  Kurume, Harazuru, Nagasaki, Kumamoto, Yufuin, Kitakyushu, Shimonoseki
  Dazaifu, Fukuoka
---
What our Customer have to say
Hi Masa,
Thank you for the wonderful experience you gave my family of 14 in
Kyushu where we spend 8 days 7 nights covering Kurume, Nagasaki,
Kumamoto, Yufuin, Kitakyushu and Fufuoka. 
I appreciated your speedy replies and your expert recommendation
to fit our liking of local cuisine and route during the planning of my
customised itinerary that needed to accommodate family members
as old as 80 and young in their 20s.
We love the onsen at beautiful, very calming Harazuru Onsen
Taisenkaku and the sumptuous Kaseiki dinner that was provided.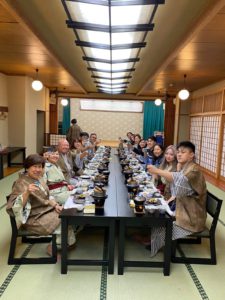 As Catholics, we were very pleased that you were flexible to bring
us to the site of Martyrdom of the 26 Saints of Japan and cathedrals
in Nagasaki. 
The Samurai experience at Kumamoto was special. My dad is a
karate expert and always wanted to know more about the samurai
teaching. So when Masa San customized this 2 hours experience
for the 14 of us, it was special. We had the chance to learn the
lai experience. It was fun and we understood the discipline in it.
We also had the opportunity to view the swordsmanship developed
by Musashi Miyamoto and it was fascinating.
This itinerary item is something not found nor accommodated by
any other tour agency itineraries and I am very glad Masa San took
the trouble to make this happen for us. 
Our English tour guide Fumiko San was passionate in her work and
very detailed in her care / service for us. The driver was very
experienced and knowledgeable. We felt very safe in his driving.
He also detoured along the way to bring us to pit stops and allowed
to savour the sweetest and freshest corn and strawberries.
I will highly recommend Japan Kyushu Tourist agency to all that
want a unique experience of Kyushu with people that knows and
are Kyushu residents.