Kyushu Tours / starting from Fukuoka
Enjoy your vacation while exploring Kyushu
We are delighted offer the Customized tour exclusively for you by combining
numerous fascinating destinations including hidden gems and off the beaten path.
We have various Model itineraries of Kyushu tours starting from Fukuoka.
Long duration tours covered all areas of Kyushu, and one-day tours from Fukuoka.
 Please find the most suit your condition and then contact us  by sending an Enquiry.
We will create your Customized tour based on the Model itinerary while discussing in
detail about your requirements.
---
Model itineraries                                                    Make an Enquiry
Exploring the whole of Kyushu from Fukuoka, and visiting the

popular destinations. First visit is Nagasaki where is located north-west

side of Kyushu and then go Shimabara peninsula and visit gentle Onsen

resort Unzen.  Transfer to Kumamoto by a Ferry and travel in Castle town 

Kumamoto. Go down to Southern tip of Kyushu, Ibusuki and 

Travel the southernmost major city Kagoshima and exploring  Sakura-jima Island where

has active volcano. Transfer to east side of Kyushu facing to Pacific Ocean and exploring

Nicihnan, Miyazaki and Hyuga. Go to north-east side of Kyushu, and travel to Takachiho. 

At the center of Kyushu is Aso where the dynamic nature with world's largest caldera.

Northern part of Kyushu, visiting Yufuin where is a beautiful and tranquil Onsen Resort and

exploring Beppu where is one of the most famous Onsen resort in Japan and the yield hot

spring volume is No.1 in Japan. Journey in Northern tip of Kyushu, Kitakyushu where is the

Industrial Innovation city contributed to Japan's Industrial modernization.

Final destination is Fukuoka where is heart of Kyushu enjoy shopping and sightseeing.

Price : from JPY 248,000 per person
---
8 days enjoy nature, Onsen and local speciality tour
This is the recomended tour exploring the featured destinations while

enjoying  Nature, Onsen and local speciality.

Where to explore

Beppu, Kokonoe, Yufuin, Takachiho, Aso, Yanagawa

Fukuoka
Price : from JPY 161,000 per person
---
9 days Northern & Central Kyushu tour
Exploring Northern & Central Kyushu from Fukuoka, and enjoying

variety of nature in each region and diversity of culture. First exploring

in to north-west side of Kyushu, Yobuko, Imari and Nagasaki Then

go to Shimabara peninsula and exploring Shimabara and gentle 

Onsen  resort Unzen.  Transfer to Central Kyushu by a Ferry and

travel in Castle town Kumamoto.

Exploring Aso where the dynamic nature with world's largest caldera and enjoy Japanese old town 

Kurokawa Onsen. Northern part of Kyushu, visiting Yufuin where is a beautiful and

tranquil Onsen Resort and exploring Beppu where is one of the most famous Onsen resort in

Japan and the yield hot spring volume is No.1 in Japan. Journey in Northern tip of Kyushu, Kitakyushu 

where is the Industrial Innovation city contributed to Japan's Industrial modernization. 

Final destination is  Fukuoka where is heart of Kyushu enjoy shopping and sightseeing.

Price : from JPY 186,000 per person
---
9 days Southern & Central Kyushu tour
---
Exploring Northern & Central Kyushu from Fukuoka, and enjoying

beautiful Japanese local scenery and numerous unique cultures.

First visit is Yobuko where is town of fishing industry, famous for Squid 

and next is Imari where is renowned as porcelain town, and then

travelling  Nagasaki where is the city in harmony with foreign countries

cultures and has significant Japanese histories.

Exploring Shimabara peninsula and visiting castle town Shimabara and gentle Onsen

resort Unzen.  Go to norther Kyushu and visit Yanagawa where is the former castle town

has a Japanese traditional townscape and canal boat cruise can be enjoyed. Journey in

Northern tip of Kyushu, Kitakyushu where is the Industrial Innovation city contributed to

Japan's Industrial modernization. Final destination is Fukuoka where is heart of Kyushu

enjoy shopping and sightseeing.

Price : from JPY 151,000 per person
---
Exploring Central Kyushu from Fukuoka, enjoying beautiful scenery

of Kyushu. First place to explore is Amakusa where is an archipelago 

located west side of Kumamoto and show beautiful landscape. Next

visit is Kumamoto where has Kumamoto Castle which is one the

great castle in Japan.

Exploring Takachiho where offers dynamic and beautiful Takachiho Gorge and here

is the birthplace of Japanese mythology. Exploring Aso where the dynamic nature with

world's largest caldera and enjoy Japanese traditional town Kurokawa Onsen. 

Travelling Kuju where is a plateau resort area and is a part of Aso Kuju National Park. 

Exploring Chikugo region where is agricultural industries spreading in the Kyushu's

largest Chikugo plain and visiting  Asakura and Ukiha. Final destination is Fukuoka

where is heart of Kyushu  enjoy shopping and sightseeing.

Price : from JPY 162,000 per person
---
Map of Kyushu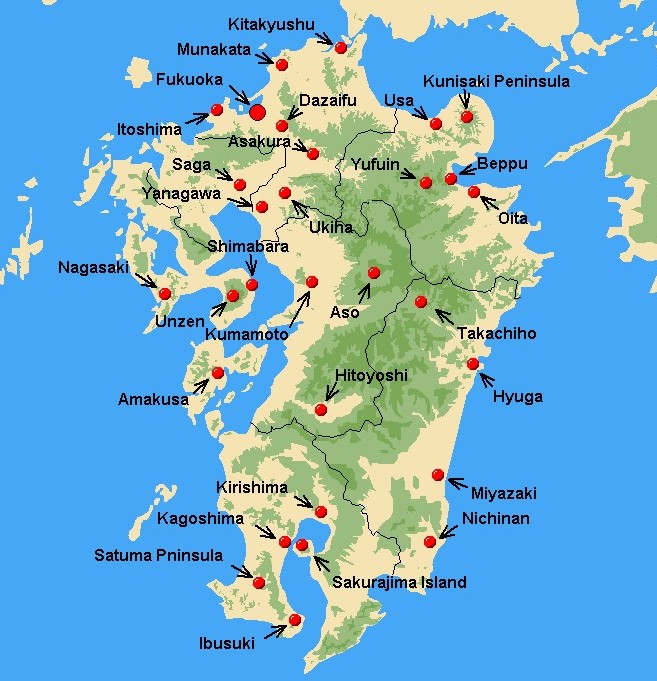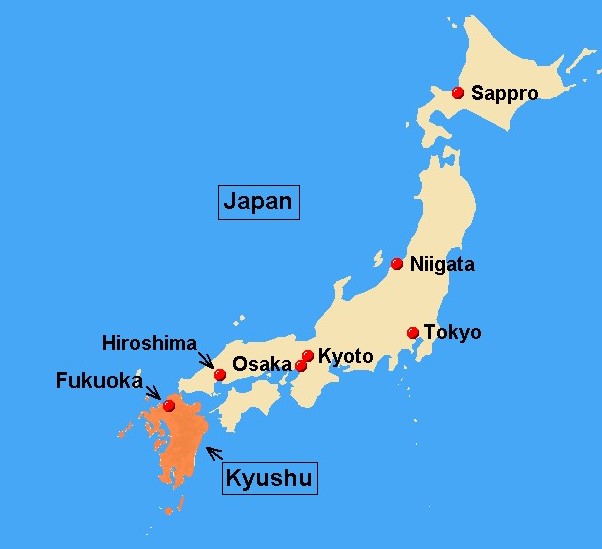 ---
---