Kyushu Tours from Fukuoka
We are offering package tour in Kyushu constructed exclusively for you.
All of our tours are specially customized tours and include transportation
and accommodation.
How to travel
The tour starts conveniently from Fukuoka.
To make your travel pleasant travel and in accordance with your requirements
and preferences we use a Private vehicles for transportation.
We can propose an Itinerary for you structured to your own style and pace.
---
Model Itineraries                                                Make an Enquiry
We have various model Itineraries of Kyushu tours to assisist in making your
Please select your favorite plan and contact us by sending an Enquiry.
---
Exploring the whole of wonderful Kyushu, and visiting it's major destinations

attractions.

Start from Fukuoka

Day 1 : Nagasaki ; Beautiful harbour developed as trading port, various tourist places with

               hidden significant Japanese histories, stay Nagasaki. 

Day 2 : Shimabara ; A beautiful Castle town located at the foot of Unzen and facing the Ariake Sea

             Unzen ; An Onsen resort located on the Shimabara peninsula, stay in Unzen,Onsen Resort

Day 3 : Kumamoto ; see one of Japan's three great castles, Kumamoto Castle. Enjoy Shimo-tori

                                 Shopping street which is one of the largest shopping arcades in Japan,

                                 stay in Kumam 

Day 4 : Satuma peninsla ; harmonized with subtropical nature, famous for it's sand bath,

             stay Ibusuki, Onsen Resort

Day 5 : Kagoshima ; the southern most major city in Kyushu, enjoy local cuisine at Tenmonkan.

            Sakura-jima Island ; the smoke is rising almost every day from the active volcano of

            Minamidake, stay in Kagoshima

Day 6 : Nichinan and Miyazaki ; facing the Pacific Ocean with beautiful coastlines, stay in Miyazaki

Day 7 : Takachiho ; enjoys the dynamic nature of Takachiho Gorge created by volcanic activity

             of Mount Aso over many years, stay at Aso, visit the Onsen Resort

Day 8 : Aso ; Aso five mountains including active volcano in the world's largest caldera,

             stay Aso, Onsen Resort

Day 9 : Yufuin ; a beautiful and tranquil Onsen Resort located in the Yufuin basin,

             Beppu ; one of Japan's most famous Onsen resorts, Onsen steam is

             rising from everywhere, stay in Beppu, visit the Onsen Resort

Day 10 : Kitakyushu ; the 2nd largest city in Kyushu and possesses numerous tourist

            attractions, stay in Kitakyushu.

Day 11 : Fukuoka ; the biggest city in Kyushu, enjoy shopping and authentic Japanese cuisines,

              stay Fukuoka

Day 12 : return to Home
---
8 days enjoy nature, Onsen and local speciality tour
This is the recomended tour exploring the featured destinations

while enjoying  Nature, Onsen and local speciality. 

Start from Fukuoka

Day 1 : Ukiha ; enjoy fruits picking at the orchards spread out at the foot of Mino mountain.

             Asakura ; the tranquil Harazuru Onsen Resort along the Chikugo river. 

               stay Harazuru, Onsen Resort

Day 2 : Beppu ; one of Japan's most famous Onsen resort, Onsen steam is

             rising from everwhere, stay Beppu, Onsen Resort

Day 3 : Yufuin ; beautiful and tranquil Onsen Resort located in Yufuin basin,

             stay in Yufuin, Onsen Resort

Day 4 : Takachiho ; dynamic nature Takachiho Gorge created by volcanic activity of Mount Aso

             for many years, stay Aso, Onsen Resort

Day 5 : Aso ; see theAso five mountains of Aso including an active volcano in the world's

            largest caldera, stay at Aso, visit the Onsen Resort

Day 6 : Yanagawa ; beautiful canal town facing the Ariake Sea, Recommended experience

            is Canal boat cruise, stay Fukuoka

Day 7 : Fukuoka ; the biggest city in Kyushu, enjoy shopping and authentic Japanese cuisines,

             stay Fukuoka

Day 8 : return to Home
---
9 days Northern & Central Kyushu tour
Exploring Northern & Central Kyushu from Fukuoka, and enjoying 

variety of nature in each region and diversity of culture. 

Start from Fukuoka.

Day 1 : Ureshino ; Green tea plantation spreading in Onsen and porcelain town, stay Nagasaki 

Day 2 : Nagasaki ; Beautiful harbour developed as a trading port, visit various tourist places with

            hidden Japanese historicdeal significance, stay in Nagasaki. 

Day 3 : Shimabara ; beautiful Castle town located at the foot of Unzen and facing to Ariake Sea,

             Unzen ; Onsen resort located on Shimabara peninsula surrounded by Ariake Sea, 

             stay Unzen, Onsen Resort

Day 4 : Kumamoto ; one of Japan's three great castles, Kumamoto Castle.

            Shimo-tori Shopping street where is one of largest shopping arcade

            in Japan. stay in Kumamoto

Day 5 : Aso ; Aso five mountains including active volcano in the world's largest caldera,

             stay Aso, Onsen Resort

Day 6 : Yufuin ; beautiful and tranquil Onsen Resort located in Yufuin basin,

             Beppu ; one of Japan's most famous Onsen resort, Onsen steam is

             rising from everwhere, stay Beppu, Onsen Resort

Day 7 : Kitakyushu ; the 2nd largest city in Kyushu and possesses numerous tourist

           attractions, stay in Kitakyushu.

Day 8 : Fukuoka, the biggest city in Kyushu, enjoy shopping and authentic Japanese cuisines,

             stay Fukuoka

Day 9 : return to Home
---
9 days Southern & Central Kyushu tour
Exploring Southern & Central Kyushu from Fukuoka and

enjoy diverse nature.  Start from Fukuoka

Day 1 : Kumamoto ; one of Japan's three great castles, Kumamoto Castle,

               Ibusuki : famous for sand bath, stay Ibusuki, Onsen Resort

Day 2 : Satuma peninsla ; harmonized with subtropical nature, stay Kagoshima 

Day 3 : Kagoshima ; southern most major city in Kyushu, enjoy local cuisines at Tenmonkan

               Sakura-jima Island ; the smoke is rising almost every day from the active volcano Minamidake

            stay Kagoshima 

Day 4 : Nichinan and Miyazaki ; facing the Pacific Ocean with beautiful coastlines, stay Miyazaki

Day 5 : Takachiho ; dynamic nature Takachiho Gorge created by volcanic activity of Mount Aso

             for many years, stay Aso, Onsen Resort

Day 6 : Aso ; Aso five mountains including active volcano in the world's largest caldera,

             stay Aso, Onsen Resort

Day 7 : Yanagawa ; beautiful canal town, stay Fukuoka

Day 8 : Fukuoka ; the biggest city in Kyushu, enjoy shopping and authentic Japanese cuisines,

             stay Fukuoka

Day 9 : return to Home
---
Exploring Northern & Central Kyushu from Fukuoka, and enjoying 

beautiful Japanese local scenery and numerous  unique cultures.

Start from Fukuoka

          

Day 1 : Ureshino ; Green tea plantation spreading in Onsen and porcelain town, stay Nagasaki 

Day 2 : Nagasaki ; Beautiful harbour developed as trading port, various tourist places with

            hidden significant Japanese histories, stay Nagasaki 

Day 3 : Shimabara ; beautiful Castle town located at the foot of Unzen and facing to Ariake Sea

             Unzen ; Onsen resort located on Shimabara peninsula surrounded 

             by Ariake Sea, stay Unzen, Onsen Resort

Day 4 : Yanagawa ; beautiful canal town, stay Kitakyushu

Day 7 : Kitakyushu ; the 2nd largest city in Kyushu and possesses numerous tourist

            attractions, stay in Kitakyushu.

Day 8 : Fukuoka, the biggest city in Kyushu, enjoy shopping and authentic Japanese cuisines,l

             stay Fukuoka

Day 9 : return to Home
---
Short duration tours in Kyushu
---
Map of Kyushu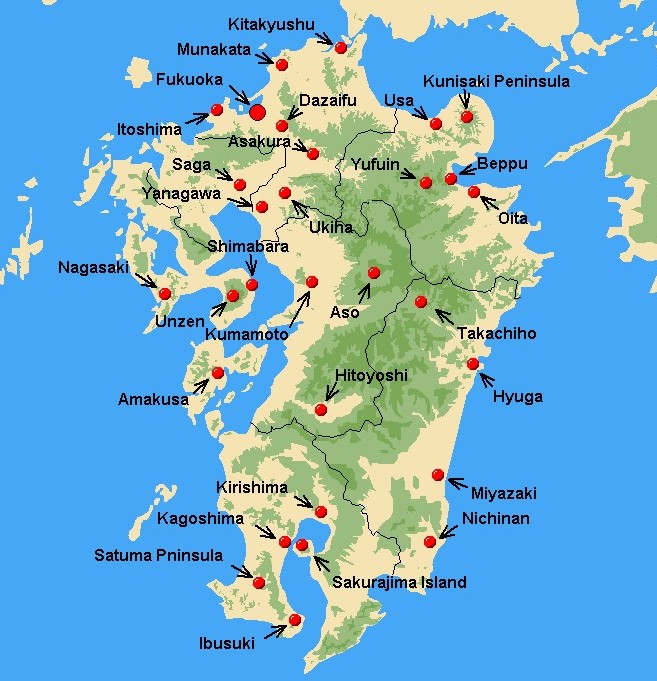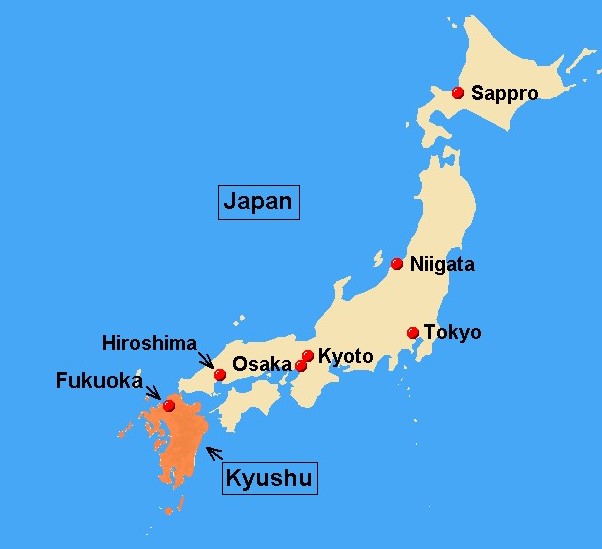 ---
---