Wonderful Kyushu Trip for Canadian customer
Country of customer :  Canada
Number of participant : 6 person
Schedule :March 15 to 29, 2023
Transportation : Private vehicle with 9 seats,  
Tour guide : English speaking driver  
Where to visit
  Nagasaki, Shimabara, Unzen, Kumamoto, Ibusuki, Kagoshima
  Miyazaki, Aso, Beppu, Yanagawa, Fukuoka
---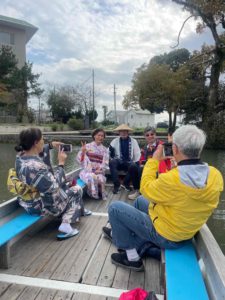 ---
What our Customer have to say
Dear Masa,
We would like to express our appreciation to Ken about his
kindness, gentleness and sincerity throughout our trip.
Having Ken being our tour guide, chauffeur, translator who provided
us a safe and enjoyable trip during our visit in 九洲 Kyushu in March
2023!  
He was a germ to all of us.
As we all know, weather, sometimes, is not predicted!
While we were in the Kyushu area, we did not have good weather!
One morning, we went to the  strawberries greenhouse!
At first we were wondering why this happened!
While we were in the greenhouse area, the moment we stepped into it,
we heard the thunder and it started raining hard! During our stay in the
greenhouse; it rained really hard outside! We all enjoyed picking
strawberries and tasted different kinds of strawberries! When we were
done and stepped out from the greenhouse, miraculously,
the rain stopped! During that period of time, we did not get wet at all,
full credit to you! You reviewed the weather forecast ahead of time and
made the proper adjustments to ensure we enjoyed our trip at all times!
Japan is a country we always want to visit again and again!
And Ken gave us another reason to visit again! 
Applause to Ken who did a really great job!👏👏
Gregory & Heidi Group