Takachiho one-day tour
Takachiho offers dynamic and beautiful Takachiho Gorge and
here is the birthplace of Japanese mythology
Takachiho is located almost center of Kyushu, in the northernmost part of Miyazaki-prefecture,
bordering Aso , Kumamoto-prefecture.
The Gokase River formed Takachioho Gorge flows from the west to the southeast part of town.
In this tour, you can enjoy the dynamic and beautiful nature of Takachioho Gorge
and find the roots of Japanese culture in the birth place of Japanese mythology.  
---
 Location of Takachiho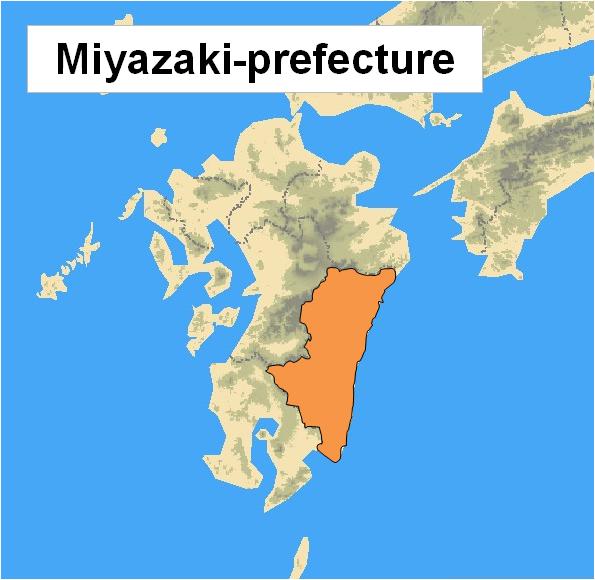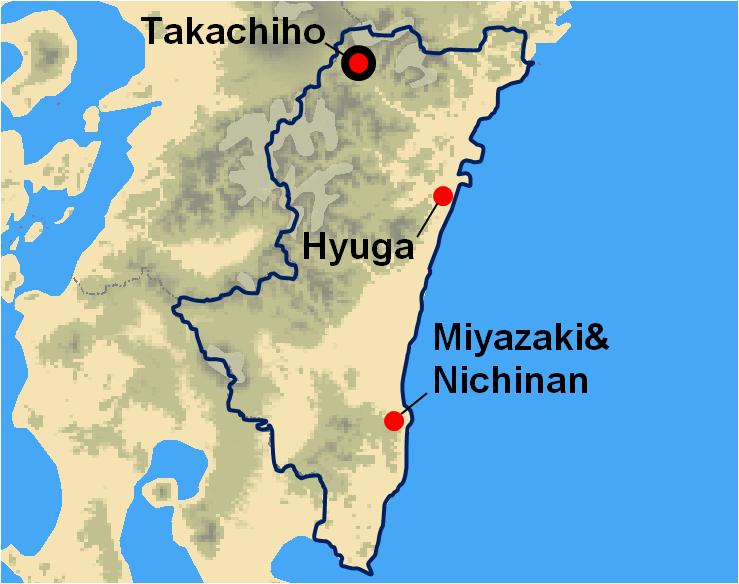 ---
Tour conditions
The tour is the private tour exclusively for your group.
・Minimum number : 4 person
・Maxum number : 30 person
・Start and end of the tour is 

Fukuoka-city

, please specify the place where you want
・Tour date : please specify the date
・English, Chinese or Korean speaking guide is accompanied
・Chartered vehicle is utilized such as a taxi or bus as per number of person
    if you use a taxi, a foreign language (English, Chainese or Korean ) speaking driver
    can be arranged. 
---
Itinerary  
8:00 Depart Fukuoka-city
Transfer to Takachiho using Kyushu Expressway, 2 hours and 50 minutes 
 Visit  Takachiho shrine 
 lunch at Takachiho
 Explore Takachiho Gorge
 Visit Amano Iwato shrine
Transfer to Fukuoka-cuty using Kyushu Expressway
18:00 Arrive at Fukuoka-city
---
Where to Explore
Located just west of the town center, is nestled in a grove of tall cedars. During the day the shrine's
nondescript, unpainted buildings blend in naturally with the surrounding trees. In the evening,
you can enjoy the Yokagura Dance
---
A narrow chasm cut through the rock by the Gokase River.  The nearly sheer cliffs lining the
gorge are made of slow forming volcanic basalt columns which resemble the scales of a dragon
where the stone twisted and flowed as it formed.
| | | |
| --- | --- | --- |
| | | |
| | | |
---
About ten kilometers outside of central Takachiho the Shrine was built near the cave
where Amaterasu is said to have hid herself away.  The cave cannot be approached,
however, there is an observation deck behind the shrine's main building.
---
Featured tours
Kumamoto-prefecture & Miyazaki-prefecture tours
・ Kumamoto, Aso and Takachiho 3 days tour
・ Aso and Takachiho / Dynamic Nature 2 days tour    
・ Amakusa / UNESCO Hidden Christian sites 2 days tour
Kyushu Round tours
・ 8 days Northern & Central Kyushu tour
・ 6 days North-West Kyushu tour
・ 6 days North-Eest Kyushu tour
---
Should you need further information please feel free to contact us.
Your equiry can be sent by selecting the Enquiry Form link below.
You can also contact us by e-mail at info@japan-kyushu-tourist.com
Tel :  +81-93-521-8897 , Fax :  +81-93-521-8898
Address :  AIM buiding 6th floor, 3-8-1 Asano, Kokura-kitaku, Kitakyushu-city, Fukuoka-prefecture 
---