Tailor-made tour
We will create your own journey
Tailor-made tours offer you the flexibility to choose your own  path, you can decide how and
when to travel, the level of  service and the hotel standard.
Pick in many activities and locations as possible, or incorporate some relaxation and free time
to explore on your own time.

---
Private Itinerary
Take the advantage of superiority as local travel agency in Kyushu.
We have various theme of Kyushu Tour Itinerary for your journey and we can create
your own plan in accordance with your requirement.
Please find your suitable tour from the Kyushu Tour itinerary.
                        ↓  ↓
And also Featured Kyushu tour shown below.
Kyushu travel information
We have prepared tourist information as per our own investigation by visiting each destinations,
tourist attractions, restaurants, shops, facilities and other places.
Featured tourist destinations as well as numerous hidden gems there.
Please find your interestings from the following.
                        ↓  ↓
---
We offer the all tour services including the followings what you need as package.
We can organize it from a wide variety of options depending on your destination & number of pax
such as chartered vehicles or public transportations.
Chartered Jumbo taxi with 9 seats, English speaking driver is available
Chartered bus with 24, 30 or 45 seats, no English speaking driver is available 
Japanse style Inn called Ryokan or Western style hotel can be arranged 
Levels of accommodation; comfort  (3 star ), superior (4 star), or deluxe (5 star)
We can propose the best suit accommodation as per your requirement and budget. 
The dining experience of Japanese cuisines and local foods is one of the best excitement
during the trip to Kyushu.  We propose and book the best restaurants to suit your preference
and budget from information on restaurants and meals available only at local travel agent.
Furthermore, Halal meals can be arranged.
English Tour Guide
Excellent Guides and Japan's Experts with International sense are a key feature of our
Exclusive tours.
We offer the best suitable guide for your trip in consideration of the type of tour and places to visit. 
Chinese and Korean Speaking guide can also be organized if you need.
---
---
We can also arrange the following if you are intereted in. 
Industrial company visit such as TOYOTA, NISSAN, TOTO, Yaskawa Electric,
Nippon Steel Sumitomo Metal.
| | | |
| --- | --- | --- |
|       TOYOTA |        Yaskawa Electric |   Nippon Steel Sumitomo Metal |
Japanese cultural experience in Kitakyushu can also be arranged such as dressing in Kimono,
tea ceremony and rickshaw riding at  Kokura Castle.
---
Featured Destinations map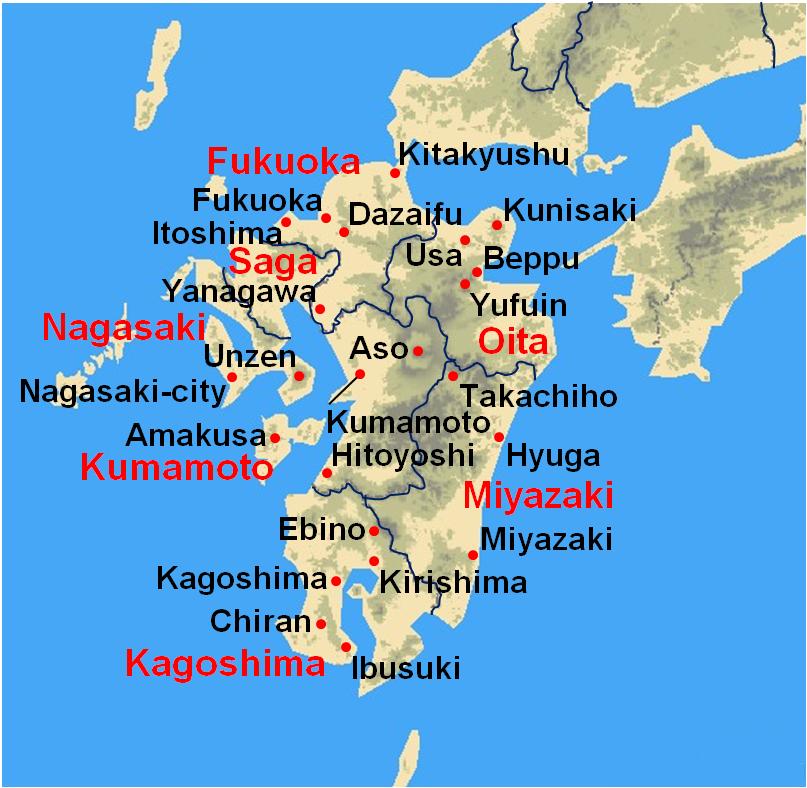 Note
  Red letter indicate prefecture
  Black letter indicate destination
Make an Enquiry 

Please send your enquiry by selecting the Enquiry Form link below.
You can also contact us by e-mail at info@japan-kyushu-tourist.com
And we would love to chat about your travel plans on the phone as well,
please ring our office a call.  ☎ +81-93-521-8897
---