Japan tours to Kyushu
Japan KYUSHU Tourist is the specialist of Fukuoka and Kyushu tour
Kyushu is the destination like a Treasure Chest of Japan
We offer various types of customized private Tours and Trips exclusively for you.
 Our tours  
Tailor-made tours,  Self-guided tours,  Golf tour,  Study tour
Your customized own package tour can be planned based on your purpose, interest of journey
and duration of your travel.
We can cover all the area of Kyushu, and we have prepare the two type of Itineraries of
Kyushu Round tour and Short duration journey.
---
 Kyushu Round tour itineraries 
Kyushu Round tour shows the long duration tours travelling the featured destinations
in Kyushu. The starting and finishing place of the tour is Fukuoka-city.
8 days  Northern &  Central Kyushu tour

The itinerary is covered featured

destinations and must see

places throughout Kyushu

Travel 5 prefectures
---
---
 Short duration journey itineraries ​
Short duration journey shows the short within 3 days, travelling featured destinations in
Fukuoka-prefecture and near Fukuoka-prefecture.
The starting and finishing place of the tour is Fukuoka-city.
If required, the starting place of the tour can be changed to Kitakyushu-city, Nagasaki-city
or Saga-city.
---
Fukuoka is the largest prefecture in Kyushu and has gate way from other area in Japan
and Overseas countries and the starting point of journey to any destinations in Kyushu.
The prefecture only in Japan isselected by CNN Travel as one of the top 19 places to visit in 2019 
Fukuoka

one-day tour

Fukuoka-city is the Heart of

Kyushu. this tour introduce

historical places and local

traditionalareas.

Yanagawa is a Castle town with

beautiful canal facing to Ariake

bay.  Dazaifu is must visit place

in Fukuoka-prefecture has

1300 years history

Itoshima is a resort town with

beautiful dynamic Genkai Sea;

seafood gourmet, rural landscape,

local products shopping,

Sake brewery are offered
---
UNESCO World Heritage sites

in Munakata and Fukutsu.

Discover Japanese history from

ancient time

UNESCO World Heritage sites

in Munakata and Oshima Island.

Worship the Sacred Island

from Okinoshima Island

Agricultural industries spreading

in the Chikugo plain; beautiful

rural landscape, fruit picking,

Sake brewery, Onsen
---
The Hinadoll festival is a

traditional Japanese event

that announces the arrival of

spring.

 

Kurume, Yame, Hoshino village

Located in the southern part of

Fukuoka-prefecture
---
---
Saga-prefecture is located in the northern part of Kyushu and are adjacent to Fukuoka-prefecture
in the east and to Nagasaki-prefecture in the west.
The north side faces Genkai Quasi-National Park with scenic coast line. In the south, the Saga
plain that is adjacent to Ariake Sea is spreading.
The capital of  Saga–prefecture

One of the birth place of

Japanese Industrial

modernization

Onsen Resort Takeo

Yutoku is one of the most

famous Inari shrines in Japan

Karatsu is a castle town.

Yobuko is a fishing port town;

morning market and fresh

squid cuisine are famous
---
towns with 400 years history.

Both places have different

feature of porcelain respectively.
---
Nagasaki-prefecture is located north-west side of Kyushu and borders Saga-prefecture
on the east, and is otherwise surrounded by Seas.
It also includes a large number of islands such as Tsushima and Iki. Most of the prefecture is
near the coast and there are a number of ports such as Nagasaki-city and a United States Navy
base at Sasebo–city.
Centred on Nagasaki harbour,

greatly contributed to Japan's

modernization since

establishment of Dejima

To show how Christians have

been continued their faith since

Christianity was propagated to

Japan

Introduce the Christian faith

continued even during the ban

on Christianity
---
Nagasaki / UNESCO 

Industrial Revolution 

one-day tour       

The origin of Japan's

modernization. Nagasaki

contributed for Shipbuilding

and Coal Mining

Main tourist destinations in

Shmabara peninsula. Shimabara

is facing Sea and has UNESCO

World Heritage sites. Unzen is a

beautiful highland Onsen Resort 

The town surrounded azure sea

with breathtaking 99 islands

scenery, and beautiful theme 

park Huis Ten Bosch 
---
Oita-prefecture is on the north-eastern section of Kyushu and is bordered by Miyazaki-prefecture
to the south, and Fukuoka-prefecture and Kumamoto-prefecture to the west.
The prefecture is a representative Onsen Resort area in Japan, and most recommended Onsen
 

Two major Onsen Resorts in

Oita-prefecture, Yufuin is a .

beautiful & tranqil Onsen

and Beppu is one of the most

famous Onsen in Japan

Tranquil country side spreading

around Usa Shrine that one of

the most beautiful shrine in

Japan

 
---
 Kumamoto & Miyazaki-prefecture  
 

Major toursit destination in

Central Kyushu; Kumamoto–city

Takachiho offers the dynamic 

nature of Takachiho Gorge, and

the roots of Japanese culture in

the birth place of Japanese

mythology

 
---
The city of Kitakyushu is the birthplace of the modern Japanese steel industry which began
operation in 1901, and is now the world's leading environmental future city.
Now it is called industrial and environmental city which is representative of Japan.
Therefore the various things can be learn here.
---
 Featured Destinations map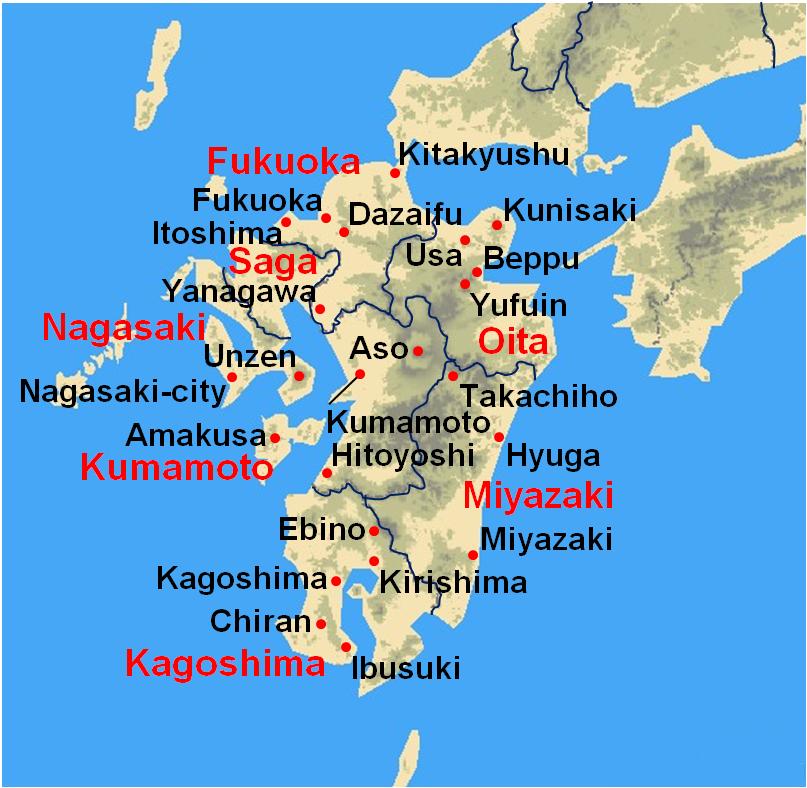 Note
  Red letters indicates Prefecture
  Black letters indicates Destinations
Tour condition
Start & end of the tour is Fukuoka-city
English speaking guide 
Local experienced and knowledgeable
guide escorts the tour
Chartered vehicle is utilizes
Jumbo taxi or bus
---
 How to make your customized tour  
1. Enquiry
 The tours we are offering are customized for private travel accordance with your preferences
 and date,  click the   Enquiry Form   to tell us what you are looking for.
2. Proposal
・Preliminary quotation which is guide line of the tour price as per the Enquiry.
・Basic suggested itinerary will be provided.
3. Clarifications
 All the tour conditions are to be clarified including the grade & type of accommodations,
 transportation, visiting placed, meals and other excursions, in order to meet your requirements
 and budget.
4. Final proposal
 The quotation and itinerary are provided based on the Clarification.
5. Make an agreement 
 The agreement for proceeding the customized tour is conducted.
6. Enjoy the customized journey 
  All the arrangement are made as per the agreement and operated the tour in
  accordance with the plan
Price of the tour
The price is customized based on travel date, number of participants, hotel choices,
transportations, and other custom preferences.
---
Should you need further information or assistances please feel free to contact us.
Your equiry can be sent by selecting the Enquiry Form link below.
You can also contact us by e-mail at info@japan-kyushu-tourist.com
Tel :  +81-93-521-8897,  Fax :  +81-93-521-8898
Address :  AIM buiding 6th floor, 3-8-1 Asano, Kokura-kitaku, Kitakyushu-city, Fukuoka-prefecture 
---