Kyushu customized tours
Japan KYUSHU Tourist is the specialist of Fukuoka and Kyushu tour
We offer various types of customized private tours exclusively for you.
We have prepared Suggested Kyushu tour itineraries that have been created based on
the abundant latest local tourist information collected by our own site investigation.
And also the itinerary have been considered the numerous tour results reflecting the
customers satisfactions.
---
Kyushu tours 
The tours travelling the featured destinations in Kyushu. 
The starting and finishing place of the tour is Fukuoka-city.
The itinerary is covered featured

destinations and must see

places throughout Kyushu

Travel 5 prefectures
---
---
Short duration tours from Fukuoka-city  
The starting and finishing place of the tour is Fukuoka-city.
If required, the starting place of the tour can be changed to Kitakyushu-city.
---
Itoshima is a resort town with

beautiful dynamic Genkai Sea;

seafood gourmet, rural

landscape, Sake brewery

Agricultural industries spreading

in the Chikugo plain; beautiful

rural landscape, fruit picking,

Sake brewery, Onsen

The city in harmony with

foreign countries cultures,

there are many fascinating

features you can meet
---
Takachiho offers the dynamic 

nature of Takachiho Gorge, and

the birthplace of Shinto which is

Japanese indigenouse religion

This tour takes two major

Onsen Resorts in Kyushu,

those areas have different

features

The best place for enjoyng the

nature in Kyushu, Aso and

Takachiho are spreading

around Mount Aso
---
Other featured Sightseeing tours
Munakata & Fukutsu one-day tour  UNESCO World Heritage sites
Yame & Hishino village one-day tour
---
UNESCO / Hidden Christian Sites in the Nagasaki Region  
To show how Christians have

been continued their faith since

26 martyrs were crucified in

Nagasaki in 1597

To visit Nagasaki, Shimabara

and Unzen. Shimabara was the

Battle field of Shimabara

Rebellion

 To visit Sotome, Nagasaki

 Unzen, Shimabara, Amakusa

 Kumamoto and Hirado
---
 UNESCO / Sites of Japan's Meiji Industrial Revolution  
The birth place of Steel Industry in Japan and contributed to the development of the Japanese industry modernization

The origin of Japan's

modernization. Nagasaki

contributed for Shipbuilding

and Coal Mining

To learn how Japan has become

the world's most industrialized

country in the short period
---
Study tour and field trip
Low Carbon Society tour

The comprehensive Solid waste

management system and

Recycling technologies

Kitakyushu-city is promoting

the low carbon society in Asia

taking leadership as the

Environmental Future City.

KAIZEN is the most important

key word for Japan's modernization

and world leading industries
---
Featured destinations map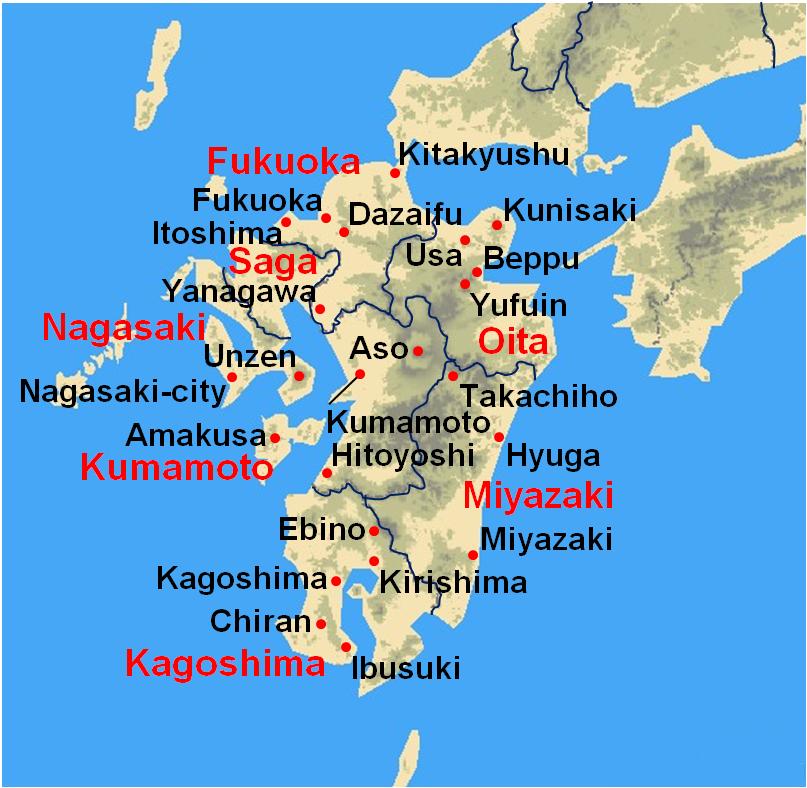 Note
  Red letters indicates Prefecture
  Black letters indicates Destinations
---
Tour results
We are offering various types of tours, and the tour results up to now are shown links below.        
Tailor-made tour       Study tour       Golf tour 
---
Should you need further information or assistances please feel free to contact us.
Your equiry can be sent by selecting the Enquiry Form link below.
You can also contact us by e-mail at info@japan-kyushu-tourist.com
And we would love to chat about your travel plans on the phone as well,
please ring our office a call in English    Tel : +81-93-521-8897
Address :  AIM buiding 6th floor, 3-8-1 Asano, Kokura-kitaku, Kitakyushu-city, Fukuoka-prefecture 
---