Japan tour packages to Kyushu
Japan KYUSHU Tourist is the specialist of Fukuoka and Kyushu tours in Japan. We offer various
types of customized private tour package exclusively for you. Japan tour packages are travel plans,
which include some or all of the following ; transportation such as chartered taxi or bus, tour guide,
accommodations, meals, and more.
One of our most proud things in Kyushu is Japanese cuisines and local delicacies.  You can enjoy
many different dishes using fresh and unique ingredients in various places during your travel. Also
you can meet a lot of amazing things what you have never experienced before.
---
Long duration Kyushu tours in Japan 
Kyushu has rich landscapes including nature and diverse cultures including food cultures. It has a
variety of histories all over Kyushu, and nature and urban are harmonized. You can enjoy a lot of
things here in Kyushu what you want to experience.
Exploring throughout Kyushu where is the fascinating destination of

Japan like no others. Where to explore are Nagasaki, Shimabara,

Unzen, Kumamoto, Ibusuki, Kagoshima, Sakurajima island, Nichinan,

Miyazaki, Huga, Takachiho, Aso, Yufuin, Beppu, Kitakyushu and

Fukuoka.  Enjoy unforgettable experiences.
---
8 days Northern & Central Kyushu tour
Northern and Central Kyushu, many fascinating tourist destinations

are concentrated in this area and a lot of Photo spots on the way to

main tourist destinations as well. Where to explore are Nagasaki,

Shimabara, Unzen, Kumamoto, Kurokawa Onsen, Aso, Yufuin,

Beppu, Kitakyushu and Fukuoka.
---
Exploring Kagoshima and Miyazaki prefecture where are located in the southwestern part of Japan, and has subtropical climate. Where to visit :

In Kagoshima-prefecture are Satsuma peninsula, Ibusuki, Kagoshima

and Kirishima. In Miyazaki-prefecture are Nishinan, Miyazaki, Huga

and Takachiho. Finally, exploring Fukuoka enjoy sightseeing and

shopping.
---
Exploring the 3 prefectures of Saga, Nagasaki and Fukuoka. Those

regions are located on the west side of Japan and the trade with

oversea countries has been carried out since ancient time. Where to

visit are Takeo, Arita and Imari in Saga-prefecture, Nagasaki, Shimabara

and Unzen in Nagasaki-prefecture, Yanagawa, Kitakyushu and Fukuoka

in Fukuoka-prefecture.
---
Exploring the 4 prefectures of Kumamoto, Miyazaki and Oita and

Fukuoka. Those regions are located central part of Kyushu and

spreading around Mount Aso. Dynamic and beautiful nature can be

enjoyed.  Where to visit are ; Amakusa, Kumamoto, Aso and Kurokawa

Onsen in Kumamoto-prefecture, Takachiho in Miyazaki-prefecture, Kuju

and Yufuin in Oita-prefecture, and Chikugo region and Fukuoka in

Fukuoka-prefecture.
---
Exploring the featured places of Oita-prefecture and Fukuoka-prefecture

Unforgettable various things can be enjoyed such as beautiful nature,

Onsen, local cuisines, fruits picking and Japanese cultures.

Where to visit : Okubungo, Yufuin and Beppu in Oita-prefecture,

Chikugo, Kitakyushu and Fukuoka in Fukuoka-prefecture.
---
Short duration tours from Fukuoka-city  
Many kind of fascinating tourist destinations are concentrated in northern part of  Kyushu. and you
can enjoy a short journey from Fukuoka-city. The starting and finishing place of the tour is Fukuoka-city.
If required, the starting place of the tour can be changed to Kitakyushu-city.
The Heart of Kyushu and the

energetic city bustling as the

center of Kyushu's politics,

economy, culture, fashion 

and tourism

Yanagawa is a Castle town

with beautiful canal. Dazaifu

is must visit place in Fukuoka-

prefecture has 1300 years

history

The Industrial Innovation city 

greatly contributed to Japan's

industrial modernization and

blessed with spectacular &

stunning nature 
---
Itoshima is a resort town next to

Fukuoka-city, with beautiful dynamic Genkai Sea;

seafood gourmet, rural

landscape, Sake brewery

Agricultural industries spreading

in the Chikugo plain. Let's meet

real Japan, beautiful rural landscape, fruit picking,

Sake brewery, Onsen

The city in harmony with

foreign countries cultures,

and the significant Japanese histories like no other areas
---
Dynamic and beautiful

Takachiho Gorge and here is

the birthplace of Shinto which

is Japanese indigenouse

religion.

Exploring the most popular 

Onsen Resorts Beppu and Yufuin. Two Onsen Resorts

have different fascinating

features.

The dynamic nature of Aso and Takachiho where is spreading around Mt. Aso.

Mt. Aso is the largest active volcano in Japan
---
Other featured Sightseeing tours
Munakata & Fukutsu one-day tour  UNESCO World Heritage sites
Yame & Hishino village one-day tour
---
Christian Pilgrimage sites tours in Nagasaki regions   
Japanese Christianity has a long history of continuing faith while coexisting with Japanese
traditional religion Shinto and General society. Japan's unique practice of the Christian faith
continued even during the ban on Christianity. A lot of the Christian Pilgrimage sites in Nagasaki
regions have been registered on UNESCO Hidden Christian Sites.
Nagasaki is a sacred place

of Christianity where Pope

and Saint Mother Teresa

officially visited.

Nagasaki has arduous and

sacrifice histories during the

ban on Christianity, such as

Shimabara Rebellion and 

many religious persecutions

Introduce how Christians have

been continued their faith by visiting Nagasaki-city, Unzen, Shimabara, Amakusa

and Hirado
---
 UNESCO Japan's Meiji Industrial Revolution sites  
Iron and Steel, Shipbuilding and Coal Mining are a group of historic sites that played an
important part in the industrialization of Japan in the Bakumatsu during National isolation
period and Meiji periods, and are part of the industrial heritage of Japan.
The birth place of Steel Industry in Japan and contributed to the development of the Japanese industry modernization

The origin of Japan's

modernization. Nagasaki

contributed for Shipbuilding

and Coal Mining

To learn how Japan has become

the world's most industrialized

country in the short period
---
Study tour and field trip in Kitakyushu-city
Kitakyushu-city is the best place in Japan for Study tour of Environmental and Industrial issues.
Kitakyushu-city is the most

advanced city in Japan for

solid waste management

and recycling 

Kitakyushu-city is promoting

the low carbon society in Asia

taking leadership as the

Environmental Future City.

KAIZEN is the most important

key word for Japan's modernization

and world leading industries
---
Featured destinations map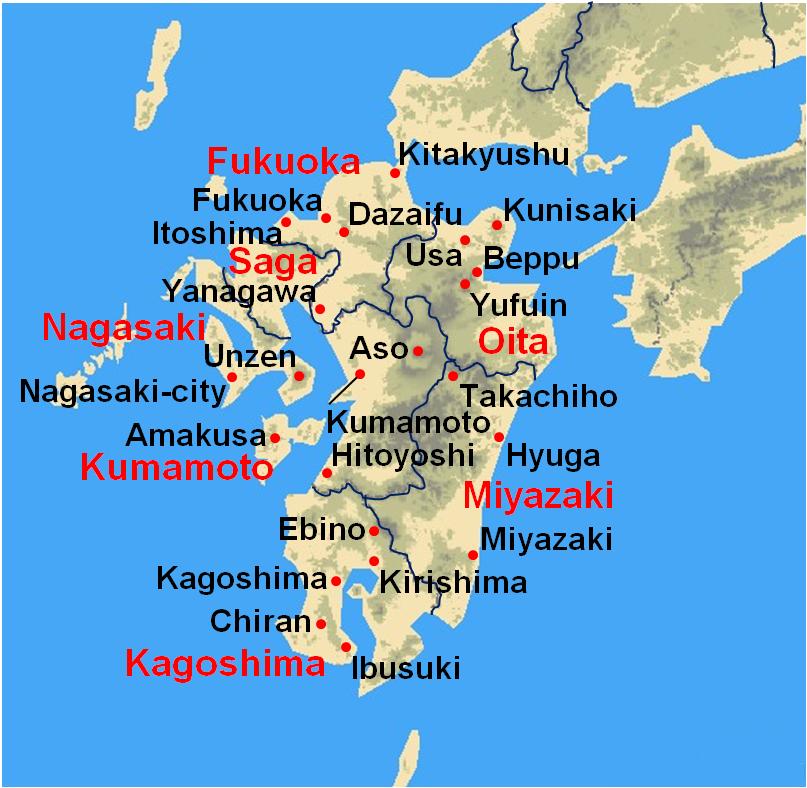 Note
  Red letters indicates Prefecture
  Black letters indicates Destinations
---
Tour results
We are offering various types of tours, and the tour results up to now are shown links below.        
Tailor-made tour       Study tour       Golf tour 
---
Should you need further information or assistances please feel free to contact us.
Your equiry can be sent by selecting the Enquiry Form link below.
You can also contact us by e-mail at info@japan-kyushu-tourist.com
And we would love to chat about your travel plans on the phone as well,
please ring our office a call in English    Tel : +81-93-521-8897
Address :  AIM buiding 6th floor, 3-8-1 Asano, Kokura-kitaku, Kitakyushu-city, Fukuoka-prefecture 
---
 HOME    About us   Our Services    Terms and Conditions
---