Oyster Barbecue Hut in Itoshima
Itoshima oyster growing up in the rich nature of mountain and sea Itoshima oyster features
mellow and sweet taste.  There are many Oyster Barbecue Huts at five fishing harbours.
The huts only open during the season, from end of October to March or April.
---
The huts are simple in construction; just big vinyl tents filled with a few dozen tables, each with
their own grill. You can get oysters, sazae (sea snails), prawns, fish and other seafood, fresh as
fresh can be, by the crate. The hut provides the grill, tongs, cotton gloves, and other tools for you
try your hand at grilling your own seafood.
Cooking them right can be tricky, but learning is part of the fun. For oysters, try putting the flat side
down first, flip after awhile, and wait for them to open from the heat.  Take them off the grill—gloves
on of course—and open them the rest of the way with the provided knife. Add a touch of shoyu
(soy sauce), ponzu (a tangy citrus-based sauce), lemon juice, or mayonnaise if you like and they're
ready to eat. If you're unsure how to cook things, just look around at what the other tables are doing
or wave over the helpful kakigoya staff.
---
General information
Address

Itoshima-city, Fukuoka-prefecture

Access

55 minutes by a vehicle from Fukuoka Airport

50 minutes by a vehicle from JR Hakata station

70 minutes by a vehicle from Dazaifu

110 minutes by a vehicle from Yanagawa

110 minutes by a vehicle from Kitakyushu-city
---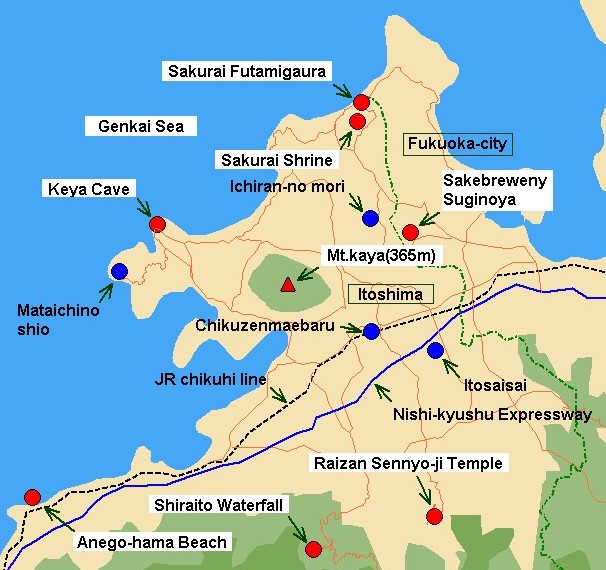 Home  Tailor-made tours Study tours Christian Pilgrimage tours Golf tour   Kyushu tour packages 
---