Tailor-made tour in Kyushu
We are delighted offer the package tours for traveling Kyushu exclusively for you.
Start and end place of the tour is Fukuoka.
All of our tours are customized tours includes transportation and accommodation.
The tour is planned as per the following conditions
・Number of participant, composition of the group ; family or other group,
・Accommodation ; room type, grade, meals
・Meals ; preference, allergy, Halal, physical condition, any other issues to be
    considered
・Transportation
 Private vehicle is utilized in accordance with number of persons and duration
    Chartered taxi : max 8 persons
    Chartered bus : max 30 persons
---
Model Itineraries                                                Make an Enquiry
We have various Model Iineraries of Kyushu tours starting from Fukuoka.
Please find the most suit your condition and then contact us by sending 
an Enquiry.
---
Exploring the whole of Kyushu, and visiting the major destinations in Kyushu.

Start from Fukuoka.

Day 1 : Nagasaki ; harmony with foreign countries cultures, stay Nagasaki

Day 2 : beautiful Castle town Shimabara, gentle Onsen resort Unzen, 

             stay Unzen

Day 3 : one of Japan's largest Castle town Kumamoto, stay in Kumamoto

Day 4 : harmonized with subtropical nature Satuma peninsla, stay Ibusuki Onsen famous for sand bath

Day 5 : southern most city Kagoshima and the active volcano Sakura-jima Island, stay Kagoshima

Day 6 : Nisihnan and Miyazaki facing the Pacific Ocean, stay Miyazaki

Day 7 : Takachiho with dynamic and beautiful Gorge, stay Aso

Day 8 : Aso, the world's largest caldera and active volcano, stay Aso

Day 9 : one of Japan's most famous Onsen resort Yufuin and Beppu, stay Beppu

Day 10 : Kitakyushu, offer the most dynamic night veiw in the world, stay Kitakyushu

Day 11 : return to Fukuoka, Free and Easy, stay Fukuoka

Day 12 : return to Home
---
8 days enjoy nature, Onsen and local speciality tour
This is the recomended tour exploring the featured destinations

while enjoying  Nature, Onsen and local speciality. 

Start from Fukuoka

Day 1 : Ukiha ; many orchards spread out, stay Harazuru Onsen

Day 2 : one of Japan's most famous Onsen resort Beppu, stay Beppu

Day 3 : A beautiful and tranquil Onsen Resort Yufuin, stay in Yufuin

Day 4 : Takachiho with dynamic and beautiful Gorge, stay Aso


Day 5 : Aso, the world's largest caldera and active volcano, stay Aso

Day 6 : beautiful canal town Yanagawa, stay Fukuoka

Day 7 : Free and Easy, stay Fukuoka

Day 8 : return to Home
---
9 days Northern & Central Kyushu tour
Exploring Northern & Central Kyushu from Fukuoka, and enjoying 

variety of nature in each region and diversity of culture. 

Start from Fukuoka.

Day 1 : Ureshino famous for its tea, stay Nagasaki 

Day 2 : Nagasaki, in harmony with foreign countries cultures, stay Nagasaki

Day 3 : beautiful Castle town Shimabara, gentle Onsen resort Unzen,

             stay Unzen 

Day 4 : one of Japan's largest Castle town Kumamoto, stay in Kumamoto

Day 5 : Aso, the world's largest caldera and active volcano, stay Aso

Day 6 : one of Japan's most famous Onsen resort Yufuin and Beppu, stay Beppu

Day 7 : Kitakyushu, offer the most dynamic night veiw in the world, stay Kitakyushu

Day 8 : return to Fukuoka, Free and Easy, stay Fukuoka

Day 9 : return to Home
---
9 days Southern & Central Kyushu tour
Exploring Southern & Central Kyushu from Fukuoka and

enjoy diverse nature.  Start from Fukuoka

Day 1 : one of Japan's largest Castle town Kumamoto,

             stay Ibisuki Onsen famous for sand bath

Day 2 : harmonized with subtropical nature Satuma peninsla,

             stay Kagoshima 

Day 3 : southern most city Kagoshima and the active volcano Sakura-jima Island, stay Kagoshima

Day 4 : Nisihnan and Miyazaki facing the Pacific Ocean, stay Miyazaki

Day 5 : Takachiho with dynamic and beautiful Gorge, stay Aso

Day 6 : Aso, the world's largest caldera and active volcano, stay Aso

Day 7 : beautiful canal town Yanagawa, stay Fukuoka

Day 8 : Free and Easy, stay Fukuoka

Day 9 : return to Home
---
Exploring Northern & Central Kyushu from Fukuoka, and enjoying 

beautiful Japanese local scenery and numerous  unique cultures.

Start from Fukuoka

Day 1 : Ureshino famous for its tea, stay Nagasaki 

Day 2 : Nagasaki, in harmony with foreign countries cultures, stay Nagasaki

Day 3 : beautiful Castle town Shimabara, gentle Onsen resort Unzen, stay Unzen

Day 4 : beautiful canal town Yanagawa, stay Kitakyushu

Day 7 : exploring Kitakyushu, offer the most dynamic night veiw in the world, stay Kitakyushu

Day 8 : return to Fukuoka, Free and Easy, stay Fukuoka

Day 9 : return to Home
---
Short duration tours in Kyushu
---
Kyushu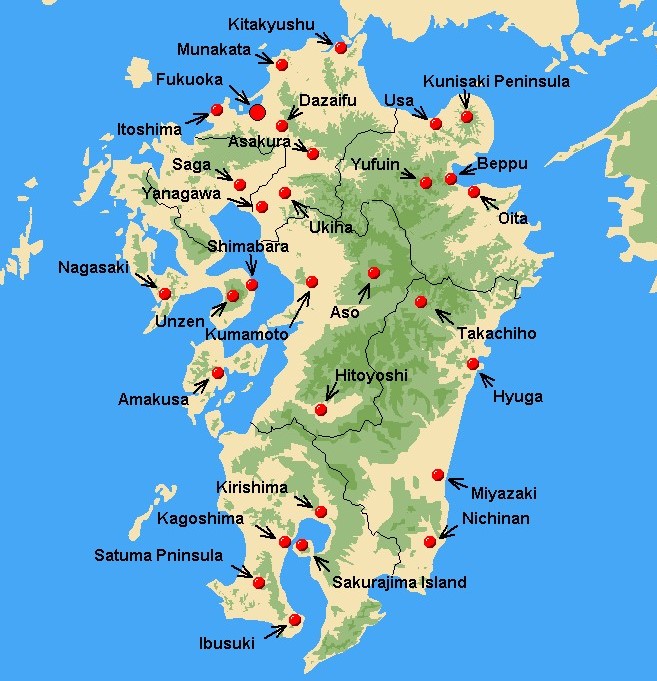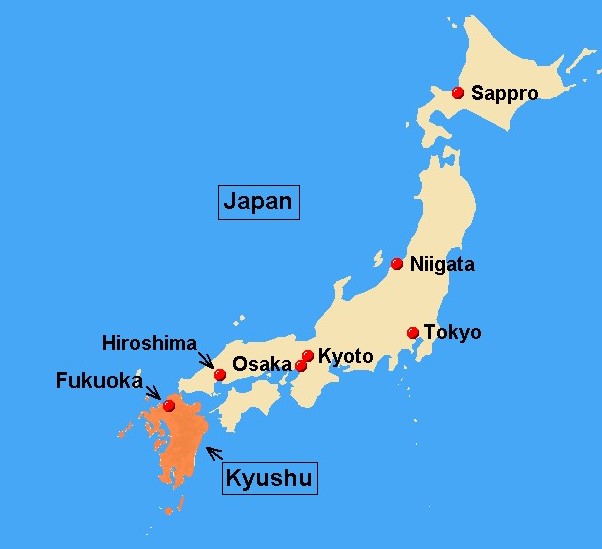 ---
 Home  Our Services   About us   Contact us   Terms and Conditions  Privacy Policy    
---