Futago-ji Temple
The Central temple of Rokugo-Manzan in Kunisaki peninsula. The temple was established
in 718 by Ninmon and located close to the peak of Mount Futago. Futagoji's grounds cover
a wide area on the forested slopes of the mountain, with stone and gravel paths and stairs
connecting several halls housing various deities.
---
A pair of stone Nio Guardians stand at the start of the traditional temple approach below the
parking lot, from where a ten minute ascent up a flight of steps takes you to the main temple buildings.
Among them are the Gomado Hall which is dedicated to Fudomyo, a protector of Buddhism, and the
Okunoin.
---
---
General information
Address

1548 Akimachi-futago, Kunisaki-city, Oita-prefecture

Access

70 minutes by a vehicle from JR Beppu

70 minutes by a vehicle from Yufuin

40 minutes by a vehicle from Usa

70 minutes by a vehicle from Nakatsu-city

110 minutes by a vehicle from Kitakyushu-city

150 minutes by a vehicle from Fukuoka-city

Open hours

March to November 8:00 to 17:00

December to February 8:30 to 16:30

Admission fee

JPY 300

Days closed

No closing days
---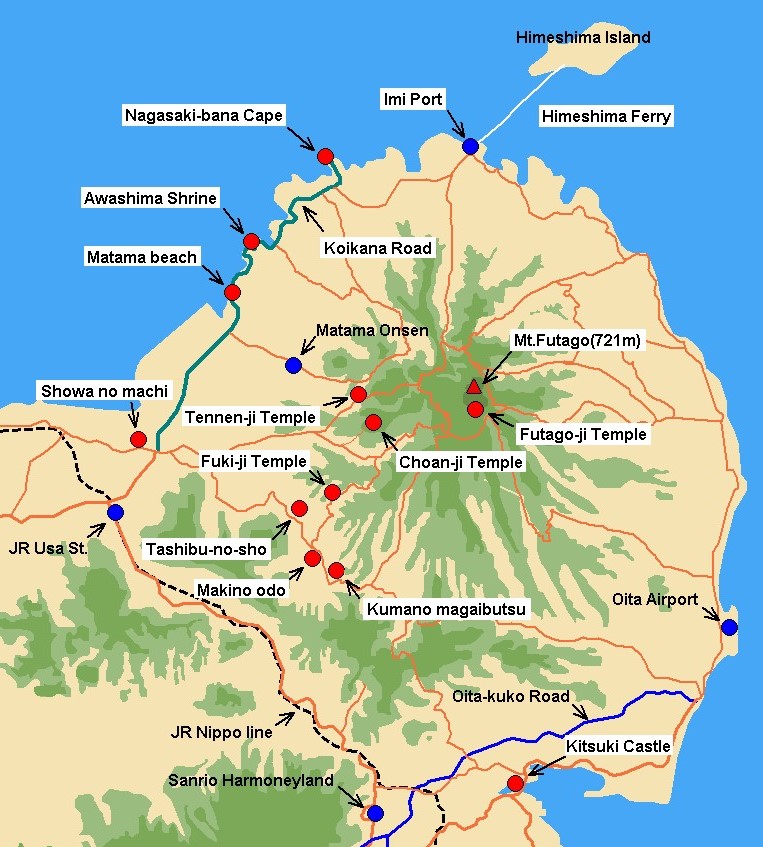 ---
Home  Tailor-made tours Study tours Christian Pilgrimage tours Golf tour Kyushu tour packages
---