Hitoyoshi travel guide
Hitoyoshi is located in the northern part of Kumamoto along Kuma-gawa River.
Hitoyoshi is a castle town once prosperous as a river port, and boasts the ruins of the
Hitoyoshi castle and Hitoyoshi Onsen.

The Hitoyoshi Onsen is the collective name for 30-add hot springs including Sagara
Onsen, all of which are supplied with hot water from sources around Hitoyoshi Station
and in the basin of Kuma-gawa River.
The most exiting thing in Hitoyoshi is Kumasawa-kudari that is riding on a boat maneuvered
by a master polar down the Kuma-gawa River, one of the three fast streams in Japan.
---
Where to explore
Hitoyoshi Castle Ruins
---
Steam Locomotive Hitoyoshi
---
Kumagawa-kudari, boat riding
Aoi Aso Shrine​
---
Kyusendo Limestone Cave​
---
Japanese style accommodation, Ryokan
---
General information  
Address

City hall : 16 Fumoto-machi, Hitoyoshi-city, Kumamoto-prefecture

Access

80 minutes by a vehicle from Kumamoto-city

140 minutes by a vehicle from Takachiho

120 minutes by a vehicle from Aso

150 minutes by a vehicle from Fukuoka-city

Population

33,000   Population density 155
---
Hitoyoshi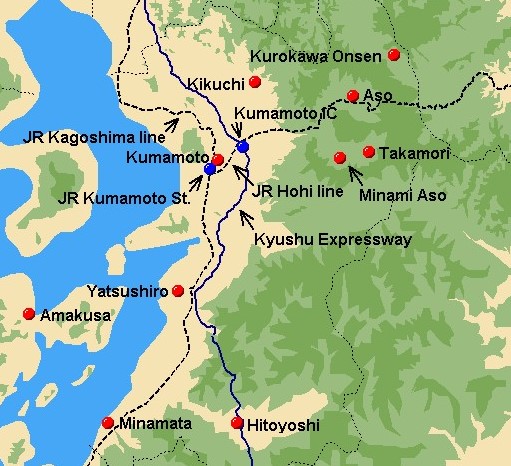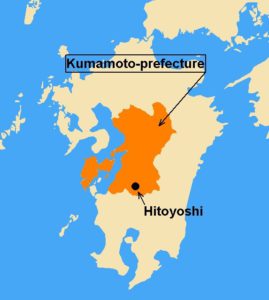 ---
 Home  Tailor-made tours Study tours Christian Pilgrimage tours   Golf tour   Kyushu tour packages
---