Kushida Shrine
The Shrine of Hakata Gion Yamagasa Festival.  Located in Hakata nearby Canal City Hakata 
and was built in 757 as a guardian deity of Hakata. The most exciting summer festival in Kyushu, 
Hakata Gion Yamakasa is held in the shrine in July.  The tall Kazari Yamakasa, a luxuriously 
decorated float, is always displayed.  The float was constructed without using even a single nail.
The Oi Yamakasa, in which floats weighing over a ton race through the streets of Hakata carried
on the shoulders of 26 people, presents a dynamic spectacle of bravery and strength that attracts
many spectators.
| | | |
| --- | --- | --- |
| | | |
---
The shrine is also famous as place of Setsubun ceremony ( Bean throwing ceremony)
which is held on February 3rd every year.
| | | |
| --- | --- | --- |
|       Torii gate |             Entrance |           Shrine main building |
---
---
      Sacred Crane Well

  Fortune telling piece

  of paper

       Donation of Sake
---
| | | |
| --- | --- | --- |
|   Hakata Gion Yamakawa |      Yamakawa decoration |        Yamakawa decoration |
---
| | | |
| --- | --- | --- |
|               Red Torii |    1,000 years Ginkgo tree   |             Shrine precinct |
---
General information  
Address

1-41 Kamikawabata, Hakata-ku, Fukuoka-city, Fukuoka-prefecture

Access

5 minutes walk from Subway Gion station

7 minutes walk from Subway Nakasu kawabata station

15 minutes walk from JR Hakata station

Open hours

4:00 to 22:00

Admission fee

No fee is required

Days closed

No closing days
---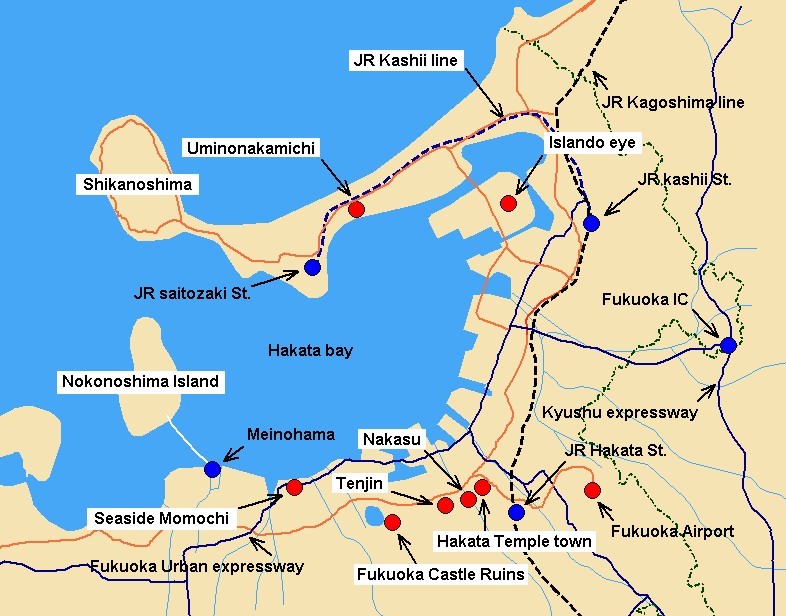 ---
Home  Tailor-made tours Study tours Christian Pilgrimage tours Golf tour Kyushu tour packages
---