Sotome Pilgrimage sites
Sotome is a rural, coastal area on the peninsula north of central Nagasaki. During the ban
on Christianity, Sotome was home to communities of "Hidden Christians", many of whom
emigrated there from other parts of Nagasaki as the remote region allowed them to practice
their religion in secret. French missionary Father Marc Marie de Rotz played a large role in
reestablishing the religion in the area. He established Shitsu Church on a hill overlooking
the sea.
On an elevation commanding a view over the Sea of Goto, Father Marc Marie de Rotz
established a church at his own expense 1882. The building was extended and renovated
again and again. A statue of Mary that he ordered from France is standing in the bell tower.
---
I want to save people in the Sotome from poor life. Former Shitsu Aid Centeris indispensable in
talking about the history and culture of the region.
---
The setting of Endo Shusaku's novel Silence. Sotome is blessed with a unique history and
culture of Christianity. In particular, the area in which the Endo Shusaku Literary Museum
stands is known as the site of a Christian village, one of Endo's most notable work, Silence.
The Church is located in Kurosaki district, where was place of the setting for Endo Shusaku's
novel Silence. In 1897, the foundations were laid down according to Father de Rotz's design.
Construction followed and in 1920 the church was completed. The followers built it brick by
brick with their own hands. The modest design serves to bring out the beauty of the bricks.
---
Michino-eki, Road Station
General information  
| | |
| --- | --- |
| Address | Shitsu, Nagasaki-city |
| Access | 50 minutes by a vehicle from JR Nagasaki Station |
---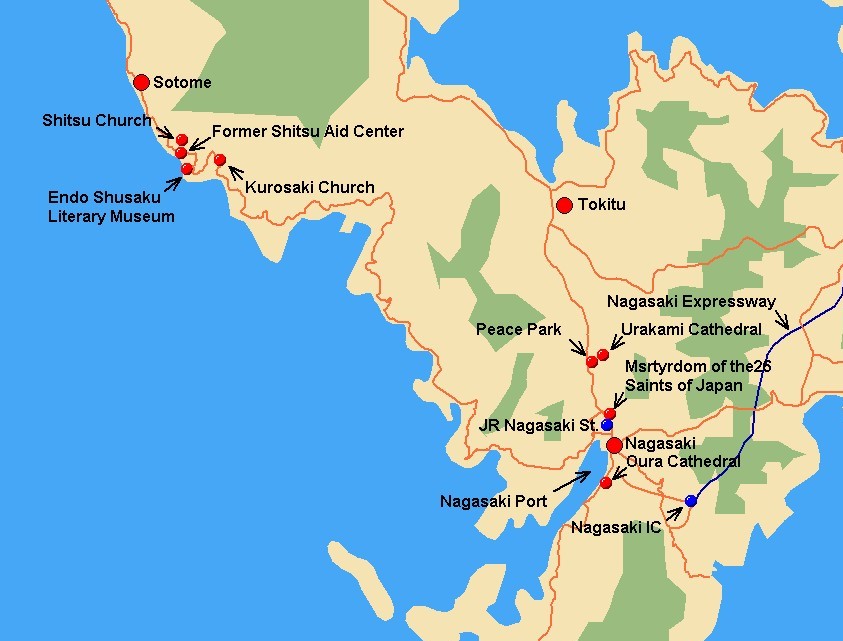 ---
Home  Tailor-made tours Study tours Christian Pilgrimage tours Golf tour   Kyushu tour packages
---