Nokonoshima Island
Nokonoshima, in the middle of Hakata Bay Beautiful flowers can be enjoyable throughout
the year. Rapeseed blossom, Cherry blossom, Livingstone daisy Poppy, Rhododendro,
Marigold, Hydrengea, Plumed cockscomb, Dahlia, Sunflower, Cockspur coral tree 
Bougainvillea, Scarlet sage, Cosmos, Dahlia, Autumn leaves, Scarlet sage, Japanese
narcissus, Japanese camellia, Plum.
---
---
Restaurant Sakimon, Barbecue house, Retro Shop Omoideya Shop Shimaya, Art Gallery
Warabekan, Gift Shop.
---
The breath taking panoramic view of the Hakata Bay can also be enjoyed.
---
A 10 minutes ride the ferry from Meinohama part to Nokonoshima island port,

and then a
13 minute ride the Nishitetsu bus from Nokonoshima island port to

Island Park. 
Address

Nokonoshima, Nishi-ku, Fukuoka-city

Access

To Meinohama port

   25 minutes by a vehicle from JR Hakata station

   25 minutes by a vehicle from Fukuoka Airport

To Nokonoshima port

   10 minutes by a ferry from Meinohama port,  JPY 230

To Nokonoshima Island Park

   13 minutes by a bus from Nokonoshima port
Nokonoshima Island Park
Open hours

9:00 to 17:30  Weekdays

9:00 to 18:30  Sunday and National holiday

Admission fee

JPY 1,200

Days closed

No closing days
---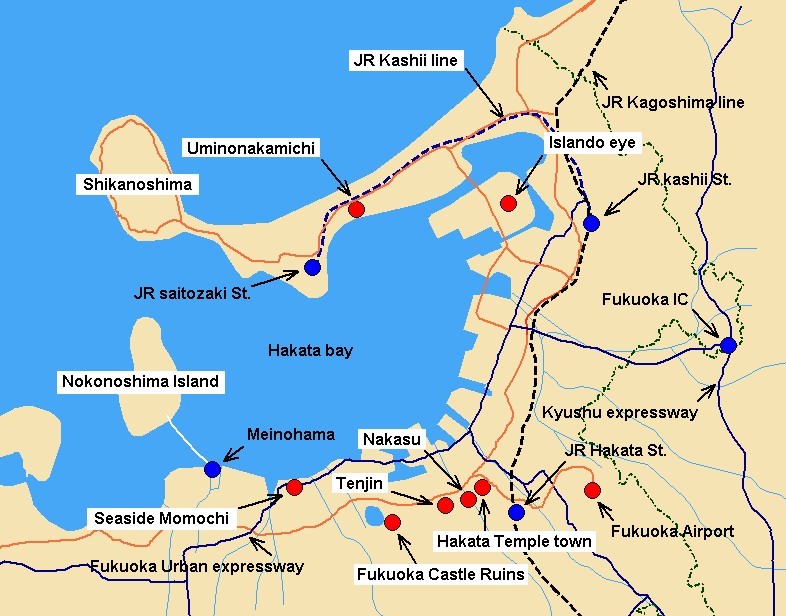 ---
Home  Tailor-made tours Study tours Christian Pilgrimage tours Golf tour   Kyushu tour packages
---