Karatsu, Yobuko, Arita, Takeo tour
 Where to Explore  
Karatsu, Yobuko, Arita and Takeo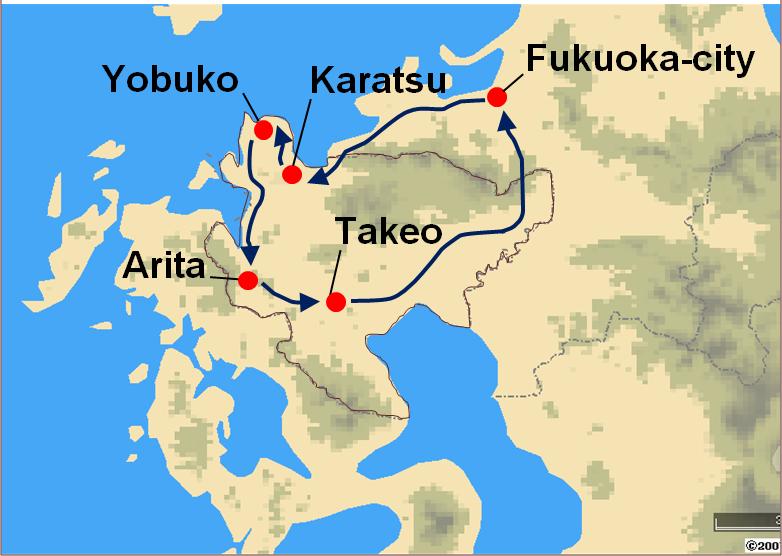 General condition
・Departure and disbandment place is in Fukuoka-city
・Chartered vehicle is used
---
Itinerary  
8:30 Depart Fukuoka-city
Transfer to Karatsu using Nishi-kyushu Expressway, 1 hour
Visit Karatsu Castle
transfer to Yobuko and Hado-misaki Cape
Lunch at Yobuko. enjoy fresh Squid
transfer to Arita and visit Arita Porcelain Park
Exploring Takeo
Transfer to Fukuoka using Kyushu Expressway, 1 hour 30minutes 
18:00 Arrive at Fukuoka-city 
---
Where to explore
Located on the Higashi Matsuura Peninsula in the northwestern part of Saga-prefecture,
have been prosperous from ancient times as an important point for trade with China.
---
Town of Fishing industry, famous for Squid and Morning Market called Asaichi.
Yobuko is located northern tip of Saga-prefecture and is facing to Denkai-nada Sea.
A lot of places were as a Shooting location of Thailand drama.
---
Lovers' sanctuary Cape
The main attractions of Cape Hado are the heart-shaped monument, underwater observation tower,
and the sunset. It is frequented by young couples who take photos in front of the heart monument,
and also by families who hang out at the wide, beautiful grasslands by the sea.
| | | |
| --- | --- | --- |
|   Hado-misaki beach |   Heart monument |   The north-west end |
---
Famous for Arita yaki which is 400-years old porcelain. The piece is bright, elegant pictures
drawn in transparent white porcelain.  
---
Onsen town, has 1300 years history. 
Takeo is located in the western part of Saga-prefecture and Takeo's Onsen waters feel silky
smooth on skin thanks to a high concentration of sodium bicarbonate.
The town was used as a Shooting location of Thailand drama.
---
Should you need further information please feel free to contact us.
Your equiry can be sent by selecting the Enquiry Form link below.
You can also contact us by e-mail at info@japan-kyushu-tourist.com
Tel :  +81-93-521-8897, Fax : +81-93-521-8898
Address :  AIM buiding 6th floor, 3-8-1 Asano, Kokura-kitaku, Kitakyushu-city, Fukuoka-prefecture 
---