Saga travel guide
Saga is located in the Saga Plain where is spreading from the foot of Mt. Seburi.
And southern part of Saga is facing to Ariake Bay.
There is the Yoshinogari Remains where rice cultivation first began in Japan
2400 years ago.
And the place made a great contribution to the Japanese Industrial Revolution as
the starting place of industrialization.
---
Japan's Industrial Modernization activity was started here in Saga. 

The largest restored wooden building in Japan at 2,500m2, the

museum offers the unparalleled chance to experience a Japanese

castle from more than 175 years ago.
---
The shrine is designated as the special government shrine. 

The shrine dedicated to Naomasa Nabeshima, who oversaw

the manufacture of Japan's first modern Cannon.
---
Mietsu Naval Dock   UNESCO World Heritage
UNESCO World Heritage, Site of Japan's Meiji Industrial Revolution. 

Before Meiji Restoration, the Mietsu Naval Dock served as a venue for

naval drilling and maintenance of Western-style ship, as the naval base

of Saga Clan. Japan's first practical steam ship, the Ryofu-maru was

constructed there in 1865.
---
This is the Japan's first constructed Reflectance Furnace and it was

used for Japan's first Cannon manufacturing. The reflectance furnace

was greatly contributed for initial stage of Japan's Industrial

 Modernization.
---
The largest archeological remains in Japan. Lie on the spacious hilly

area in the north-eastern part of Saga. Remains of a ringed-dugout 

settlement presumably dating back to the 3rd century B.C. were

unearthed there, and excavation is still underway at the site.
---
Saga International Balloon Fiesta
The largest hot air balloon competition in all of Asia with over

100 participating balloon teams from all over the world.
---
General information  
Address

City hall : 1-1 Sakai-machi, Saga-city, Saga-prefecture

Access

50 minutes by a vehicle from Takeo

60 minutes by a vehicle from Arita

60 minutes by a vehicle from Karatsu

90 minutes by a vehicle from Yobuko

70 minutes by a vehicle from Fukuoka-city

90 minutes by a vehicle from Nagasaki-city

Population

234,000   Population density 540
---
Saga-city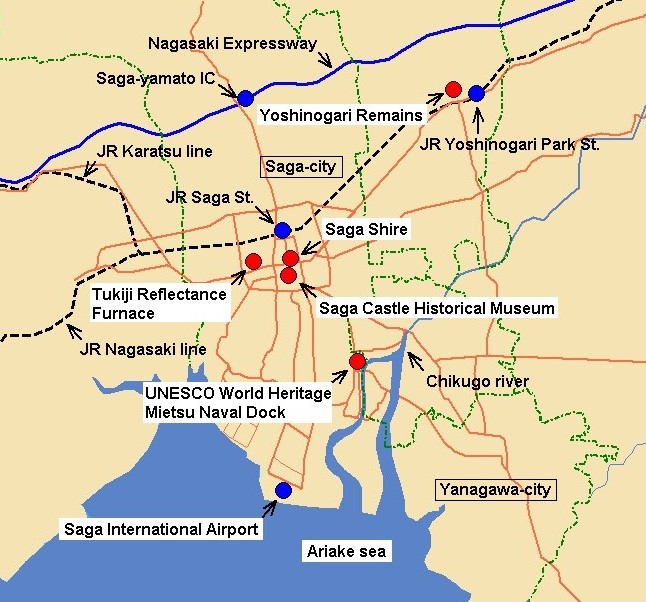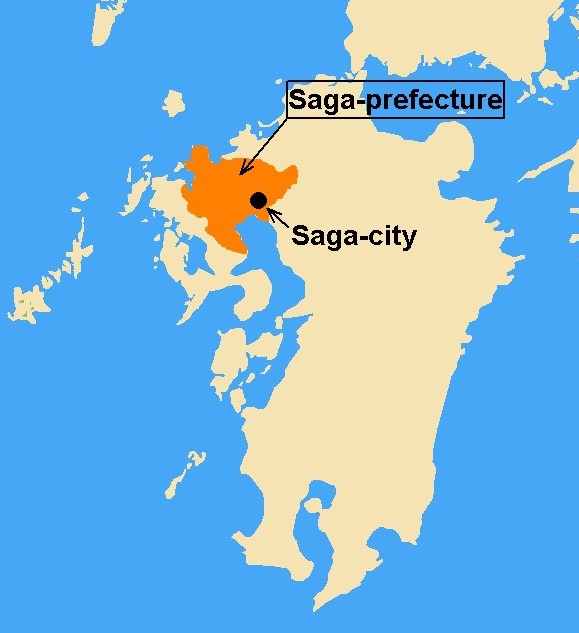 ---
Home  Tailor-made tours Study tours Christian Pilgrimage tours Golf tour Kyushu tour packages
---