Golf tour to Kyushu
Kyushu is a Paradise of Golf
Take the advantage of superiority as local travel agency in Kyushu,
we specialize in tailor making exceptional golf tours of Kyushu, creating golf travel packages
to suit your individual requirements and budget. 
The Golf tour package, everything is covered from the moment you arrive at the airport, inclusive
of onward travel arrangements, accommodation, golf, and any other extras you may need.
---
Featured areas for Golf
Fukuoka-prefecture
Fukuoka-city, Itoshima, Dazaifu, Chikugo, Kitakyushu, Munakata, Izuka & Tagawa 
 

Fukuoka prefecture has the largest number of golf courses in Kyushu.

Fukuoka-city is the gate way Kyushu travel and the heart of Golf and there are many

golf courses within one hour and 30 minutes by car from Fukuoka city
Nagasaki-prefecture : Unzen, Shimabara, Omura
 

Unzen and Shimabara are located in a beautiful Onsen Resort.

Omura is facing to Omura Bay and is located near Nagasaki.
Oita-prefecture : Beppu, Oita
 

Beppu is a popular hot spring town nestle at the foot of volcanos, Mt. Yufu and Mt. Tsurumi.

Oita is located next to Beppu Onsen Resort and it takes one hour drive.
Kumamoto-prefecture : Tamana, Kumamoto, Aso
 

Golf courses are located in Aso Kuju National Park, dynamic and beautiful scenery

can be enjoyed while playing golf.
Miyazaki-prefecture : Phoenix Resort
Located in Phoenix Resort, beautiful scenery can be enjoyed while playing at

Phoenix Country Club and Tom Watson Golf Course.
Kagoshima-prefecture : Kagoshima
 

Kagoshima-city is the southernmost major city in Kyushu which can see Sakura-jima 

which raises the smoke across the Kagoshima Bay. 
---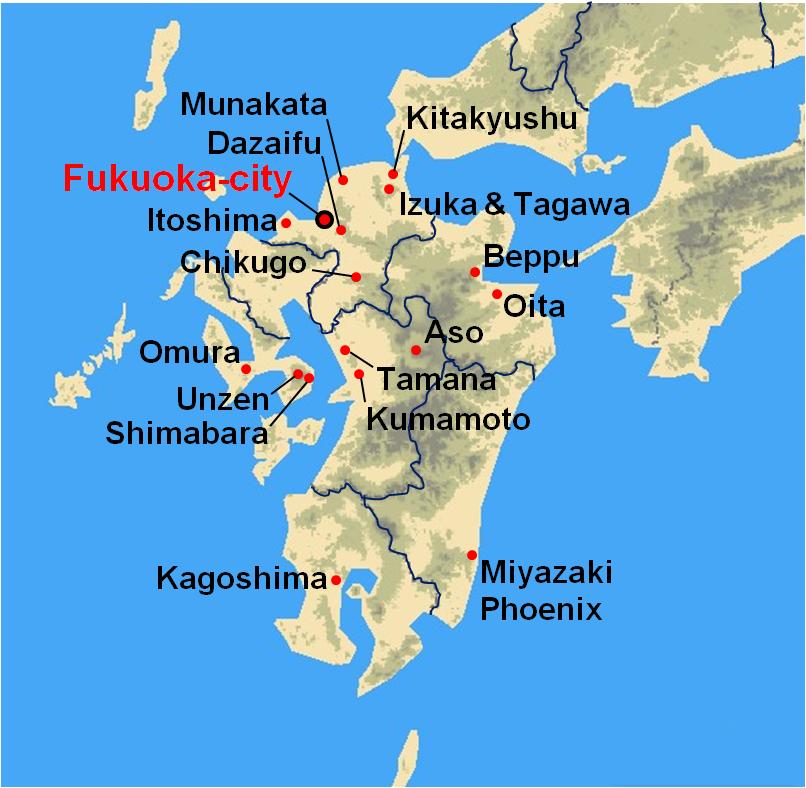 ---
There is a large variety of courses to fit golfers of every budget and

skill level in Kyushu.

There are many courses around Fukuoka-city that are easy to

access from the hotel in the city. more … 
---
Our services
Itinerary
To offer your own Itinerary in consideration of your requirements
Golf courses arrangement
We offer golf courses to suit your individual requirements and budget,
and we make an arrangement your best courses.
Transfer service 
We organize a chartered vehicle such as jumbo taxi, or bus in consideration of number
of pax and luggage. These transfers would be to and from the airport on your arrival
and departure days as well as to and from the courses included in the itinerary each day.
Accommodation
Japanse style Inn called Ryokan or Western style hotel can be arranged 
Levels of accommodation; comfort  (3 star ), superior (4 star), or deluxe (5 star)
Japanese and English speaking attendant Service
Almost all the golf courses in Kyushu require Japanese and English speaking attendant
at the reception and starter to avoid any peoblem. 
We can arrange a right person who is familiar with golf
Kyushu is a fascinating destination like a Treasure Chest of Japan. 
As part of your Golf tour package we can arrange Tailor-made tour.
Meals arrangement
The dining experience of Japanese cuisines and local foods is one of the best excitement
during the trip to Kyushu.  We propose and book the best restaurants to suit your
preference and budget from information on restaurants and meals available only at local
travel agent.
---
Please send your enquiry by selecting the Enquiry Form link below.
You can also contact us by e-mail at info@japan-kyushu-tourist.com
And we would love to chat about your travel plans on the phone as well,
please ring our office a call.  ☎ +81-93-521-8897
---