Golf tour in Fukuoka & Kyushu
Fukuoka and Kyushu are Paradises of Golf
Kyushu has about 250 golf courses and you can play golf comfortably throughout
the year because it is warmer than other areas in Japan.
Especially Fukuoka prefecture, has the largest number of courses in the Kyushu.
There are several Campion courses in the northern area, beautiful Sea side courses
at Itoshima peninsula, and also there are a lot of champion courses and reasonable
courses in the southern part.
Almost all the courses can be reached within one and half hous from Fukuoka-city.
The Golf tour package, everything is covered from the moment you arrive at the airport, inclusive
of onward travel arrangements, accommodation, golf, and any other extras you may need.
The hobby of CEO, Masa Kondo is Golf and who knows the difference of the Golf culture 
between Japan and Europe because he played at many courses in other countries included
in South Africa. Therefore we can offer the excellent courses to suite your requirement
and organize enjoyable tour without any problems for playing golf.
---
Where to play golf  
Where to play : Fukuoka-city, Kitakyushu-city, Itoshima, Dazaifu, Chikugo, Munakata,
 Fukuoka-prefecture has 60 golf courses that the large number of courses in Kyushu.
There are many champion courses with long history and a lot of Professional Golf
Tournament have been held here in Fukuoka-prefecture.
Access to almost all golf courses are within one and half hours from Fukuoka-city.
You can enjoy playing golf and sightseeing while staying  Fukuoka-city 
---
Where to play :Unzen, Shimabara, Nagasaki, Sasebo, Omura
Nagasaki-prefecture is located in the west side of Kyushu and it is a popular area for golf
due to warm climate through the year. There are a lot of beautiful seaside challenging courses.
And Nagasaki-prefecture  is a popular tourist destination such as Nagasaki-city,
Sasebo, Shimabara and Unzen ; you can enjoy golf and sightseeing.
---
Where to play : Beppu, Yufuin, Oita
Oita-prefecture is one of most famous Onsen resort in Japan, where has Beppu and Yufuin,
and has about 20 golf courses. You can enjoy sightseeing and golf here.
---
Kumamoto-prefecture has about 40 golf courses that is 2nd largest number in Kyushu.
Golf courses are located in Aso Kuju National Park, there are many courses where you can
see beautiful scenery of Mount Aso while playing golf.
---
Where to play : Phoenix Resort, Miyazaki
Miyazaki-prefecture has 30 golf courses and it is warm climate you can enjoy playing
golf throughout the year.
Most popular courses are Phoenix Country Club and Tom Watson Golf Course.
located in Phoenix Resort, where you can enloy beautiful scenery while playing.
---
Where to play : Kagoshima, Ibusuki
Kagoshima-prefecture is one of the best place for golf in Kyushu and has
about 30 golf courses. You can play comfortably in winter season as well, because
it is warn climate with 18 degree Celsius average temperature in the year.
---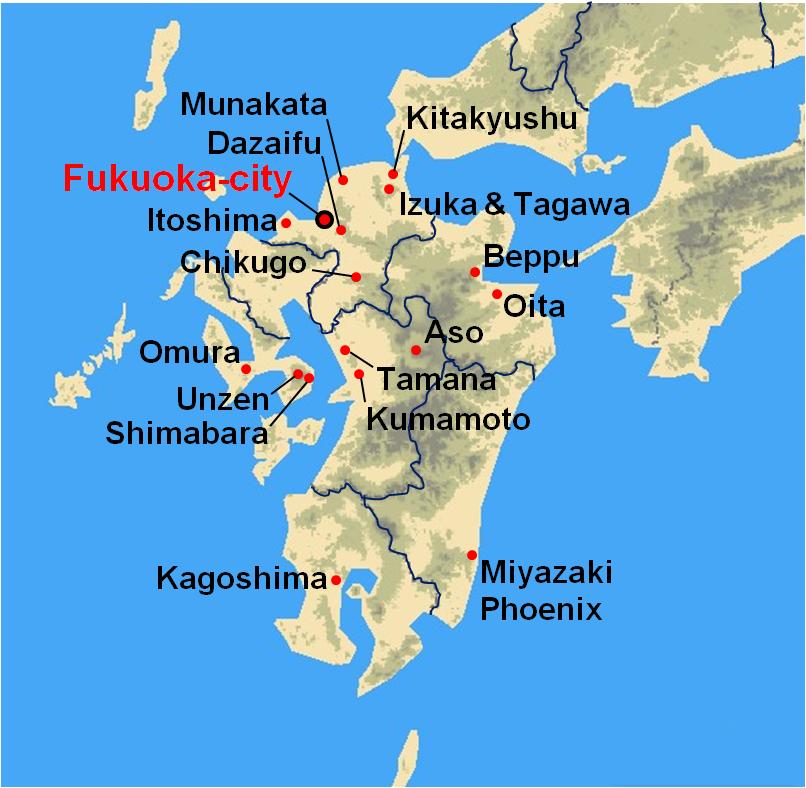 ---
There is a large variety of courses to fit golfers of every budget and

skill level in Kyushu.

There are many courses around Fukuoka-city that are easy to

access from the hotel in the city. more … 
---
Should you need further information please feel free to contact us.
Your equiry can be sent by selecting the Enquiry Form link below.
You can also contact us by e-mail at info@japan-kyushu-tourist.com
Tel :  +81-93-521-8897 , Fax :  +81-93-521-8898
Address :  AIM buiding 6th floor, 3-8-1 Asano, Kokura-kitaku, Kitakyushu-city, Fukuoka-prefecture 
---