Kawachi Wisteria garden & Kitakyushu one-day tour
The tour is the customized private tour traveled in Kitakyushu-city  including
Kawachi Wisteria garden, operated during Kawachi Wisteria blossom period
from mid-April to mid-May depending on the Wisteria condition.
---
 Location of Kitakyushu-city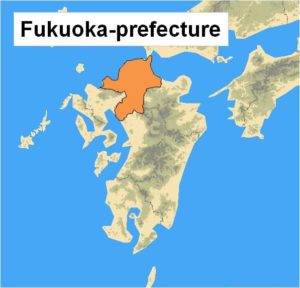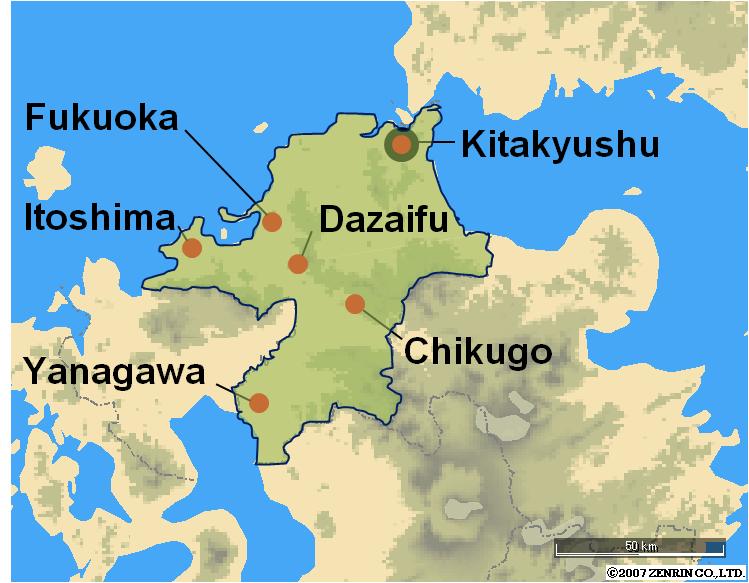 ---
Tour conditions 
The tour is the private tour exclusively for your group.
・Minimum number : 4 person
・Maxum number : 8 person
・Start and end of the tour is 

Fukuoka–city

, please specify the place where you want
・Tour date : please specify the date
・English, Chinese or Korean speaking guide is accompanied
・Chartered taxi is utilized
    A foreign language (English, Chainese or Korean ) speaking driver can be arranged. 
---
Itinerary
The suggested itinerary is shown below, however we can customized as per your requirement.
8:30 depart Fukuoka-city
  lunch at Kokura
  Kanmon Pedstrian tunnel : cross the Kanmon Strait on foot from Moji to Shimonoseki
Transfer to Kitakyushu-city using the Kanmon bridge
Back to  Fukuoka-city
17:30 arrive Fukuoka-city
---
Where to visit
Kawachi Wisteria Garden is a private garden at the Mountain foot of Sarakura in Kitakyushu-city
and famous for its spectacularly presented, large numbers of wisteria flowers.
---
The first-class civil construction heritage.
The triggered the registration of UNESCO World Heritage, Sites of Japan's Meiji Industrial Revolution
 The Kawachi Reservoir was constructed for the industrial water supply to Yawata Steel Works. 
---
Hosokawa Tadaoki commenced the construction of Kokura Castle in 1602 and spent 7 years to
completed it. The castle had a fivefold and six layered donjon and it was built in the architectural 
style called "Kara-zukuri".
Then, it served as a residence of the Ogasawara clan. In 1866, it was
burnt down by the Choshu
War, and the existing castle was reconstructed in 1959.
---
Must visit distination in Kitakyushu-city, Dr. Albert Einstein awarded Nobel Prize in Physic
visited Moji in 1922, and he acclaimed that everything could see were ARTS
The exotic district of Mojiko-Retro. Moji-ko Port flourished following its 1889 designation as a
Special National Port for exporting coal and other products. Close to China, it served as a trading
port making an important contribution to modernization of Japan.
---
Only the place in the world !   You can cross the strait on foot.
The Kanmon Strait, separating Honshu and Kyushu, is a very beautiful and busy waterway with
as many as 700 small and large ships a day passing through it.
---
 Price  
Price is subjected to number of person and what transportation to be used.
Please contact the following.
---
Kyushu short duration tours  
Fukuoka-prefecture tours
・ Kitakyushu-city one-day tour
・ Kawachi Wisteria garden & Kitakyushu-city one-day tour
・ Kitakyushu-city / UNESCO Industry Revolution one-day tour   
・ Yanagawa & Dazaifu one-day tour
・ Munakata & Fukutsu / UNESCO Sacred region one-day tour  
・ Munakata, Oshiama & Okinoshima / UNESCO Sacred region one-day tour
・ Toho village, Asakura and Ukiha one-day tour
・ Yoshii & Yanagawa Hina doll festival one-day tour
・ Kurume & Yame region one-day tour
Kyushu Round tours
・ 8 days Northern & Central Kyushu tour
・ 6 days North-West Kyushu tour
・ 6 days North-Eest Kyushu tour
---
Should you need further information please feel free to contact us.
Your equiry can be sent by selecting the Enquiry Form link below.
You can also contact us by e-mail at  info@japan-kyushu-tourist.com
Tel :  +81-93-521-8897 , Fax :  +81-93-521-8898
Address :  AIM buiding 6th floor, 3-8-1 Asano, Kokura-kitaku, Kitakyushu-city, Fukuoka-prefecture 
---
Tour results
We are offering various types of tours, and the tour results up to now are shown links below.
Tailor-made tour      Study tour       Golf tour 
---