Hakata
Fukuoka-city was originally two separate towns the common fork's
Hakata and the lordly Fukuoka castle town.

Hakata located east side of Naka River, was a commercial town prospered as important
Asian Continent for many years.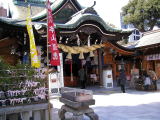 you can feel these old Hakata by a half day excursion on foot.
There are many festivals held here in Hakata including Hakata Dontaku  
and Hakata Gion Yamagasa.
●Where to visit