Customized tour
When designing customized tour, we take into consideration the diversity of 
travellers from around the world, We understand that our customers have
different preferences and expectation.  We have extensive local expertise
on Kyushu, and our programs are designed to be different, thematic, flexible,
and authentic, Our itinerary is suitable for everyone.
1) Transportation
For making pleasant travel in accordance with your requirements
and preference, the Private vehicle is used as for transportation.
Private vehicle is utilized as per number of person and duration of the tour.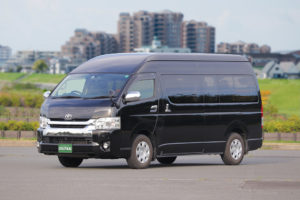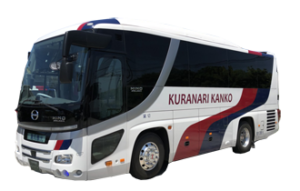 A jumbo taxi with 9 seats or a taxi with 4 seats is used for a small number of traveller,
and English speaking driver is available.
A bus is used for large number of traveller from more than 10 person and the English
speaking tour guide escorts your group in accordance with the tour itinerary.
---
2) Route design   
We have various kind of Model itineraries for making your Customized tour plan.
The Short duration tours from Fukuoka and Long duration tours covered all
area of Kyushu.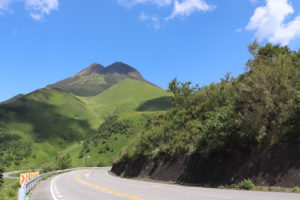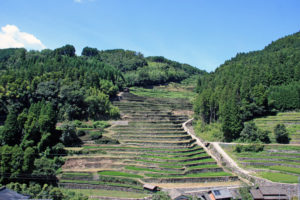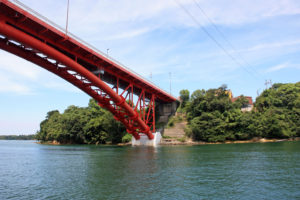 By using the most suitable Model itinerary, we will work closely with you and
making detail plan, including place to be visited, experienced to be done,
accommodation, meals and other things what you want.
---
3) Accommodation and rooming
We understand that accommodation is very important factor for pleasant journey. 
We have two type of accommodation in Japan, Japanese style accommodation
and Western style Hotel.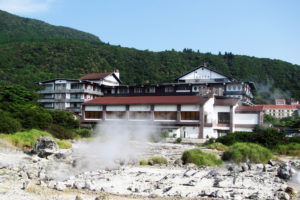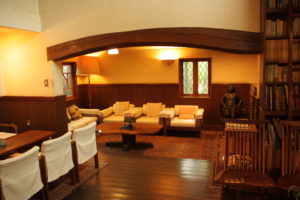 We will combine those accommodation considered place to be stayed.
Japanese style accommodation are reccommended at Onsen resort and at there
Kaiseki dinner can be enjoyed.  The places other than Onsen resort, Western
style Hotel are reccommended and dinner is enjoyed outside of Hotel, we will
select the place of Hotel in considaration of dinner.
For choosing suitable accommodation, we will also give detail information such 
as location, meals including Kaiseki dinner, tyle of Onsen, accommodation
facilities, services with homely atmosphere and expense. 
---
4) Meal planning, Japanese cuisine
One of the most enjoyable things is experience of Japanese cuisine. There are m
any types of dishes and local specialties, therefore you can taste various Japanese
cuisines and also you can enjoy Kaiseki-dinner at the Japanese traditional
accommodation.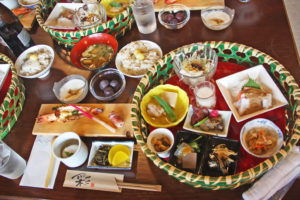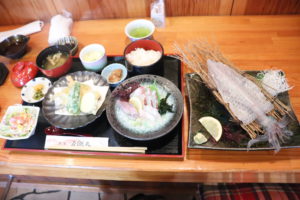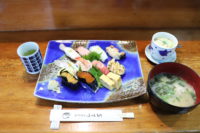 Kaiseki dinner is a traditional multi-course Japanese dinner. It places a huge
emphasis on seasonal ingredients as well as presentation. Each dish is a
delicate balancing act of flavor, texture and color. Every aspect is considered in
detail, including the tableware each course is served on. Kaiseki is just as
much a feast for the eyes as the taste buds and is a culinary experience unlike
anything else.
When we propose the Meal planning we will consider the following things that
is is one of important issue requires a lot of attentions. We will refer to your
preferences, including the type of cuisines, frequently of meals, allergies and
restrictions, and design each day's outline based  on the above information.
---
5) Activities
Kyushu composed of numerous unique and charming regions made by own nature,
history, climate and culture.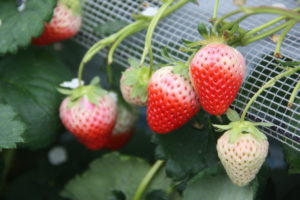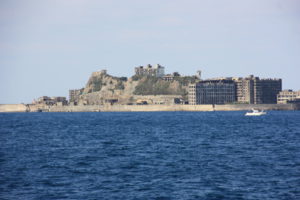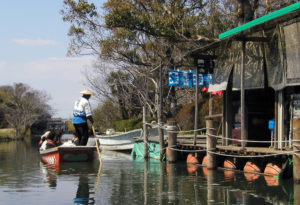 During travelling Kyushu, you will make a lot of unforgettable experiences as follows.
Authentic Japanese cuisines, local foods, Sake brewery, Food stall Yatai in Fukuoka
and Kitakyushu.
Fruits harvest experience, Dolphin watching, Canal boat cruise, Gunkan-jima island
cruise, Onsen experience, Hell tour in Beppu, enjoy night view in Kitakyushu and
Nagasaki, Shopping at each local area, Local souvenirs, Local Festivals
We are always striving to exceed expectations for your satisfaction.
---
Home   Our Services   About us   Contact us  Terms and Conditions   Privacy Policy
---