Short duration tours in Kyushu
This is the model plans for making your customized tour.
Many kind of fascinating tourist destinations are concentrated in northern
part of Kyushu and you can enjoy a short journey from Fukuoka.
---
Exploring the traditional area of Fukuoka

First, travelling Hakata Old Town where is the first gateway and

prospered as the largest trading port in medieval Japan, 

Visit Seaside Momochi where is water-front resort facing to Hakata

bay. Final destination is Fukuoka Castle Ruins to feel Japanese

culture in Edo period.
---
Yanagawa & Dazaifu one-day tour
---
The second largest city in Kyushu and blessed with spectacular and

stunning nature. The city is the Industrial Innovation city greatly 

contributed to Japan's Industrial modernization. Kitakyushu offers a

lot of sightseeing spots and UNESCO World Heritage of
---
Itoshima is a resort town located next to Fukuoka–city and facing

Genkai Sea ; the dynamic wave makes beautiful coast line scenery,

and on the other side is surrounded majestic Seburi mountain range

makes beautiful country side landscape.
---
2 days Yufuin & Beppu Onsen tour
Exploring the most recommended Onsen resorts Beppu and Yufuin. 

Two Onsen resorts are located in Oita-prefecture, and have different

fascinating features. Oita-prefecture is on the north-eastern area of

Kyushu and a representative Onsen resort area in Japan.
---
The dynamic nature of Aso and Takachiho where is spreading around

Mount Aso. Mount Aso is the largest active volcano in Japan, and is

among the largest in the world. The present Aso caldera formed as a

result of four huge caldera eruptions occurring over a range of

90,000 to 300,000 years ago. 
---
2 days Kitakyushu tour, enjoy the most dynamic night veiw in the World
Kitakyushu offers a lot of sightseeing spots such as scenic beauty

places including the most dynamic night veiw in the World.

The tour offers a lot of excitement that you have never experienced

before.
---
3 days Kumamoto, Aso and Takachiho tour
Exploring Kumamoto, Aso and Takachiho.  Kumamoto was

prosperous as a castle town; Kumamoto Castle is one of the

three great castles in Japan. Aso has the world's largest caldera

and the active volcano give a lot of excitements. Takachiho

offers dynamic and beautiful Takachiho Gorge.
---
Featured destinations map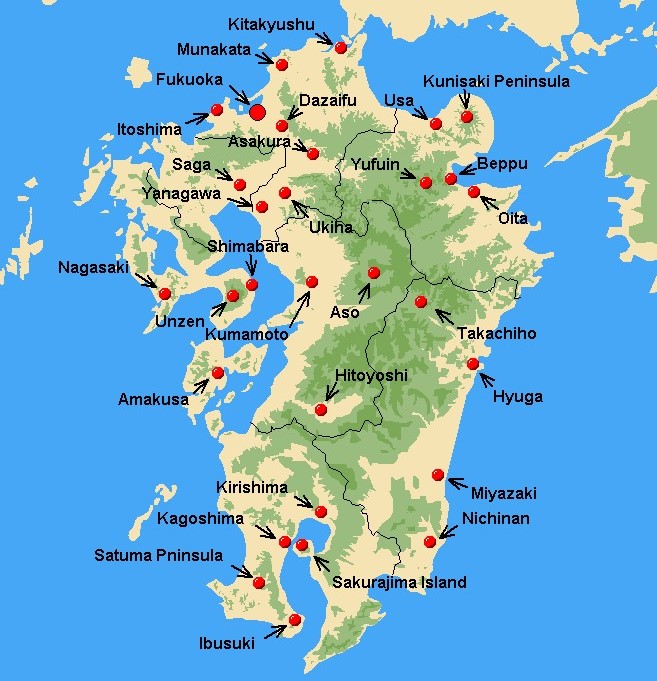 ---
---