Short duration Kyushu tours
Many kind of fascinating tourist destinations are concentrated in northern part of  Kyushu.
and you can enjoy a short journey from Fukuoka-city. The starting and finishing place of the tour is Fukuoka-city.
If required, the starting place of the tour can be changed to Kitakyushu-city.
---
The Heart of Kyushu and the energetic city bustling as the center of

Kyushu's politics, economy, culture, fashion as well as tourism.

Fukuoka-city has many kind of fascinating tourist attractions and

abundant tourism materials which are different from the other

destinations in Kyushu. For this tour, we take you to historical places

and local traditional areas for introducing the real Japan.
---
Yanagawa & Dazaifu one-day tour
---
---
Itoshima is a Resort town located next to Fukuoka–city and facing

Genkai Sea ; the dynamic wave makes beautiful coast line scenery,

and on the other side is surrounded majestic Seburi mountain range

makes beautiful country side landscape.
---
Chikugo region consisting of Asakura and Ukiha is an agricultural

industries area spreading in the Kyushu's largest Chikugo plain.

Let's meet real Japan by enjoying Japanese traditional

countryside landscape, local cuisines, breweries, fruit picking and

cultures of Japanese towns & villages.
---
Yufuin & Beppu Onsen 2 days tour
Exploring the most recommended Onsen Resorts Beppu and Yufuin. 

Two Onsen Resorts are located in Oita-prefecture, and have different

fascinating features. Oita-prefecture is on the north-eastern area of

Kyushu and a representative Onsen Resort area in Japan, total

boasting hot spring sources and hot spring flowing volume are both

Japan's largest.
---
The dynamic nature of Aso and Takachiho where is spreading around

Mount Aso. Mount Aso is the largest active volcano in Japan, and is

among the largest in the world. The present Aso caldera formed as a

result of four huge caldera eruptions occurring over a range of

90,000 to 300,000 years ago. 
---
Featured destinations map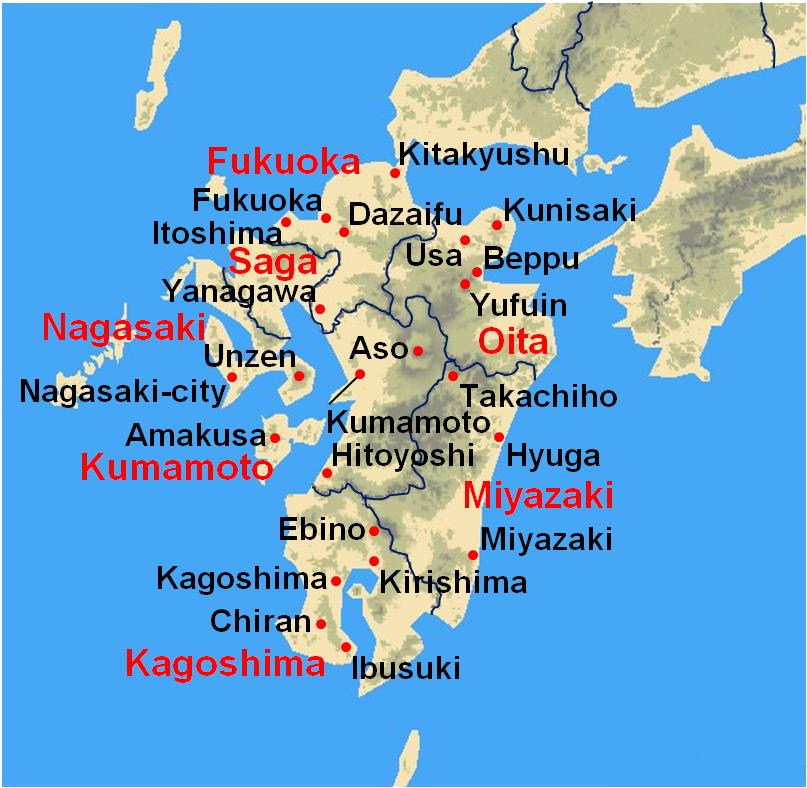 Note
  Red letters indicates Prefecture
  Black letters indicates Destinations
---
Home   Tailor-made tours Study tours Christian Pilgrimage tours Golf tour Kyushu tour packages  
---