Kawachi Reservoir
The first-class civil construction heritage, the triggered the registration of World Cultural 
Heritage of Sites of Japan's Meiji Industrial Revolution 
The Kawachi Reservoir was constructed for the industrial water supply to Yawata
Steel Works. The dam was constructed at the Okura River and upper stream of the
dam was expanded and making the 7milion cubic metre reservoir.
---
Specification of the dam  
・completion year : 1927
・height : 43.1 metre 
・Width : 189 metre
・Water storage capacity : 7,000,000 cubic metre
---
In the construction of the dam, the unprecedented design in the world has been applied in order
to harmonize with nature and to save the construction cost. The stones come out from the mountain
when the river was expanded have been utilized for construction of the dam.
---
All stones are cut into sizes and shapes by the stone technicians  according to the place of use. 
The large size stone were used at the main construction of the dam and the small size stones 
were used for other places as per size and shape. Construction was started in 1919 and was 
completed in1927 by 900 thousand total number of workers.
---
The only remaining lenticular truss bridge in Japan 
( lens type truss bridge),
located at the south
side
of 
Kawachi Reservoir and
it was designed by Hisanori
Numata. 
This shape and color really
harmonize with nature and become a
symbol
of the Iron town Yahata.
---
General information  
| | |
| --- | --- |
| Address | Kawachi, Yahata-higashi-ku, Kitakyushu-city, Fukuoka-prefecture |
| Access | 30 minutes by a vehicle from JR Kokura Station |
---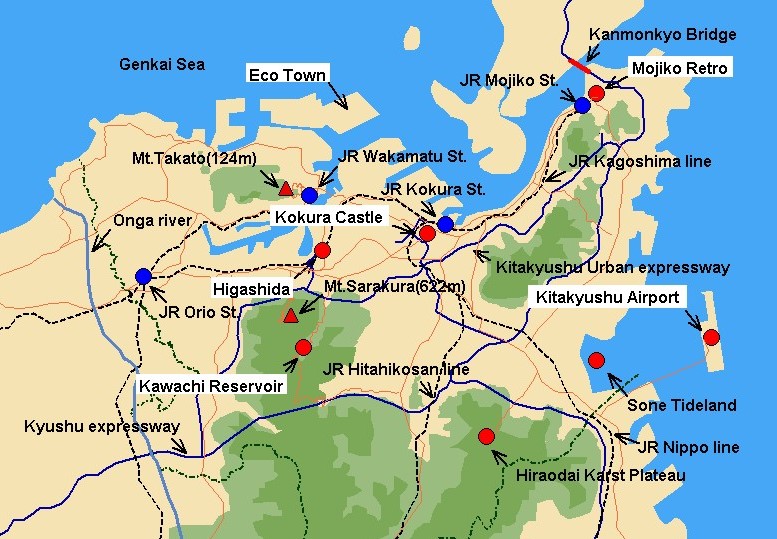 ---
Home  Our Services   About us   Contact us   Terms and Conditions  Privacy Policy 
---