Nagasaki Pilgrimage one-day tour
This is the model plan for making your customized tour.
Exploring Pilgrimage sites in Sotome and Nagasaki.
The customized tour is planned as per the following.
1) The tour starts from Fukuoka  
  ・less than 7 persons : chartered taxi with English speaking driver
  ・more than 8 persons : chartered bus with Japanese speaking driver,
       English speaking tour guide navigates the tour
3) Meals :Japanese cuisines, local specialities
---
Tour Price
To be quoted as per customer's conditions mentioned above
.
---
Itinerary 
8:00 Star the tour at the designated place in Fukuoka

Dirive to to Nagasaki, 2 hours

Visiting Sotome Pilgrimage site

  On an elevation commanding a view over the Sea of Goto, Father

  Marc Marie de Rotz established a church at his own expense 1882

  The setting of Endo Shusaku's novel Silence. Sotome is blessed with a

  unique history and culture of Christianity

Lunch at China Town

Exploring Peace Park where the Atomic Bomb dropped in 1945

  Visit Atmic Bomb Museum, Ground Zero and Peace Statue

Martyrdom of the 26 Saints of Japan       

  Nishizaka hill is the most significant Christian Pilgrimage site in Japan.

  The 26 Martyrs of Japan were a group of Catholics who were executed

  by crucifixion on February 5, 1597.

  The Cathedral is one of the significant Christian Pilgrimage site in Japan.

  Established 1865, this church is officially known as "Oura Cathedral, the

  Church of 26 Martyrs."  

Drive to Fukuoka, 2 hours 

18:00 Arrive at  Fukuoka, end of the tour
---
Map of Nagasaki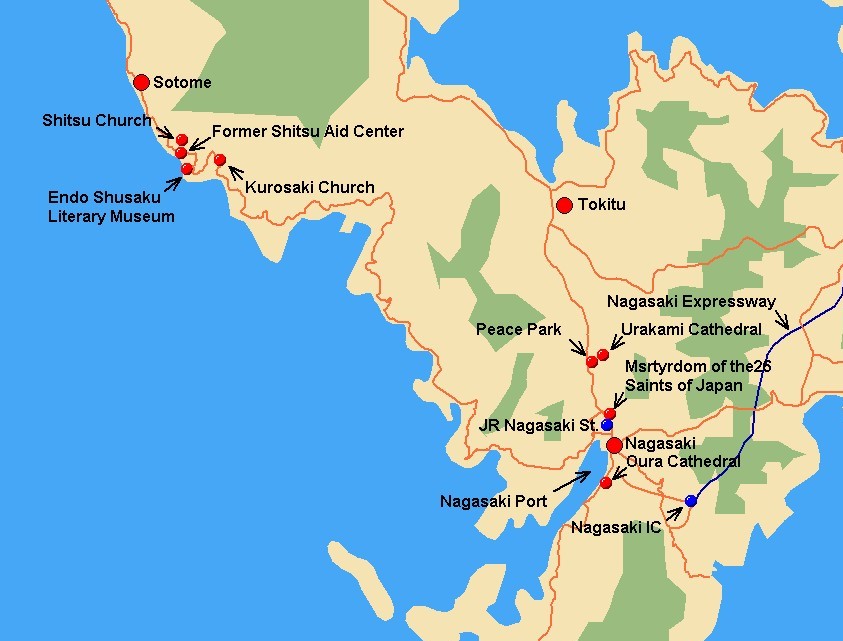 ---
 Home   Our Services   About us   Contact us   Kyushu Travel Guide
---