Takachiho travel guide
Takachiho offers dynamic and beautiful Takachiho Gorge and here is the birthplace of
Japanese mythology. It is the supposed site of legend where Amaterasu, the Shrine
Sun Goddess, disturbed by her brother's cruel pranks, hid herself in a cave, prompting
the other gods and goddesses to try and lure her out. Enjoy the dynamic and beautiful
nature of Takachioho Gorge and find the roots of Japanese culture in the birth place of
Japanese mythology.  
A narrow chasm cut through the rock by the Gokase River. 

The nearly sheer cliffs lining the gorge are made of slow forming

volcanic basalt columns which resemble the scales of a dragon 

where the stone twisted and flowed as it formed.
---
The most recommended activity at Takachiho Gorge is riding

the river that flows down the base of the gorge on a rental boat.

The spot you can see waterfalls and the columnar shaped 

valley together is rare in the world. Please enjoy this amazing

view from the boat.
---
Located just west of the town center, is nestled in a grove of tall

cedars. During the day the shrine's nondescript, unpainted buildings

blend in naturally with the surrounding trees. In the evening, you can

enjoy the Yokagura Dance.

 
---
Takachiho is a birth place of Japanese indigenous religion, Shinto. 

Takachiho is the site of one of the best known legends of Japanese

mythology. In the story, Amaterasu, the Shinto sun goddess, became 

so outraged by her brother's cruel pranks that she hid herself in a 

cave, refusing to come out and depriving the world of her life-giving light.
Local cuisine , Somen nagashi
Somen is a kind of noodle which is made by wheat and is usually

eaten by dipping style. Somen nagashi is the way of eating Somen

with waterslide traditionally made by bamboo like as video below.

Nagashi means flowing.
---
Gokase Winery is located near Takachiho, in the beautiful plateau at

an altitude of 600m. All the wines are being made from locally grown

grapes. There is the tasting corner, you can enjoy sample wines.

Winery also can be visited.
---
Address

Town hall : 13 Mitai, Takachiho-cho, Nishi-usuki-gun, Miyazaki-prefecture

Access

1 hour and 10 minutes by a vehicle from Aso-city

1 hour and 50 minutes by a vehicle from Kumamoto-city

2 hours and 50 minutes by a vehicle from Nichinan-city

2 hours and 10 minutes by a vehicle from Miyazaki-city

1 hour and 15 minutes by a vehicle from Hyuga-city


Population

13,600   Population density 50
---
Takachiho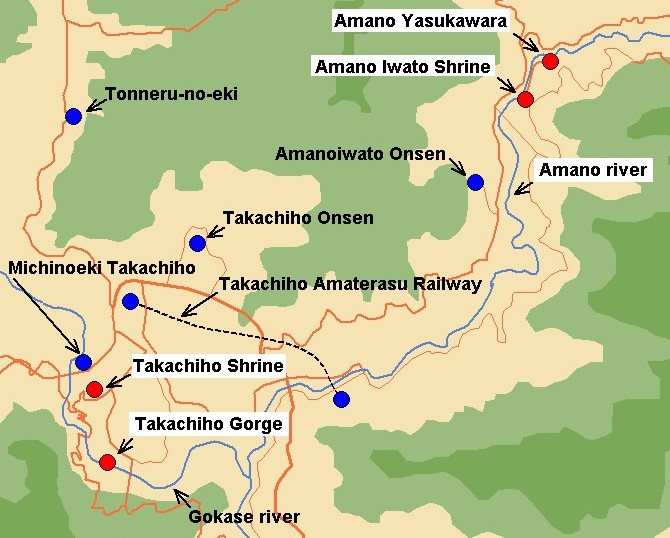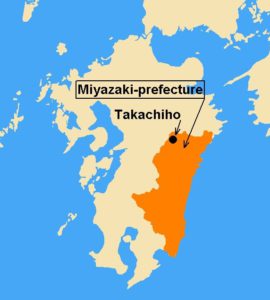 ---
Home  Tailor-made tours Study tours Christian Pilgrimage tours Golf tour Kyushu tour packages
---