Yufuin travel guide
A beautiful and tranquil Onsen resort representing Kyushu. Yufuin is located about 15 km
west of Beppu and is spreading in the Yufu basin at the mountain foot of Yufu. Onsen resort
life can be enjoyed at the beautiful and tranquil place harmonized with nature in the basin of
mountain hill area.
---
Where to explore 
Main street in Yufuin located at the foot of mount Yufu. The avenue

is started near JR Yufuin Station and connected to Kinrinko lake.

Through Yunotsubo Avenue, it takes about 30 minutes on foot from

JR Yufuin Station to Kinrinko lake. There are 70 shops, gift shop,

galleries, curiosity item shops as well as cafes.
---
One of landmark in Yufuin. Hot water gushes from the bottom of the

lake, and hot steam rises from its surface on a cold day.  The lake

is located at the end of the town's main walking route, about a

kilometer and a half from the Yufuin station.
---
Floral Village is the amusement facility that recreated the street of

the Cotswolds region in England, which was also used as the location 

for Harry Potter. Cute owls welcome you in OWL's FORESR. You can

enjoy strolling, gourmet and shopping with beautiful flowers in the

Village, and there is Alice in Wonderland shop here.
---
The old public outdoor bath with a thatched roof beside Kinrinko lake 

in Yufuin.  The bathing here is mixed, as baths often were before the 

arrival, during the Meiji period ( 1869 – 1912). 
---
Seiro-mushi is prepared with large bamboo baskets in front of diners.

Featured by the enriched flavor with warmth and fragrance of the

cypress basket (seiro). Live the lively, hot spring steam-like, "Jigoku

steams" (literally hell's steams) dishes right in front of you with the

traditional local taste of Beppu, Oita-prefecture.
---
General information 
Address

Yufu-city Yufuin office : 3738-1 Kawakami, Yufuin-cho, Yufu-city, Oita-prefecture

Access

20 minutes by a vehicle from Beppu-city

80 minutes by a vehicle from Aso-city

130 minutes by a vehicle from Kumamoto-city

100 minutes by a vehicle from Fukuoka-city

100 minutes by a vehicle from Kitakyushu-city

Population

33,000   Population density 105
---
Yufuin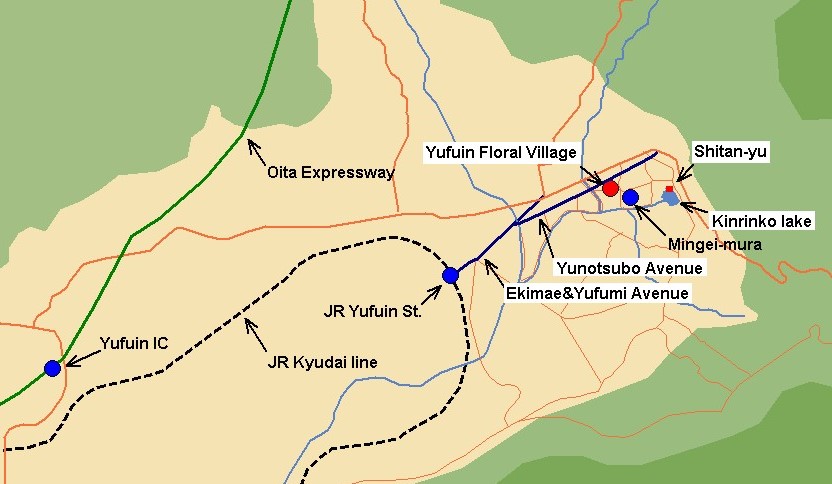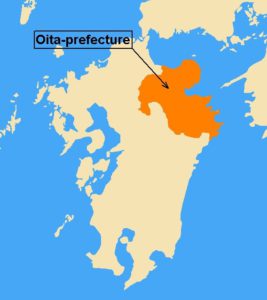 ---
Home  Tailor-made tours Study tours Christian Pilgrimage tours Golf tour Kyushu tour packages  
---