Takeo & Arita & Imari
The Onsen resort, has 1200 years history
Takeo is located in the western part of Saga-prefecture.
The hot spring temperature is 18 to 52 degrees. Spring quality is smooth with alkaline simple
hot spring.  It is said that the color is colorless and transparent and has an outstanding effect
on recovery from fatigue.
The landmark of Takeo Onsen.
Romon Gate, which was designed by a renowned architect in the Meiji Era, Kingo Tatsuno,
and is at the entrance of the Onsen area.
| | | |
| --- | --- | --- |
| |       | |
---
Beautiful Japanese Garden, located in the southwestern foot of Mifuneyama
Construction of the garden took about 3 years and completed in 1845, the area is about 5ha.
The dynamic cliffs of Mifuneyama Mountain can be seen from the gardesn.
---
Big Camphor tree at Takeo Shrine
One of the oldest Camphor tree in Japan.
The tree is one of the largest in Japan and over 3,000 years old. Designated a natural monument
of the city. It is 30 m high, has a circumference of 20 m, and its branches extend 30 m east-west
and 33 m north-south.
---
Famous for Arita yaki which is 400-years old porcelain. The piece is bright, elegant pictures
drawn in transparent white porcelain. 
---
Arita Porcelain Park
---
Porcelain Manufacturer
---
The porcelain town, has 400years history.
Imari is most notable because of Imari porcelain, which is the European collectors' name for
Japanese porcelain wares made in the town of Arita, Saga Prefecture.
---
                 Location of Takeo & Arita & Imari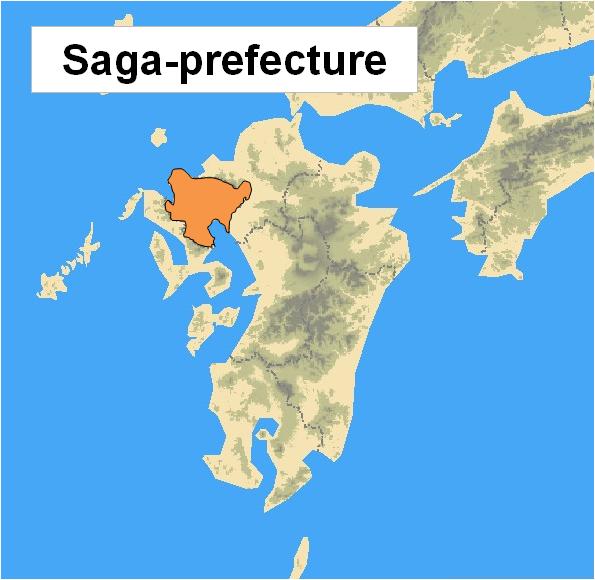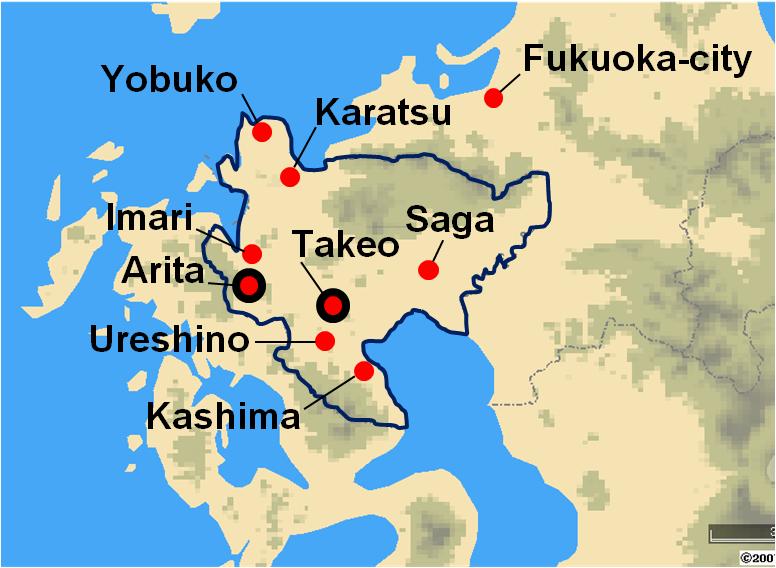 ---
Should you need further information please feel free to contact us.
Your equiry can be sent by selecting the Enquiry Form link below.
You can also contact us by e-mail at info@japan-kyushu-tourist.com
Tel :  +81-93-521-8897, Fax : +81-93-521-8898
Address :  AIM buiding 6th floor, 3-8-1 Asano, Kokura-kitaku, Kitakyushu-city, Fukuoka-prefecture 
---