Ukiha travel guide
Ukiha blessed with nature where many orchards spread out at the foot of Mino mountain range.
Yoshii, in the center of Chikugo flourished as a post town during the Edo period, and there a
lot of Sake brewery which have established the Edo period. A fruits picking and Sake brewery
visit can be enjoyed here.
---
| | | |
| --- | --- | --- |
|               Yoshii machi  |                 Ukiha machi |             Fruit fields |
---
Time-honored scenery, back to 100 years ago. Located in Yoshii-machi, Shirakabe, literary
meaning is white wall. The avenue of houses with white wall were constructed about 100 years
ago.  About 250 houses in the area has been designated as National important raditional buildings
preservation district.
---
Authentic Japanese restaurant, Shirakabe
The chef who makes that cuisines also has experienced the imperial family's cook.
The restaurant Shirakabe is in the former merchant's building constructed in 1928. Japanese
cuisines using best local ingredients that vary by season can be enjoyed.
---
Breath taking scenery harmonizes with the Shrine. Ukiha Inari Shrine, located at foot of Mino
mountain range, 130 m height from sea level. The 90 vermilion coloured Torii Gates stand on
the 300 steps stairs is introduced you from bottom area to the Shrine main building.
| | | |
| --- | --- | --- |
| To the Shrine | Shrine main building | Breath taking view from Shrine |
---
Let's sample Chochu at Beniotome Shuzo. Shochu is a Japanese distilled beverage less than
45% alcohol by volume. The shochu of Beniotome Shuzo is distilled from Sesame. The brewery
can be visited and there is a tasting corner,  Let's sample Chochu.
---
The largest Shrine in Kyushu and the shrine is specified as Ichino-miya or the representative
Shrine in Chikugo region. Located in Kurume-city, stand at the middle of Kora Mountain.
From the Shrine compound, breath taking magnificent view of Chikugo plain can be seen.
| | | |
| --- | --- | --- |
| Torii Gate, entrance of Shrine | Kyushu's largest Shrine building | Magnificent view from the Shrine |
---
In the harvest time, the northern Kyushu boasts many area with beautiful fruit orchards.
Fukuoka is one of the leading fruit-producing prefecture in all Japan.
The fruit production in Fukuoka is primarily concentrated in the southern Chikugo region
such as Ukiha, Asakura and Tanushimaru.
---
 Location of Ukiha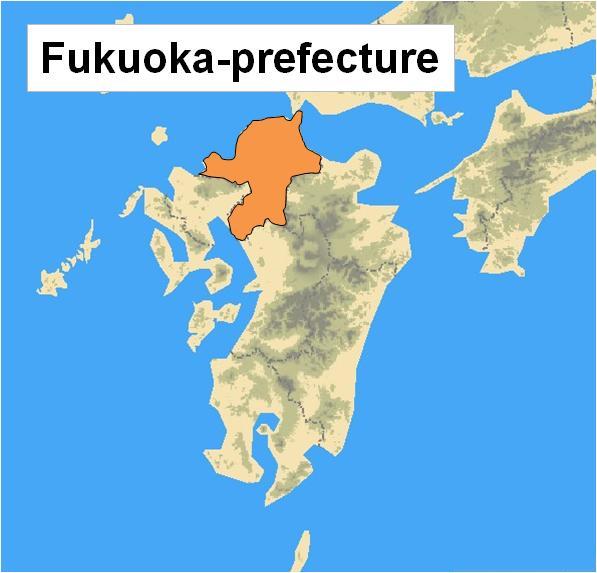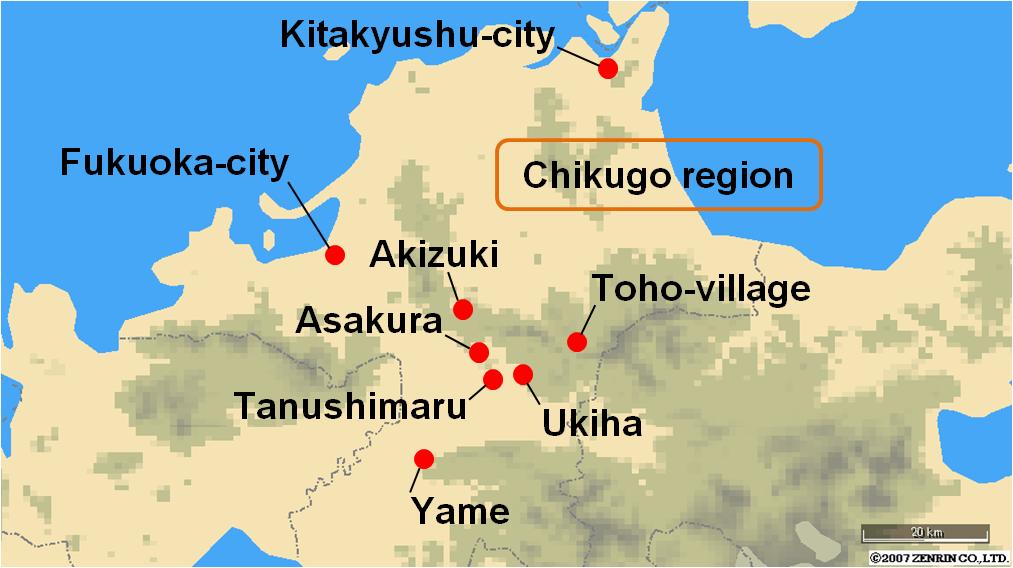 ---
General information  
Address

City hall : 316 Niiharu, Yoshii-machi, Ukiha-city, Fukuoka-prefecture

Access

50 minutes by a vehicle from Fukuoka-city

45 minutes by a vehicle from Dazaifu-city

60 minutes by a vehicle from Yaanagawa-city

90 minutes by a vehicle from Kitakyushu-city

Population

28,000   Population density 240
---
Should you need further information please feel free to contact us.
Your equiry can be sent by selecting the Enquiry Form link below.
You can also contact us by e-mail at info@japan-kyushu-tourist.com
And we would love to chat about your travel plans on the phone as well,
please ring our office a call in English    Tel : +81-93-521-8897
---
Tour results
We are offering various types of tours, and the tour results up to now are shown links below.     
Tailor-made tour     Study tour      Golf tour
---
 HOME    About us   Our Services    Terms and Conditions
---