Miyazaki & Nichinan travel guide
Miyazaki & Nichinan are facing the Pacific Ocean with a beautiful coastline
contains placed of natural beauty, like Aoshima and Toi-misaki Cape.
Also, on the Hitotsuba Beach of Miyazaki-city are Ocean Dome, 700 hectare 
all-weather indoor water park, and Miyazaki Sea Gaia, a comprehensive resort 
complex complete with a wildlife park, golf courses and hotels.
---
Beautiful and exciting Shine,  located the cave of the cliff side facing the Pacific Ocean.
In legend, a goddess of sea built a hut to give birth to a great god here.
Then it is said that Empress Suiko (554-628) built the shrine there.
---
The suggested sightseeing spot in Nichinan.
The 60m altitude pass allows you to look down at a beautiful view of the Pacific Ocean.
The coastline here is lined with rocks that have been worn away by the waves splashing
against them, as well as beautiful phoenix palm trees.
---
Wlild horses are living here. Gentle hills extend, and you can observe wild horses, called Misaki-uma,
living and grazing there. It is said that the Misaki-uma are the descendants of army horses left grazing
and which became wild 300 years ago.
---
The moss-covered stone walls, broad stone steps in front of the Ote-mon main gate, moat ruin,
and old samurai residences all bring back the past. The Matsuo-no-Maru residence and Ote-mon
have been reconstructed using the treasured Obi cedar wood.
---
Japan's own replica of Moai Statues.
Enjoy a breathtaking panoramic view of the Pacific Ocean, the Sun Messe Nichinan has
replicas of the Moai statues from the Easter Island placed here and there in the area.
---
Miyazaki Shrine is the oldest and most important shrine in the city.
Dedicated to Emperor Jimmu, the mythical first emperor of Japan, it is said to have been
established over 2600 years ago.
---
Night life Miyazaki
---
 Location of Miyazaki & Nichinan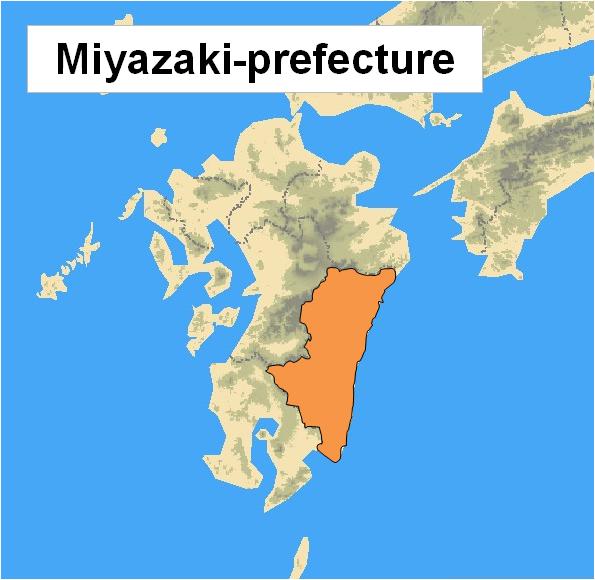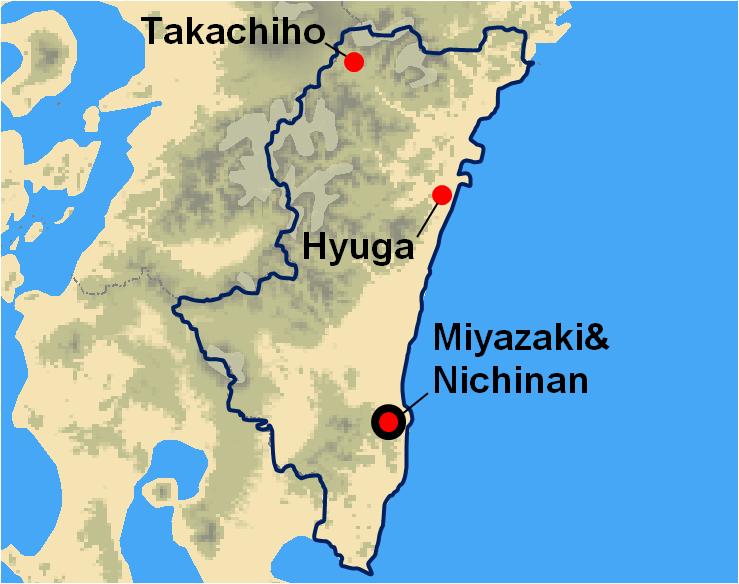 Featured tours 
Miyazaki-prefecture  & Kumamoto-prefecture  
・ Kumamoto, Aso and Takachiho 3 days tour
・ Aso and Takachiho / Dynamic Nature 2 days tour    
・ Amakusa / UNESCO Hidden Christian sites 2 days tour
Kyushu Round tours
・ 8 days Northern & Central Kyushu tour
・ 6 days North-West Kyushu tour
・ 6 days North-Eest Kyushu tour
---
Should you need further information please feel free to contact us.
Your equiry can be sent by selecting the Enquiry Form link below.
You can also contact us by e-mail at info@japan-kyushu-tourist.com
Tel :  +81-93-521-8897 , Fax : +81-93-521-8898
Address :  AIM buiding 6th floor, 3-8-1 Asano, Kokura-kitaku, Kitakyushu-city, Fukuoka-prefecture 
---