Nagasaki / UNESCO Hidden Christian sites One-day tour
Nagasaki is a sacred place of Christianity where Pope and Saint Mother Teresa
officially visited.
The tour introduce the Hidden Christian sites and related sites in Nagasaki-city and Sotome.
Japanese Christianity has a long history of continuing faith while coexisting with Japanese
traditional religion Shinto and General society.
Japan's unique practice of the Christian faith continued even during the ban on Christianity.
Hidden Christian Site in Nagasaki-city ,  Shimabara  and  Amakusa regions bear unique
testimony to the tradition of people and their communities who secretly transmittraryed their
faith in Christianity while surviving in the midst of the conventional society and its religions
during the time of prohibition.
The tour introduces how Christians have been continued their faith since Christianity was
propagated to Japan, by visiting Hidden Christian sites and related sites in Nagasaki-city.
---
Travelling route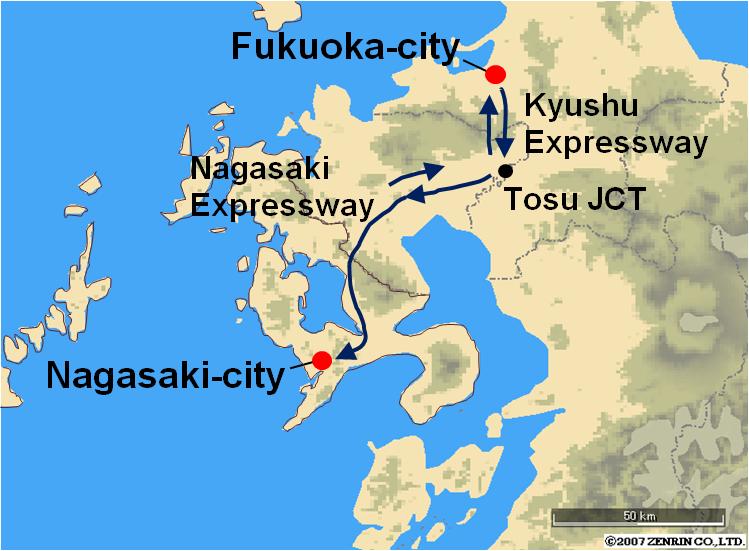 ---
Tour conditions
The tour is the private tour exclusively for your group.
・Minimum number : 2 person
・Maxum number : 30 person
・Start and end of the tour is Fukuoka-city, please specify the place where you want
・Tour date : please specify the date
・English speaking tour attendant escorts your journey to produce a pleasant trip.
・Chartered vehicle is utilized as per number of person.
---
Itinerary
8:00 Depart Fukuoka-city
Transfer to Nagasaki-city using Kyushu Expressway and Nagasaki highway, 2hours 
Exlore Unesco World Heritage sites and related sites in  Nagasaki-city
  Sotome area Hidden Christian Site  
Lunch at Nagaaski Wharf  or China Town
Exlore Unesco World Heritage sites and related sites 
  Martyrdom of the 26 Saints of Japan     
Transfer to Fukuoka-cuty using Nagasaki Expressway and Kyushu Expressway, 2hours 
18:00 Arrive at  Fukuoka-city
---
Where to visit
Sotome area Hidden Christian Site  / UNESCO World Heritage 
When he discovered the underground Christians, Petitjean realized that there were many
other Christians hiding in the Sotome region.
He appointed de Rotz as the parish priest of the Shitsu and Kurosaki districts.     
| | | |
| --- | --- | --- |
| Shitsu Church |   Former Shitsu Aid Centre | The Statue of Mary |
---
Originally constructed in 1895 as a brick Romanesque building, after a long-standing ban on
Christianity was lifted. When completed in 1914, it was the largest Catholic church in East Asia.
The atomic bomb dropped on August 9, 1945 explored in Urakami, only 500m from the
cathedral, which was completely destroyed. What remained of the cathedral is now on display 
in the Atomic Bomb Museum.
A replacement the Cathedral

was built in 1959

Ruins of destroyed Urakami

Cathedral are displayed

Ruins of destroyed Cathedral,

displayed nearby Ground Zero
---
Lunch at Nagaaski Wharf or China Town
Elegant international & domestic tourist harbour. Made up of around 20 unique shops and
restaurants lined up at the water front, offering various choices such Japanese, Western,
and Italian cuisine, to beauty salons, outdoor shops and more.
Nagasaki China town at shinchi is one of the big three china town in Japan.
There are about 50 Chinese restaurants and many Chinese sundries shops in there.
| | | |
| --- | --- | --- |
|   | | |
---
Martyrdom of the 26 Saints of Japan     
Nishizaka Hill in Nagasaki is the place of Martyrdom of 26 Japanese Saints.
The Twenty-Six Martyrs of Japan were a group of Catholics who were executed by
crucifixion on February 5, 1597.Their martyrdom is especially significant in the history
of the Catholic Church in Japan.
In 1950, Pope Pius XII designated this place as an official pilgrimage site for

Catholics

.
And Saint Teresa of Calcutta commonly known as Mother Teresa visited here in 1982
.
Nishizaka hill, the site of

Martyrdom in 1597

The martyrs said that 

" All people, bless God ! "  

The 26 Japanese martyrs have 

been canonized in 1862
---
Oura Cathedral  / UNESCO World Heritage
Basilica of Martyrdom of the 26 Saints of Japan. Built in 1865 under the supervision of the French
priest Bernard Petitjean.  It was designated as a National Treasure in 1933 for its value as Japan's 
oldest Gothic-style Cathedral.
Entrance gate of Oura

Cathedral

Japan's oldest Gothic-style

Cathedral building

Statue of Mary, at entrance of

Cathedral, installed in 1867
---
Should you need further information please feel free to contact us.
Your equiry can be sent by selecting the Enquiry Form link below.
You can also contact us by e-mail at info@japan-kyushu-tourist.com
Tel :  +81-93-521-8897
Address :  AIM buiding 6th floor, 3-8-1 Asano, Kokura-kitaku, Kitakyushu-city, Fukuoka-prefecture 
---
Tour results
We are offering various types of tours, and the tour results up to now are shown links below. 
Tailor-made tour    Study tour     Golf tour
---
 HOME    About us   Our Services    Terms and Conditions
---