Hakata Dontaku Festival
Hakata Dontaku Festival, the name Dontaku is a corruption of the Dutch word 
Zontag, meaning Sunday.
The festival is said to have started as a New Year parade of merchants going 
to the local lord's residence to celebrate. It is held on May 3 and 4 in Hakata,
Fukuoka-city.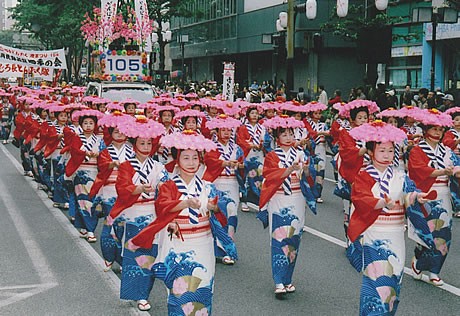 About 30,000 of local townspeople take part, and its attractions include the 
traditional Matsuribayashi parade, a fancy-dress parade and a shamoji band.
Matsuribayashi is a parade of children and adults intraditional dress, led by the three 
gods Fuku-no-Kami, Ebisu and Daikoku, on horseback.
The kasahoko, a float that forms part of the Matsuribayashi parade.
It is believed in Fukuoka that babies carried under the kasahoko will grow up strong 
and healthy.
The shamoji band parade around the town beating time with the shamoji, the wooden 
spatulas used for serving rice.