3 days Nagasaki Pilgrimage tour
This is the model plan for making your customized tour.
Exploring Pilgrimage sites in Sotome, Nagasaki, Shimabara and Unzen
The customized tour is planned as per the following conditions.
1) The tour starts from Fukuoka  
  ・less than 7 persons : chartered taxi with English speaking driver
  ・more than 8 persons : chartered bus with Japanese speaking driver,
       English speaking tour guide navigates the tour
3) Accommodation
   ・Type : Western style accommodation, Japanese stye accommodation called Ryokan  
   ・Grade : economy, intermediate or luxury
4) Meals :Japanese cuisines, local specialities
---
Tour Price
To be quoted as per customer's conditions mentioned above.
---
Itinerary   
Day 1   Sotome & Nagasaki
Star the tour at the designated place in Fukuoka

Dirive to to Nagasaki, 2hours

Visiting Sotome Pilgrimage site

  On an elevation commanding a view over the Sea of Goto, Father

  Marc Marie de Rotz established a church at his own expense 1882

  The setting of Endo Shusaku's novel Silence. Sotome is blessed with a

  unique history and culture of Christianity

Lunch at China Town

Martyrdom of the 26 Saints of Japan       

  Nishizaka hill is the most significant Christian Pilgrimage site in Japan.

  The 26 Martyrs of Japan were a group of Catholics who were executed

  by crucifixion on February 5, 1597.

  The Cathedral is one of the significant Christian Pilgrimage site in Japan.

  Established 1865, this church is officially known as "Oura Cathedral, the

  Church of 26 Martyrs."

Glover Garden   / UNESCO World Heritage

  nine Western style buildings. The Glover's Residence built in 1863

  and is Japan's  oldest wooden Western–style building

  The summit can be reached by ropeway or car and offers great views over

  the city. And also, the magnificent night views from Mount Inasa are ranked

  among Japan's three best night views.

Stay in Nagasaki
---
After breakfast, check out of the Hotel in Nagasaki

Exploring Peace Park where the Atomic Bomb dropped in 1945

  The museum exhibits a number of photograph that depict the devastation

  caused by atomic bomb showing the lead-up to this tragic day

  The plutonium atomic bomb exploded about 500m over the central monument

  at 11:02 a.m. on August 9, 1945.   The most part of Nagasaki was destroyed,

  and a tremendous number of lives were lost

  Completed in 1955, ten years after the Atomic bombing. The 9.7 meter high

  statue sitting on a 4 meter tall pedestal. The raised arm points to the threat of

  nuclear weapons and the out-stretched arm symbolizes peace

 

Drive to Unzen

  One of the best scenic spot in Unzen. At any time of the year the

  natural scenery of Nita Pass in Unzen is magnificent. Azaleas, green

  leaves, brilliant autumnal tints of maples and silver frost represent 

  each season of the year

  Jigoku, means Hell, is the number one attraction of Unzen with a

  peculiar smell of sulfur emitted from the springs, and with white smoke

  rising from the ground over a wide area

Stay in Unzen
---
Day 3  Shimabara
After breakfast, check out of the Hotel in Unzen 

Drive to Shimabara 

  The Christian pilgrimage site, registered on UNESCO's World

  Heritage Site. The battle field of Shimabara Rebellion which was

  a peasant uprising agaist bakufu's persecution of Christians

  under the leadership of Amakusa Shiro in 1637

  Located in Shimabara-city and was built in 1625 by the feudal load

  Matsukura Shigemasa, who was regarded as a master of castle

  building. The castle, which took 7 years to complete, is also known as 

  "Moritake Castle"

Drive to Fukuoka

Arrive at Fukuoka, and end of the tour
---
Map of Nagasaki-prefecture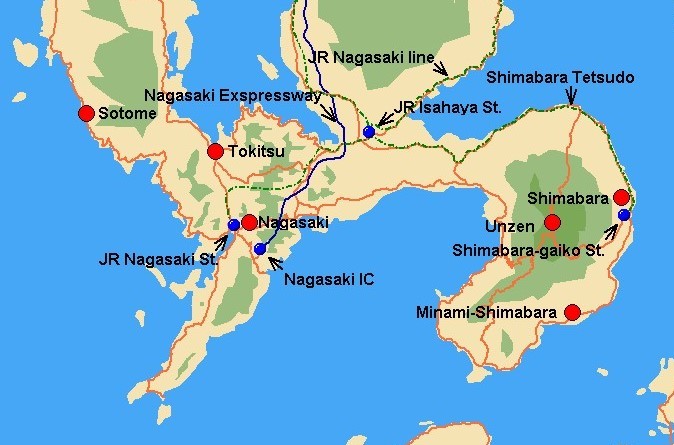 ---
 Home   Our Services   About us   Contact us   Kyushu Travel Guide
---