Nagasaki Pilgrimage 3 days tour
At a glance
Where to visit : Pilgrimage sites in Sotome, Nagasaki-city, Shimabara and Unzen
Christian history in Japan was started when St. Francis Xavier came to Japan as a first Christian
missionary in 1549. Then Christianity was spread in Nagasaki region. However, unparalleled
hidden Cristian history was started from when Toyotomi Hideyoshi Shogunate proclaimed Christian
ban in 1587. During ban on Christianity, people secretly continued to faith while surviving in the
midst of the conventional society and Japanese religions.
Since ban on the Christianity was lifted in 1873, new Christian history in Japan has begun.
---
Overall itinerary
Day 1 : Depart Fukuoka  → Sotome & Nagasaki, stay Nagasaki
Day 2 : Nagasaki & Unzen, stay Unzen
Day 3 : Shimabara, stay Fukuoka
---
・Charted taxi with English speaking driver who knows the places very well, and
    can give you local information anywhere you will visit.
    Option : Chartered taxi with Japanese drive if Professional Tour guide is requested
・Start and end of the tour is Fukuoka–city, please specify the place where you want
・Tour date : please specify the date
・Accommodation, to be selected from budget hotels to luxury properties
・Minimum number : 2 person 
・Maximum number : 8 person
---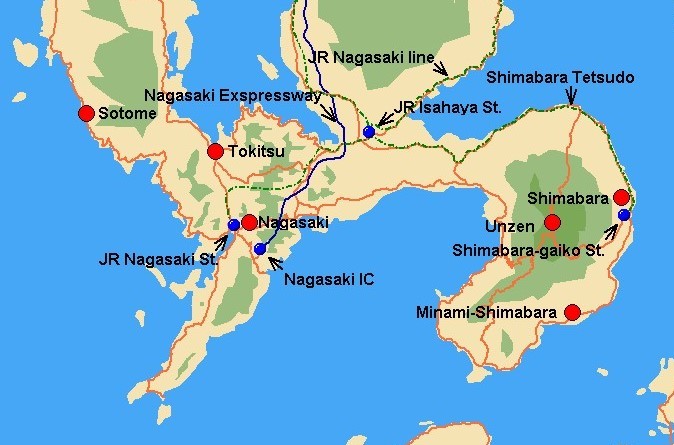 ---
 Day by Day 
Sotome is a rural, coastal area on the peninsula north of central Nagasaki. During the ban on
Christianity, Sotome was home to communities of "Hidden Christians", many of whom emigrated
there from other parts of Nagasaki as the remote region allowed them to practice their religion in
secret.   
Nagasaki is a sacred place of Christianity where Pope and Saint Mother Teresa officially visited.
---
Itinerary                                                                                    read more
Depart  Fukuoka-city
Transfer to Nagasaki-city
Lunch at Nagasaki Wharf  or China Town
Martyrdom of the 26 Saints of Japan       
Stay at Nagasaki–city
---
Nagasaki was destroyed, and a tremendous number of lives were lost.
Nagasaki is now appealing for World Peace, Disastrous War must not be repeated.
Unzen is Located in the centre of Shimabara peninsula, at the southwest part of
Mount Unzen with an altitude of 700m. It is started receiving foreign tourists around the
year 1900 when Kaempfer and Siebold introduced the city to Europe and China.
---
Itinerary                                                                                     

read more
---
Shimabara is located in the foot of Mount Unzen and facing Ariake Sea, and those geographical
conditions and mild climate create natural scenic beauty in the east and Mount Unzen including Mount Fugen. The region offers various enjoyable things such as Nature, Onsen,
Castle town of Shimabara-city, and Christian Pilgrimage sites.
---
Itinerary                                                                                    read more 
Transfer to Minami Shimabara
Lunch at Shimabara, local cuisine Guzoni
Transfer to Fukuoka-city
Arriva at  Fukuoka-city
---
 Home   Tailor-made tours Study tours Christian Pilgrimage tours Golf tour  
---