Hirado Castle
Stands on a hill guarding Hirado Port and the Hirado Strait, which used to be part of an important
trade route between Japan and the Asian mainland. The original fortress was built in 1599 by the
local Matsura Lord; however, he destroyed the structure after fighting the Tokugawa on the losing
side of the Battle of Sekigahara as a gesture of loyalty to the victor. The Matsura Clan continued
ruling Hirado for the next two and a half centuries.
---
A new castle, also known as Kameoka Castle was built on the site a hundred years later in 1718 as
part of the coastal defences erected during Japan's self imposed seclusion in the Edo Period.
This structure stood for over 150 years, but eventually fell into disrepair and was dismantled during
the Meiji Period.
---
General information  
Address

1458 Iwaanouemachi, Hirado-city, Nagasaki-prefecture

Access

1 hours and 50 minutes by a vehicle from Nagasaki-city

50 minutes by a vehicle from Sasebo-city

2 hour and 15 minutes by a vehicle from Fukuoka-city

Open hours

8:30 to 17:30

Admission fee

510 JPY

Days closed

December 30 and 31
---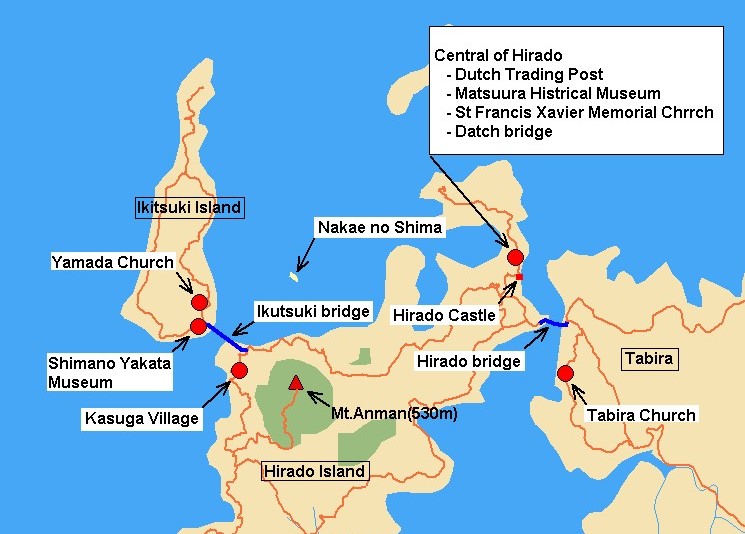 ---
 Home  Tailor-made tours Study tours Christian Pilgrimage tours Golf tour   Kyushu tour packages
---