Kashima & Tara travel guide
Kashima is located about 60 kilometers southwest of Saga-city. It borders the Ariake
Sea to the east and Nagasaki Prefecture to the southwest. Feature sightseeing spot is
Yutoku Inari Shrine and also Sake brewery visiting is recommended.
| | | |
| --- | --- | --- |
|     Sake Brewery |          Sake Brewery |         Ariake Sea |
---
One of the most famous Inari shrines in Japan and located in 

Kashima-city, Saga-prefecture. Dedicated to Inari, the deity

whose messengers are foxes, it is the third largest of its kind

in Japan. It was constructed in 1688 as the family shrine of the

Nabeshima clan who ruled what would become the Saga

area during the Edo period. 
---
Kaichu Torii gates in the sea have become a popular photo spot

when the tide is high. The  "Floating Torii Gate" of Ouo Shrine

stands on the shallow area of the ocean in Tara-cho, which has

6 meter tide difference. It changes its appearance every time you

look at it, and it is a famous tourist spot.
---
Takezaki crab is the local specialty of Tara, and is well-known for

its rich flavor.  Takezaki crabs are available almost year around.

From summer into fall the male crabs are delicious, with the females

and their eggs most delicious during the autumn and winter.

You could even try one of each.
---
From the observatory point of Takezaki Castle Ruins Lookout, one

can gaze down upon workings of nature such as this. This is the site

where a castle was originally built 600 years ago in the Nanboku-cho

Period and a vantage point which offers spectacular views, including

the mountains of Unzen and Aso when the weather is fine.
---
General information  
Address

City hall : 2643-1 Nodomibun, Kashima-city, Saga-prefecture

Access

30 minutes by a vehicle from Takeo

40 minutes by a vehicle from Arita

50 minutes by a vehicle from Saga

80 minutes by a vehicle from Karatsu

90 minutes by a vehicle from Yobuko

100 minutes by a vehicle from Fukuoka-city

70 minutes by a vehicle from Nagasaki-city

Population

29,000   Population density 260
---
Kashima & Tara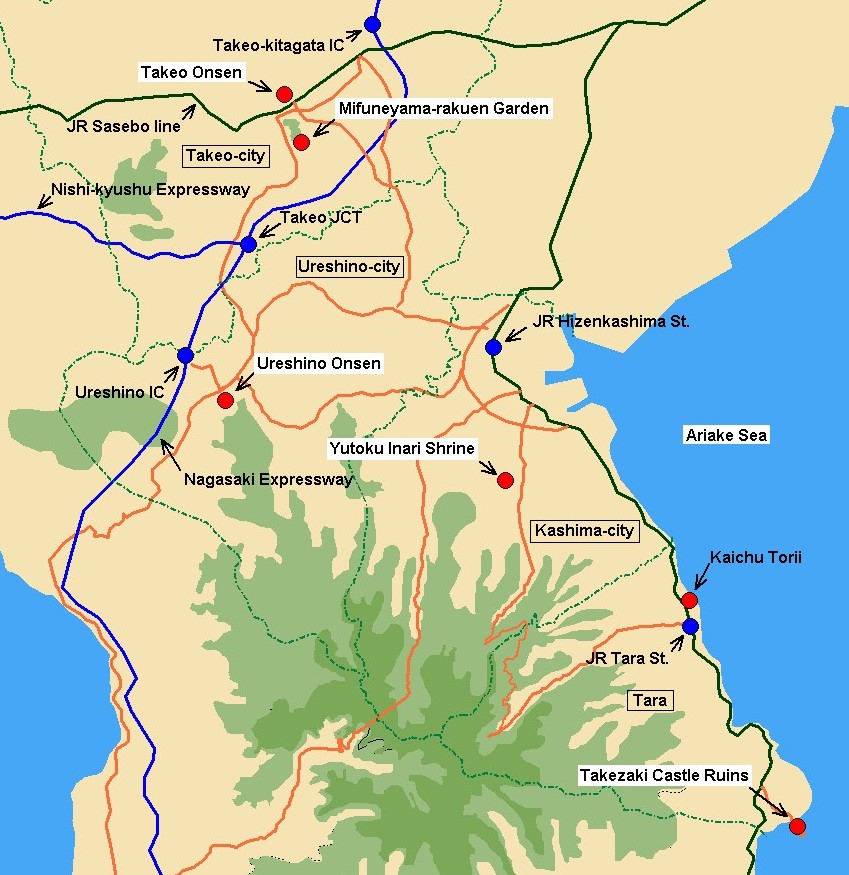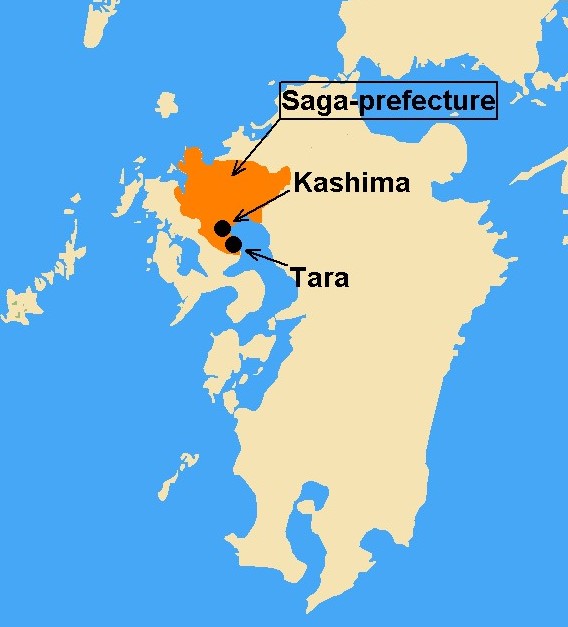 ---
Home  Tailor-made tours Study tours Christian Pilgrimage tours Golf tour Kyushu tour packages
---