Kumamoto travel guide
Kumamoto is the third largest city in Kyushu with a population of 740,000.Must visit place is
Kumamoto Castle listed on the three great castle in Japan.
The city is situated roughly in the center of Kumamoto-prefecture, is the government and
economic center of the prefecture. From the early 17th century to the end of the 19th
century, Kumamoto was prosperous as a castle town. The Shira-kawa River and its branches
run through the downtown area around Kumamoto Castle. Therefore, the city is called "City
of Forest and Fresh Water."
---
Exploring Kumamoto  
The Castle is one of the three great castles and one of the 100 best places

in Japan to view cherry blossoms. Due to the Earthquakes in 2016, the

Castle have heavy damages and many of Castle buildings were destroyed.

After that the restoration activities are being performed as fast as possible.

 
---
Josaien is located in Sakurano-baba, at the foot of Kumamoto Castle, one

of Japan's three major castles. It is a popular tourist attraction designed to

enhance the appeal of the old castle town and convey to visitors the food, his

tory and cultural traditions of the region from Kumamoto Castle, a symbol of

the Kumamoto-city.
---
Imitated the beautiful scenery of Japan, is a refined circular garden of

Momoyama period style and represents the 53 Stations of the Tokaido Road

including Mt. Fuji. The fresh springs in the garden release clean, cold water, 

which flows there from Mount Aso via underground currents.
---
The largest shopping arcade in Kumamoto-prefecture.  The center of fashion

and amusement where department stores and boutiques line up and also

there are gourmet area where cafes and restaurants including local cousin

restaurants opened daytime and night time.
---
---
General information  
Address

1-1 Tetorihoncho, Cyuo-ku, Kumamoto-city, Kumamoto-prefecture

Cabinet designate city

Access

1 hour and 40 minutes from Fukuoka-city by a vehicle 

2 hours and 40 minutes from Kitakyushu-city by a vehicle 

Transportation

Airport

  Kumamoto Airport

JR main station : Kumamoto Station

City transportation

Population

738,000      population density : 1,890 / km2
---
Kumamoto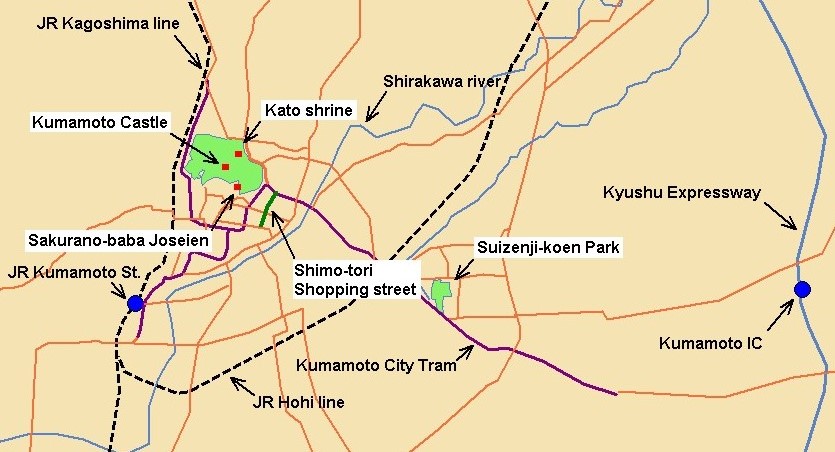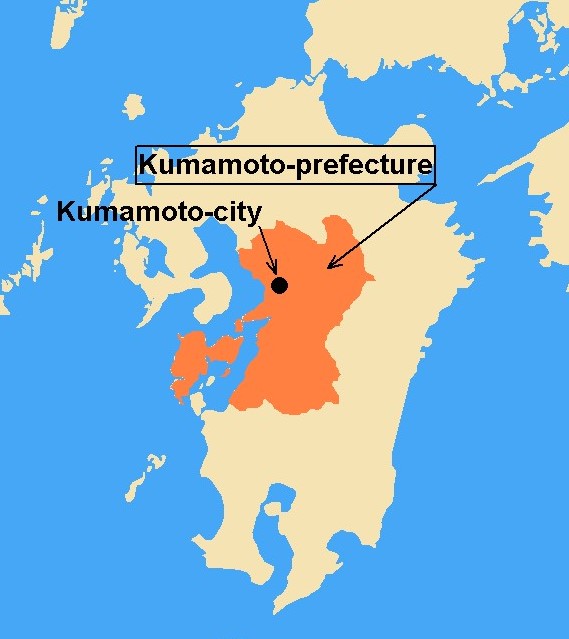 ---
 Home  Tailor-made tours Study tours Christian Pilgrimage tours Golf tour  Kyushu tour packages
---