Kumamoto-prefecture travel guide
Kumamoto-prefecture is in the center of Kyushu, It is bordered by the Ariake inland sea
and the Amakusa archipelago to the west, Fukuoka-prefecture and Oita-prefecture to
the north, Miyazaki-prefecture to the east, and Kagoshima-prefecture to the south.
The capital of Kumamoto-prefecture is Kumamoto-city. Mount Aso, an extensive active
volcano, is in the east of Kumamoto-prefecture. This volcano is located at the center of
the Aso caldera.
---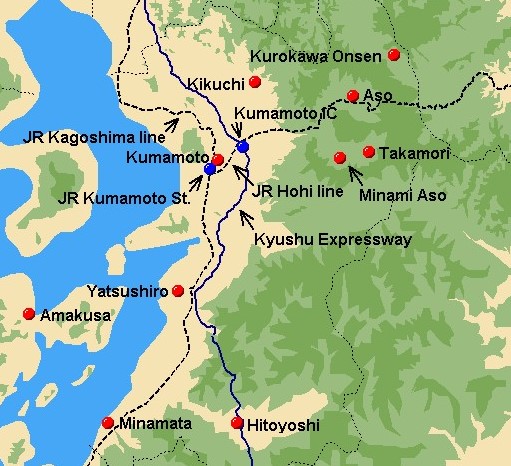 ---
Where to explore
Situated roughly in the center of Kumamoto-prefecture, is the government and economic
center of the prefecture. From the early 17th century to the end of the 19th century,
Kumamoto was prosperous as a castle town. The Shira-kawa River and its branches run
through the downtown area around Kumamoto Castle.
---
One of the must visit tourist destination in Kyushu. The world's largest caldera and the active
volcano give a lot of excitements. And numerous unforgettable experiences in the rural area
can be mede including Onsen, variety of sports and local cuisines.
---
One of the most popular hot spring resort, located on the northern side of  Mount Aso .
Widely known for its open-air baths, it is one of the best places to enjoy the atmosphere of
old town in Japan, where more than 20 Inns (Ryokan)and gift shops standing in a row
along the Tanoharu River, a headstream of the Chikugo River.
| | | |
| --- | --- | --- |
| | | |
---
Located in a southern part of Kumamoto-city, and consists of Shimo-jima, Kami-jima
and many other islands varied in size, which belong to Unzen-Amakusa Nationattl Park
along with Unzen. It provides ideal spots for viewing the saw-toothed coast line of
Amakusa and the small islands scattered across the sea. And there are UNESCO World
Heritages of Hidden Christian Sites in the Nagasaki Region
---
Located in the northern part of Kumamoto along Kuma-gawa River.

Hitoyoshi is a
castle town
once prosperous as a river port, and boasts the ruins of the Hitoyoshi castle
and Hitoyoshi
Onsen.

The most exiting thing in Hitoyoshi is Kumasawa-kudari that is
riding on a boat 
maneuvered by a master polar down the Kuma-gawa River, one of
the three fast streams in Japan.
Located in Kumamoto Prefecture, It is on the west coast of Kyushu and faces Amakusa islands.
There are two Onsen resorts ; Yunotsuru Onsen located along the Yuide River in the mountains
and called Mountain Onsen and Yunoko Onsen faces Yatsushiro Sea and called Ocean Onsen.
---
Home   Tailor-made tours Study tours Christian Pilgrimage tours Golf tour Kyushu tour packages
---