Kumamoto-prefecture travel guide
Kumamoto-prefecture is in the center of Kyushu, It is bordered by the Ariake inland sea
and the Amakusa archipelago to the west, Fukuoka-prefecture and Oita-prefecture to
the north, Miyazaki-prefecture to the east, and Kagoshima-prefecture to the south.
The capital of Kumamoto-prefecture is Kumamoto-city. Mount Aso, an extensive active
volcano, is in the east of Kumamoto-prefecture. This volcano is located at the center of
the Aso caldera.
---
Where to explore
Situated roughly in the center of Kumamoto-prefecture, is the 

government and economic center of the prefecture. From the early

17th century to the end of the 19th century, Kumamoto was

prosperous as a castle town. The Shira-kawa River and its

branches run through the downtown area around Kumamoto Castle.
---
One of the must visit tourist destination in Kyushu. The world's

largest caldera and the active volcano give a lot of excitements. 

And numerous unforgettable experiences in the rural area

can be mede including Onsen, variety of sports and local

cuisines.
---
One of the most popular hot spring resort, located on the northern 

side of  Mount Aso . Widely known for its open-air baths, it is one

of the best places to enjoy the atmosphere of old town in Japan,

where more than 20 Inns (Ryokan)and gift shops standing in

a row along the Tanoharu River, a headstream of the Chikugo River.
---
---
Located in the northern part of Kumamoto along Kuma-gawa River.

Hitoyoshi is a 

castle town 

once prosperous as a river port, and

boasts the ruins of the Hitoyoshi castle 

and Hitoyoshi 

Onsen. 

The most exiting thing is Kumasawa-kudari that is

riding on a boat 

maneuvered by a master polar down the Kuma-gawa River. 
---
Kumamoto-prefecture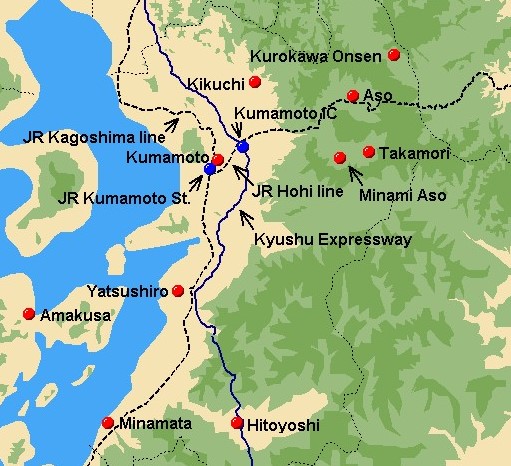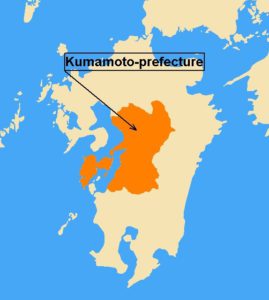 ---
Home   Tailor-made tours Study tours Christian Pilgrimage tours Golf tour Kyushu tour packages
---