Okubungo travel guide
Nature-blessed region at Ono River basin, the northern part is surrounded by Aso & Kuju
Mountains Okubungo consists of Takada, Kuju, Kusu, Kokonoe, Bungo-ono and Ogata.
Great Castle wall construction, a magnificent view from the top. 

The Castle originally constructed in 1185, and had been enlarged

multiple times and eventually covered a widespread area on the

steep hills overlooking a river and all the surrounding countryside

 up to the Kuju mountain range clearly visible in the distance.
---
| | |
| --- | --- |
| | The hot spring is known as one of the world's top carbonate spring. |
---
A plateau resort area and is a part of Aso Kuju National Park. 

The plateau of 600 to 1000 metre altitude, spreading at southern

part of Kuju and Taisen mountains foot, and is located in between

Aso and Takeda.
---
The longest pedestrian suspension bridge in Japan and the

2nd longest in the World Splendid and beautiful view from the

thrilling suspension bridge over the Naruko river valley.
---
Have you ever seen a wild white boar?  The wild white bore at

the Shrine has function as both guardians and messengers for

the deities at Shinto shrines. The white boars are thought to

bring happiness. After visiting the shrine, you should ask the

cute boars for some good-luck blessings.
---
A tranquil Onsen Resort at Waita mountain foot of 1,000 metre

altitude. It is said that the Onsen was founded more than 1,000

years ago, and now there are 30 Japanese style accommodations

called Ryokan in there.
---
The best driving area where the beautiful scenery of Aso Kuju National

Park can be enjoyed The Handa kogen Plateau is located in the

southern part of Kokonoe-cho, Kusu-gun. 

The area became a nice sightseeing spot connected to Beppu Onsen

and Yufuin in the north and Aso in the south.
---
It is called Niagara Falls of Japan.  The Ogata River, running through

the center of the Ogata plain, flows furiously down a cliff and creates

Harajiri Falls. The falls, 120 meters wide and 20 meters tall, are selected

as one of the best 100 falls in Japan. Lava flows produced by the great

eruption of Mt. Aso accumulated and created Harajiri Falls.
---
Okubungo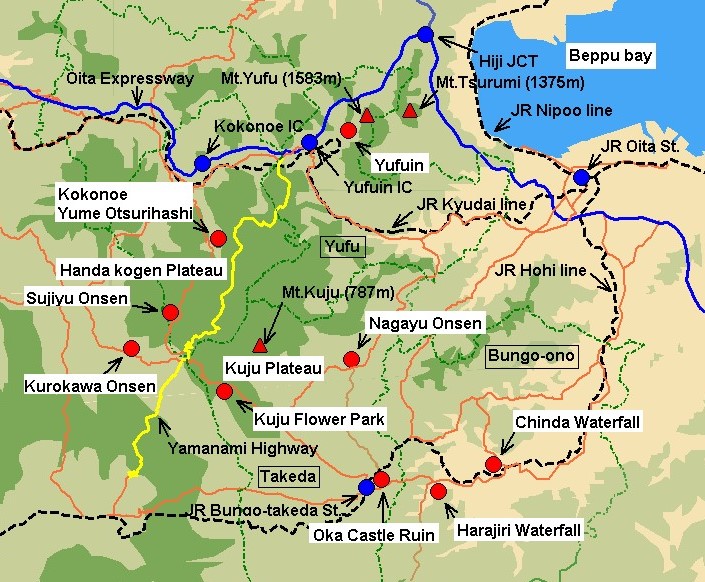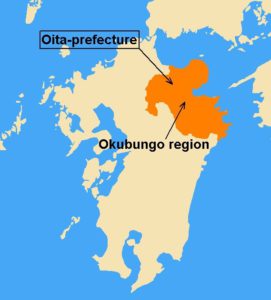 ---
Home  Tailor-made tours Study tours Christian Pilgrimage tours Golf tour Kyushu tour packages
---