Tenjin
The biggest shopping district in Kyushu island. It offers department stores, fashion boutiques
and an extensive variety of cuisine and fantastic restaurants and a street food stall Yatai.
---
If you even slightly change your point of view on a walk through Tenjin, you will notice
many places that give you a glimpse of Fukuoka's history, parks where people can take
a break, and other surprising sights that will make you think.​
---
The cobblestone walks leading to the Tenjin Subway Station add a quaint atmosphere to this
underground arcade. Shops in the arcade bring the fashion of Tokyo, Paris, Milan, London and
New York to Fukuoka.
---
General information  
Address

Tenjin Chuo-ku, Fukuoka-city

Access

A short walk from Tenji Subway station 

20 minutes by a vehicle from Fukuoka Airport

10 minutes by a vehicle from JR Hakata station

30 minutes by a vehicle from Dazaifu

30 minutes by a vehicle from Itoshima

70 minutes by a vehicle from Yanagawa

70 minutes by a vehicle from Kitakyushu-city
---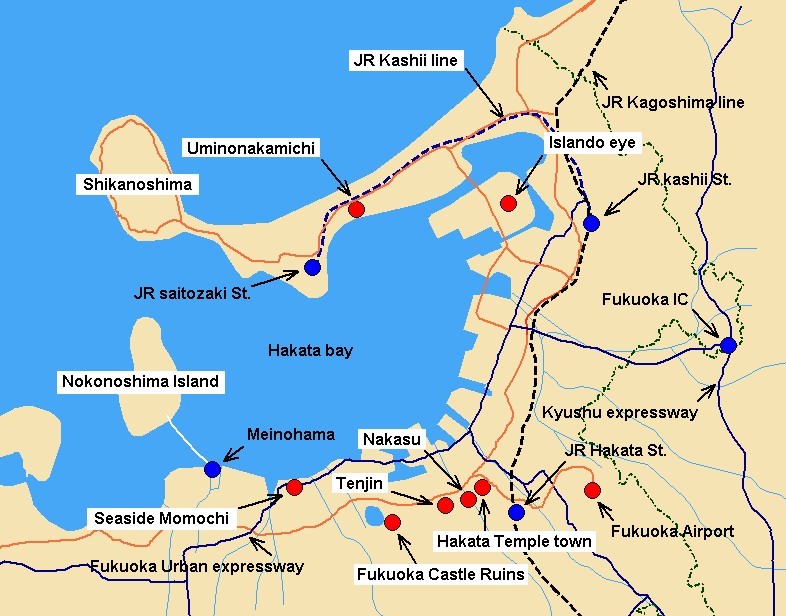 ---
Home  Tailor-made tours Study tours Christian Pilgrimage tours Golf tour  Kyushu tour packages
---