Yanagawa & Dazaifu one-day tour
This is the model plan for making your customized tour.
Exploring two popular destinations in Fukuoka-prefecture, Yanagawa
and Dazaifu
How to travel
The tour starts from Fukuoka.
For making pleasant travel in accordance with your requirements
and preference, the Private vehicle is used as for transportation.
We propose your own Itinerary per the model Itinerary below.
---
Tour Price
To be quoted as per customer's condition and requirement below;
2) Accommodation
   ・Type : Western style accommodation, Japanese stye accommodation called Ryokan  
   ・Grade : economy, intermediate or luxury
3) Meals :Japanese cuisines, local specialities
---
Yanagawa

Dazaifu

9:00 Start the tour in Fukuoka at the designated place

Drive to Yanagawa

Yanagawa is a former castle town and beautiful canal town

Canal boat cruise

  lowly go down the river skilfully maneuverer by a boatman with

  bamboo pole

Lunch : to be selected Eel or Sea food

  Eel Cuisine : Yanagawa is the birthplace of Steamed Eel that

  has more than 300 years history. 

  Sea food Cuisine : Yanagawa is facing to Ariake Sea where

  many fresh and unique fishes are caught. Japanese cuisines

  using local delicacies is also recommended.

Drive to Dazaifu

Site of Dazaifu Government Office

  about 1300 years ago, there was a government office to manage 

  the entire Kyushu and was known as the distant court from Kyoto

Shrine approach path

  the road leading to the Shrine is lined with many souvenir shops 

  unique to Japan including Starbucks and Umegae mochi shops.

Visit Dazaifu tenmangu shrine 

  dedicated to the deity of learning. Many Japanese visit the Shrine

  to pass the examination successfully. 

Drive to Fukuoka

17:00 End of the tour at the designated place
---
Travelling route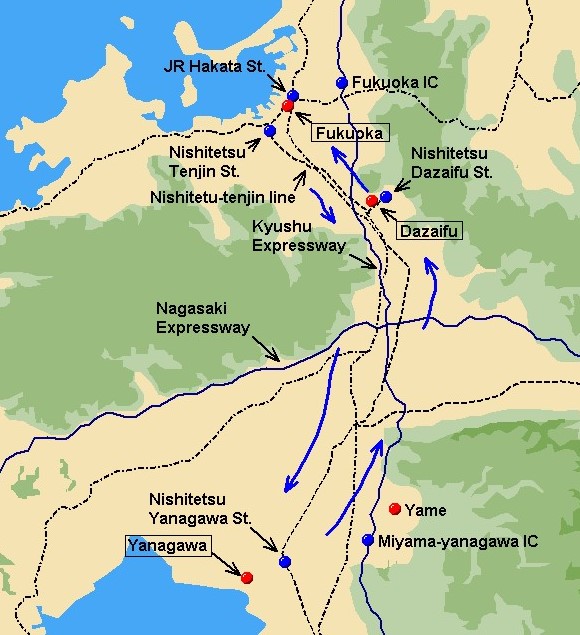 Home   Our Services   About us   Contact us   Terms and Conditions   Privacy Policy
---