Amakusa travel guide
Amakusa, is located in a southern part of Kumamoto-city, and consists of Shimo-jima,
Kami-jima and many other islands varied in size, which belong to Unzen-Amakusa 
National Park along with Unzen. 
It provides ideal spots for viewing the saw-toothed coast line of Amakusa and the small islands
scattered across the sea.  Amakusa has the Christinan Pilgrimage sites where Christian faith
continued even during the ban on Christianity, Sakitsu Village has been registered on
UNESCO World Heritage / Hidden Christian Sites. 
---
Exploring Amakusa  
Amakusa Gokyo or Amakusa five bridges, is a general term for five bridges which connects 
from Misumi at the Udo peninsula to the Oyano island, the Nagaura island, Ikejima, Maejima,
and Amakusa Kamishima, was built in 1966. The area on the National road route 266 called
as the Pearl Line.
  

   First Bridge

   

        Second Bridge

  

       Fourth Bridge 
---
Connecting the islands of Amakusa with the inland of Kumamoto via the Uto Peninsula are
Amakusa Gokyo or Amakusa Five Bridge. You can enjoy the beautiful scenery of Amakusa
from the sea on a cruise.
---
The oldest Catholic Church in Amakusa and was one of the first churches built right after the ban
on Christianity was lifted. The and Romanesque-style architecture and the chalky white structure
was rebuilt in 1933 by a French missionary priest named Father Garnier using his own money and
contributions from local Christians living in the area.
---
Sakitsu Village / UNESCO World Heritage
A Gothic-looking church is located on a cove of a fishing village. In 1934, a French priest
Augustin Halbout MEP purchased the premises of the former village headman and built a
wooden and concrete finished church, with Tetsukawa Yosuke's design and construction.
He placed the altar at the very site where fumie or a test to ensure non-allegiance to
Christianity had been conducted.
---
The theme Museum shows History of Christianity in Amakusa and Shimabara Rebellion
which was a peasant uprising agaist bakufu's persecution of Christians under the leadership
of Amakusa Shiro in 1637.
---
Tomioka Castle was built in 1602, one year after Terasawa Shimanokami hirotaka came to
Amakusa. Although Amakusa ruled by proxy for Terasawa from Tomioka Castle, he revelled
with his army in the Shimabara Rebellion in 1637. After the rebellion, Yamasaki Kainokami
Ieharu ruled from the castle, and which was restored and enlarged to its present form. 
---
Featured sites
| | | |
| --- | --- | --- |
| Sengan moutain Observatory | Ariage Octopus Street | Oppai Stone or breast stone |
---
 Location of Amakusa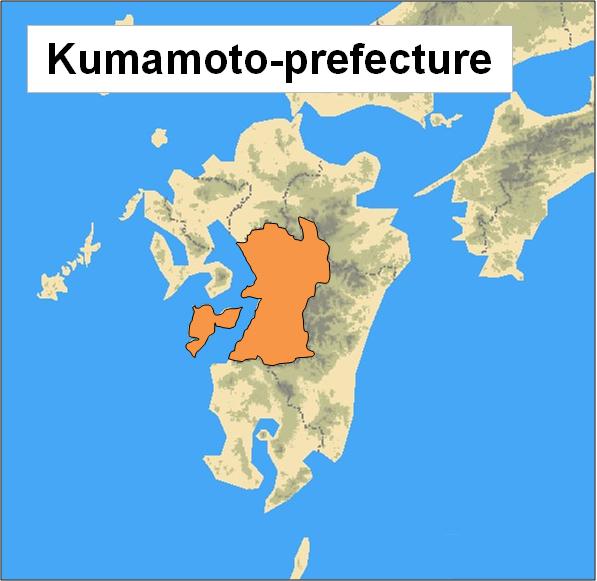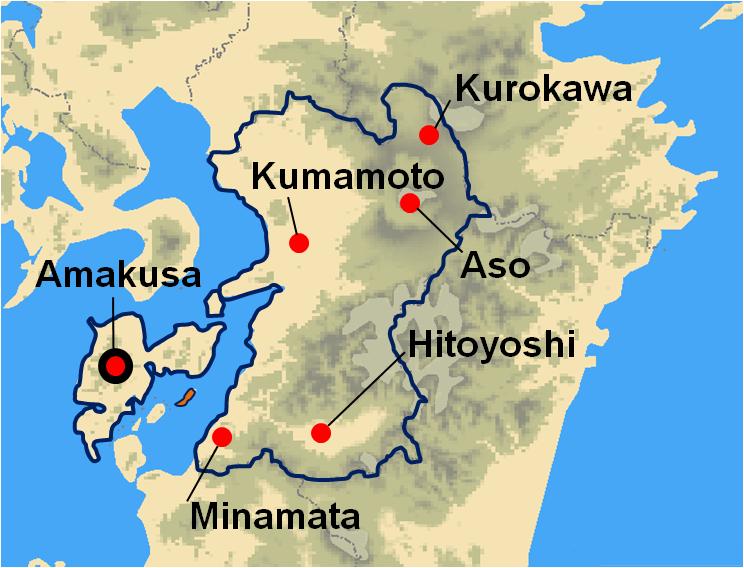 ---
General information  
Access
by Airplane

35 minutes from Fukuoka airport to Amakusa airport

25 minutes from Kumamoto airport to Amakusa airport


by Ferry

45 minutes from Mogi port in Nagasaki to Takaoka port

30 minutes from Kuchinotsu port in Minami-Shimabara to Oniike port


bY JR

40 minutes from Kumamoto Station to Misumi Station

by Car

From Kumamoto-city

60 minutes to Misumi

70 minutes to Oyano

85 minutes to Matsushima

100 minutes to Ariake

125 minutes to Hondo

180 minuted to Shimoda Onsen

200 minutes to Oe
---
Should you need further information please feel free to contact us.
Your equiry can be sent by selecting the Enquiry Form link below.
You can also contact us by e-mail at info@japan-kyushu-tourist.com
And we would love to chat about your travel plans on the phone as well,
please ring our office a call in English    Tel : +81-93-521-8897
---
Tour results
We are offering various types of tours, and the tour results up to now are shown links below.       
Tailor-made tour      Study tour      Golf tour 
---
 HOME    About us   Our Services    Terms and Conditions
---