Kagoshima-prefecture travel guide
Kagoshima-prefecture is located at the southwest tip of Kyushu on the Satsuma Peninsula
and Osumi Peninsula. This prefecture also includes a chain of islands stretching further to
the southwest of Kyushu for a few hundred kilometers.
The prefecture boasts a chain of active and dormant volcanoes, including the great
Sakura-jima Island, which towers out of the Kagoshima bay opposite Kagoshima-city.
---
Location of Kagoshima-prefecture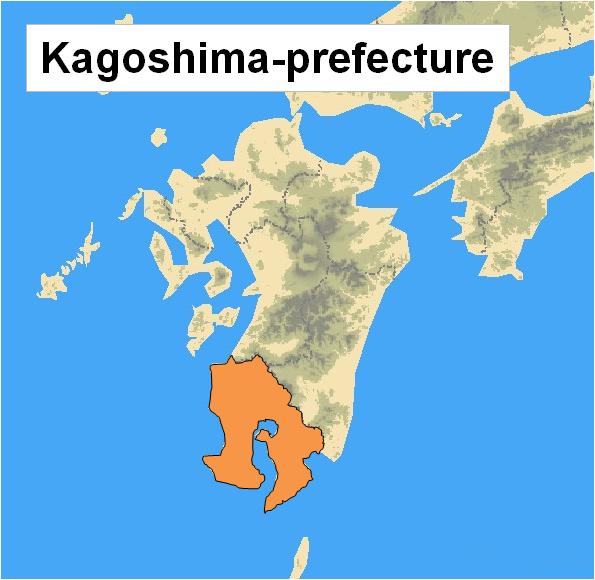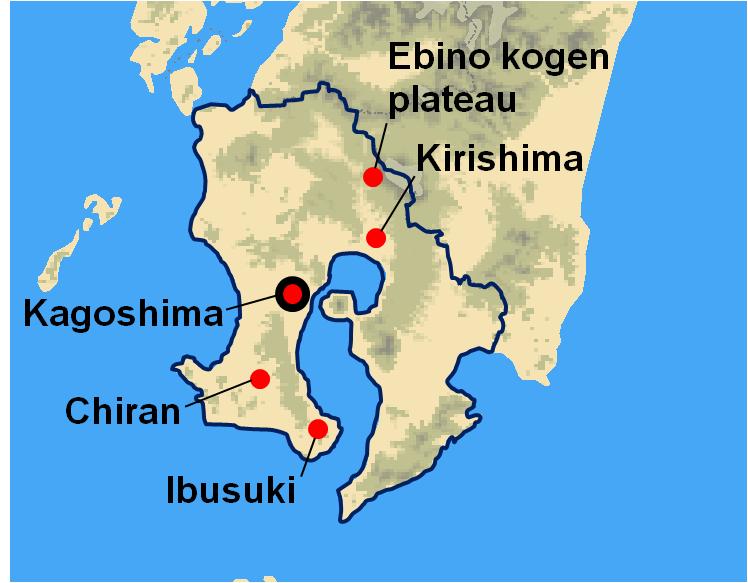 ---
Where to explore
The city is southernmost capital in Kyushu ;  Sakura-jima which raises the smoke across the Kagoshima Bay. 
Kagoshima prospered in the Edo period as a castle town, and is a hometown of Takamori Saigo who
contributed to the Meiji Restoration.
---
Ibusuki and surrounded araa Satsuma peninsula extends about 50 kilometers south from Kagoshima-city, 
making up the southwestern section of Kagoshima Prefecture. The peninsula offers a mixture of hot springs,
subtropical natural attractions and cultural sites. Ibusuki is an onsen resort that is famous for its sand baths,
where bathers are buried in naturally heated sand.
---
Called a small Kyoto in Kagoshima, offer you a fine collection of Samurai houses and gardens that were built
about 260 years ago. During World War 2, Chriran was a Kamikaze pilots based who perticipated in the
Battle for Okinawa. 
---
Located in the northeastern part of Kagoshima and is the entrance to the Kirishima district of Kirishima 
Yaku National Park, which includes the Kirishima volcanic chain,  Sakura-jima Island and Yaku shima Islands.
---
Featured tours in Kyushu 
・ 8 days Northern & Central Kyushu tour
・ 6 days North-West Kyushu tour
・ 6 days North-Eest Kyushu tour
---
Should you need further information please feel free to contact us.
Your equiry can be sent by selecting the Enquiry Form link below.
You can also contact us by e-mail at info@japan-kyushu-tourist.com
Tel :  +81-93-521-8897,  Fax :  +81-93-521-8898
Address :   AIM buiding 6th floor, 3-8-1 Asano, Kokura-kitaku, Kitakyushu-city, Fukuoka-prefecture 
---