Miyazaki-prefecture travel guide
Miyazaki-prefecture is on the eastern coast of the island of Kyushu, surrounded by the Pacific
Ocean to the south and east, Oita-prefecture to the north, and Kumamoto-prefecture and
Kagoshima–prefecture to the west.
---
Where to explore
Dynamic and powerful Takachiho Gorge and here is the birthplace

of Japanese mythology. It is the supposed site of legend where

Amaterasu, the Shrine Sun Goddess, disturbed by her brother's 

cruel pranks, hide herself in a cave, prompting the other gods

and goddesses to try and lure her out.
---
Spectacle art collection of exposed Rocks created by raging wave. 

Hyuga is a bay city, facing the Hyuga nada Sea. The whole area

along Cape Hyuga- misaki with its many exposed rocks is

designated as the Nippo-Kaigan Quasi-National Park. 
---
Facing the Pacific Ocean with a beautiful coastline contains placed

of natural beauty, like Aoshima and Toi-misaki Cape. Also, on the

Hitotsuba Beach of Miyazaki-city are Ocean Dome, 700 hectare 

all-weather indoor water park, and Miyazaki Sea Gaia.
---
Miyazaki-prefecture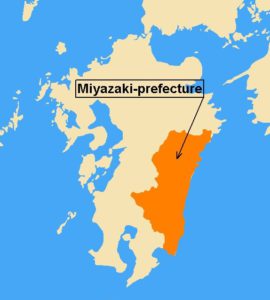 ---
Home  Tailor-made tours Study tours Christian Pilgrimage tours Golf tour   Kyushu tour packages
---