Ibusuki and Satsuma peninsula travel guide
Ibusuki and surrounded area Satsuma peninsula extends about 50 kilometers south from
Kagoshima-city, making up the south-western section of Kagoshima-prefecture. The peninsula
offers a mixture of hot springs, subtropical natural attractions and cultural sites. Ibusuki is an
Onsen resort that is famous for its sand baths, where bathers are buried in naturally heated sand.
It is best known for its steaming sand baths along the beach, where

bathers in a yukata, or Japanese bathrobe get buried in the sand up

to their neck.  The sand heated by steam containing marine minerals 

is scientifically proven to have therapeutic effects on neuralgia,

rheumatism, back pain and other ailments.
---
A circumference of 15 km and a maximum depth of 233 meter, where

was created by volcanic activity long ago. Large eel with a length of 2

meter and circumference of 50 cm inhabit the lake. It was also known

as the lake of a legendary monster called " Issy" purported to live in

the lake.
---
The Station is the southernmost railway station in Japan operated by

JR, boasts a breath taking view of Kaimon-dake volcano to the front.
---
It is the Urashima Taro legendary shrine peninsula and this shrine

is becoming popular as a power spot of matchmaking and good

fortune in love.
---
The cape is the southernmost point of Satsuma peninsula, where a

white lighthouse stands. You can enjoy the view of the magnificent

Mount Kaimondake and rocks with the sea spray wearing them. 

The Cape is said to be the birthplace of the legend of Ryugu.
---
Enjoy tasting Shochu at the most famous Shochu brewery in Kagoshima 

Meiji-gura is Satsuma Shuzo's Shochu brewery and museum.
---
The unique Somen noodle nagashi in Tosenkyo ravine in Kaimon open

throughout the year serving cold Somen noodle that swim in the

revolving container.
---
General information 
Address

City hall ; 2424 Juchu Ibusuki-city, Kagoshima-prefecture

Access

1 hour and 40 minutes by a vehicle from Kagoshima Airport

50 minutes by a vehicle from Kagoshima-chuo JR Station

55 minutes by JR Express train from Kagoshima-chuo JR Station

1 hour and 15 minutes by local train from from Kagoshima-chuo JR Station

Transportation

Kagoshima kotsu bus

Population

40,000            Population density : 270 / km2 
---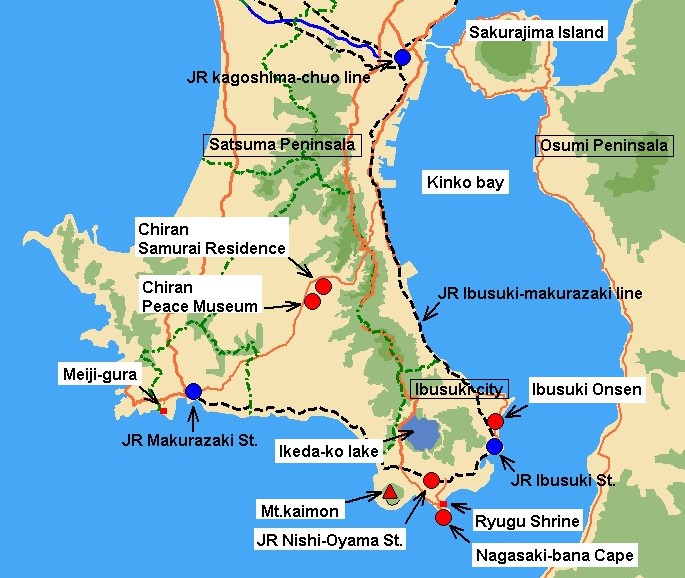 ---
Home  Tailor-made tours Study tours Christian Pilgrimage tours Golf tour Kyushu tour packages
---