Kitakyushu one-day tour
The Industrial Innovation city where greatly contributed to Japan's
industrial
modernization.
And also 

is blessed with spectacular & stunning

natural 
feature.
The tour explore the many
---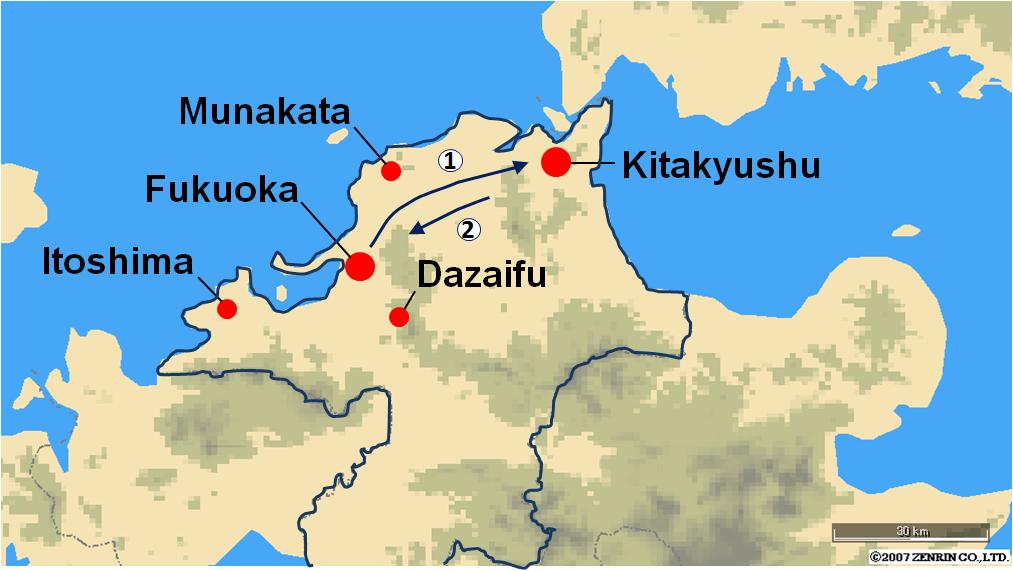 ---
Tour conditions 
The tour is the private tour exclusively for your group.
・Minimum number : 2 person
・Maxum number : 30 person
・Start and end of the tour is 

Fukuoka–city

, please specify the place where you want
・Tour date : please specify the date
・English speaking tour attendant escorts your journey to produce a pleasant trip.
・Chartered vehicle is utilized as per number of person.
---
Itinerary 
8:30 Depart Fukuoka-city
Transfer to Kitakyushu-city 
Go up to Mount Sarakura by Cable Car and the Slope Car
Enjoy magnificent and dynamic view from Mount Sarakura
Visit Higashida : UNESCO World Heritage /  Sites of Japan's Meiji Industrial Revolution 
Lunch Local cuisines
Visit Kokokura Castle
Explore Mojiko Retro
  Konamon Pedstrian tunnel : cross to the Shimonoseki on foot
Transfer to Fukuoka-city by vehicle throug Kanmon Bridge
17:30 Arrive Fukuoka-city
Option : the following sites can be arranged as a option.
---
Where to explore 
The hight of the mountain is 622 meters from sea level. At the top you are presented with a
magnificent and spectacular view of Kitakyushu. ​In 10 minutes, you can reach the summit 
from the Cable Car Station using the Cable car and the Slope car. 
---
Japan's modern steel industry was started as Yawata steel Works at Higashida district in 1901.
Since then, the Works greatly contributed to Japan's industrial modernization. The three sites in
Higashida have been registered on UNESCO World Heritage  as Sites of Japan's Meiji Industrial
Only the Blast  Furnace in the world which preserved as it was. The birth place where 
Japan's steel industry began in 1901. It contributed greatly to the development of the
Japanese steel industry and was used until 1972, and has been preserved just as it was.
---
First Head Office of the Steel Works  / UNESCO World Heritage  
Built in 1899, ahead of production facilities. It is an architectural fusion of Japanese and European
design, a two story red brick building with bilateral symmetry and a central dome set in a Japanese
 tile roof.
---
Museum of Industrial Technology. In April 2007, based on this theme of "innovation, " the Kitakyushu
Innovation Gallery & Studio (KIGS) opened in Yahata, Higashida, the first site of steel manufacturing
in Japan's modern age. Various things related Industry technologies are exhibited.
---
Fukuoka–prefecture only in Japan is selected by CNN Travel as one of the top 19 places
to visit in 2019.  And the Photo of Kokura Castle is used for introducing Fukuoka-prefecture
Kokura Castle is one of the most famous land marks in Kitakyushu. The construction was
commenced in 1602 and spent 7 years to completed it.  
Dr. Albert Einstein awarded Nobel Prize in Physic visited Moji in 1922, and he acclaimed
that everything could see were Arts. The exotic district of Mojiko Retro is visited by more 
than 2 million tourists a year. Moji-ko Port flourished following its 889 designation as a
Special National Port for exporting coal and other products. 
---
Only the place in the world !   You can cross the strait on foot.  The Kanmon Strait, separating
Honshu and Kyushu, is a very beautiful and busy waterway with as many as 700 small and 
large ships a day passing through it. The Kanmon Pedestrian Tunnel, which enables people to 
cross on foot.​
Lunch, local cuisines to be slected from the following

Kawara Sobe
Kawara soba is a local cuisine which Soba noodles and meat are cooked together on a Kawara
(stone roof tile) and dipped into a special sauce when eating it.
---
Yaki curry
Yaki curry latterly means baked curry and is local cuisine in Moji which is curry with rice topped
with cheese and/or egg heated in oven. The melted cheese and soft-boiled egg combine with the
spicy curry to enhance its flavor even more.
---
Nagahama Ramen, Tonpei
---
Eel Restaurant, Chikurintei
---
Option
Manga Museum is located next to JR Kokura station. The museum is located on the 6th floor
of Aru Aru City, a multi-floored shopping mall devoted to products and services for anime, manga,
idol culture, and cosplay fans, a kind of Harajuku in miniature.
---
Kitakyushu is the dynamic city where one million people are living and working, is creating
the beautiful Night view which you have never seen before. The night view from the mount
Sarakura is chosen the three major Night View in Japan. The area of Night view is the largest
in the World ; about 40km east to west and 10km south to north and also the number of
lighting to create the night view is the largest in the World. 
Hiraodai Karst Plateau & Caves 
One of the three largest Karst Plateau in Japan along with the Akiyoshi-dai Plateau and the 
Shikoku Karst. It is located in southeastern part of Kitakyushu-city. At altitudes between 
400 and 600 meters above sea level and stretching 6 km from north to south and 2 km from
east to west.  
---
Established in 1991, 100% shareholder of Toyota Motor.  Major manufactured car is Lexus,
and annual production volume is 430,000 cars.  Assembly line and Inspection line are visited
at the factory tour.
---
The first-class civil construction heritage completed in 1927, the triggered the registration
of World Cultural Heritage of Sites of Japan's Meiji Industrial Revolution.  The Kawachi
Reservoir was constructed for the industrial water supply to Yawata Steel Works. The dam
was constructed at the Okura River and upper stream of the dam was expanded and 
making the 7milion cubic metre reservoir.
---
Kawachi Wisteria Garden is a private garden at the Mountain foot of Sarakura and famous for its
spectacularly presented, large numbers of wisteria flowers. The garden is opened to the public
seasonally during the wisteria season which usually peaks around late April to middle of May.
---
Should you need further information please feel free to contact us.
Your equiry can be sent by selecting the Enquiry Form link below.
You can also contact us by e-mail at info@japan-kyushu-tourist.com
Tel :  +81-93-521-8897, Fax :  +81-93-521-8898
Address :  AIM buiding 6th floor, 3-8-1 Asano, Kokura-kitaku, Kitakyushu-city, Fukuoka-prefecture 
---
Tour results
We are offering various types of tours, and the tour results up to now are shown links below. 
Tailor-made tour    Study tour     Golf tour
---
 HOME    About us   Our Services    Terms and Conditions
---