Munakata & Fukutsu travel Guide
Munakata Region is located in the west part of  Fukuoka-prefecture  and facing to Genkai Sea.
The area are consist of Munakata, Fukutsu, Akama and Oshima Island.
---
Munakata  
Munakata Shrine Hetsu-gu, UNESCO World Heritage
Hetsu-gu is one of the three shrines that comprise Munakata Shrine and enshrines
Ichikishimahime-no-Kami, one of the three female deities of Munakata.  Visitors passing
through the torii gate and proceeding along the path will find the Main Hall, dedicated to
Ichikishimahime-no-Kami, beyond the Shinmon gate.
| | | |
| --- | --- | --- |
|  Torii Gate       | Entrance | Shrine main building |
---
The steps lead to Takamiya Saijo (Ceremonial Site), where ancient rituals were performed.
Takamiya Saijo is very important since the rituals currently observed at Hetsu-gu originated there.
To the northwest of the ceremonial site, visitors can view the marine route linking Hetsu-gu with
Okinoshima via the Tsurikawa River, Oshima, and finally across the Genkai Sea.
    Entrance of Takamiya Saijo

 Worship at Takamiya Saijo

Takamiya Saijo Japan's oldest

 Ancient style Shrine 
---
Fukutsu
Shinbaru-Nuyama Mounted Tombs, UNESCO World Heritage​
The Tomb Group comprises the tombs of the Munakata clan, an ancient powerful family that led
interactions with overseas countries. The Munakata clan also performed rituals on Okinoshima
and nurtured the tradition of faith in in the sacred island.
---
The Shimenawa is the biggest in Japan. Surprisingly, weight is 3ton, with 2.6m diameter and 11m
length. Shimenawa is the thick, twisted, straw rope. It was believed in ancient days that a Shimenawa
had the power to keep off evil sprits, so many objects connected with Shinto Shrines decorated.
---
Akama  
Sake Brewery, Katsuya Shuzo
Katsuya Shuzo is a renown local Sake brewery has long history, established in 1790.
The Goshinshu or dedicated Sake to deity for Munakata Shrine is being made this Brewey.
Recommended Sake are Okinoshina, Naranoki and Genkainada.
---
Akama Inn town in Karatsu road, made during Edo period​
---
Oshima Island  
Oshima Island located 11 km from Konominato Port in Munakata-city, and is the largest
island in Fukuoka-prefecture. The population of the island is around 700.
Oshima Ferry, it takes 25 minutes by Oshima and 15 minutes by Shiokaze.
| | | |
| --- | --- | --- |
|           Konominato Port  |         to Oshima Island |       Oshima Port |
---
Munakata Shrine Nakatsu-gu, UNESCO World Heritage
Nakatsu-gu, one of the three shrines that comprise Munakata Taisha, is situated on this island
and enshrines Tagitsuhime-no-Kami, one of the Three Goddesses of Munakata.
---
Munakata Shrine Okitsu-gu Yohaisho, UNESCO World Heritage   
Because Okinoshima has long been an object of worship, public access to the island is strictly limited.
The Okinoshima landscape has been preserved intact until now because local people have strictly
observed various taboos.  For example, even if one is allowed to land on the island, one is forbidden
to speak a word about what one has seen or heard there; and one must never take anything from the
island, not even a twig, blade of grass, or pebble.
---
​From the site of a cannon fort used during World War II, visitors can view Okinoshima
on a clear day. The path linking the fort site with Okitsu-gu Yohaisho was constructed by
the Japanese Imperial Army.
---
From the observation deck atop Mt Mitakesan, visitors can view not only the main island of Kyushu,
but also Okinoshima Island.
---
Lunch at Japanese Inn
---
 Location of Munakata & Fukutsu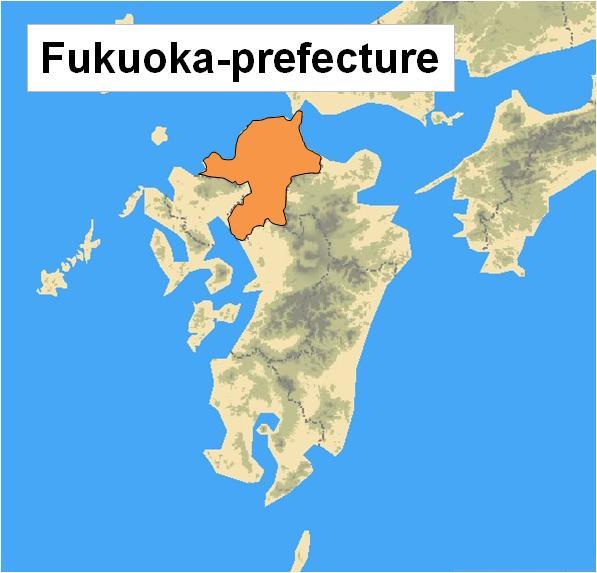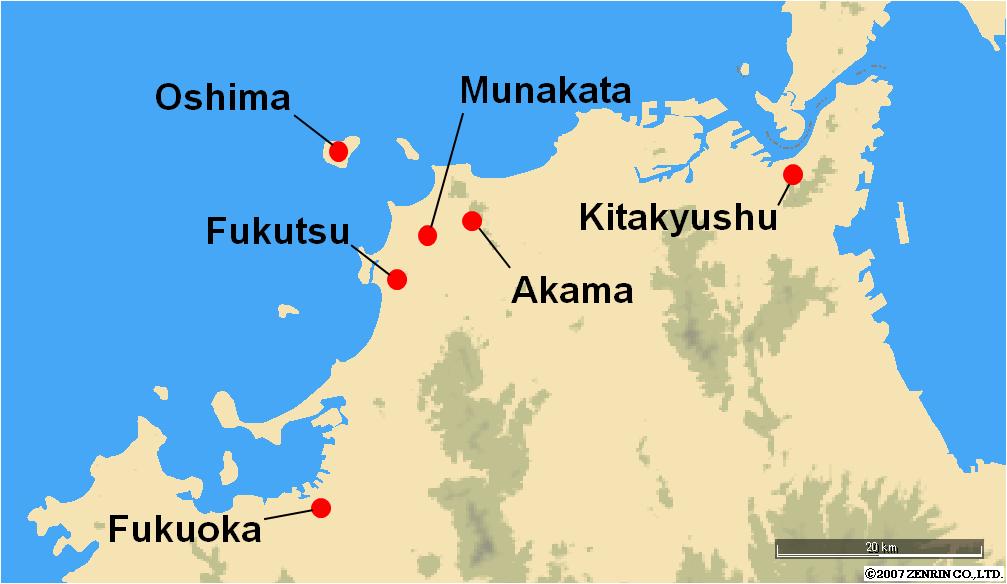 ---
Should you need further information please feel free to contact us.
Your equiry can be sent by selecting the Enquiry Form link below.
You can also contact us by e-mail at info@japan-kyushu-tourist.com
And we would love to chat about your travel plans on the phone as well,
please ring our office a call in English    Tel : +81-93-521-8897
---
Tour results
We are offering various types of tours, and the tour results up to now are shown links below. 
Tailor-made tour    Study tour    Golf tour
---
 HOME    About us   Our Services    Terms and Conditions
---